The Show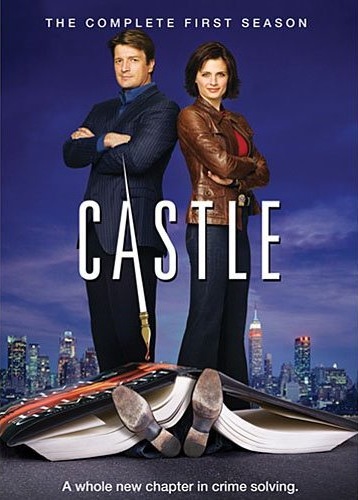 I have to admit up front that I'm not the biggest fan of scripted television. I watch very few shows, preferring to spend any free time I have watching films instead. I've always found that most every series on TV is the same; they all follow a specific formula so as not to deviate too much from the norm of "what works" for the "Joe Six Pack" audience. Each series, regardless of whether it is a procedural police drama, medical drama, quirky comedic drama, etc, all seem to adhere to a pre-determined set of guidelines. They are the television equivalent to a Mad Libs book, just fill in the blanks and let the rest write itself.

"Castle" (2009), unsurprisingly, fares no better. After a potentially promising pilot episode, where it looked as though the season might have an interesting (albeit overused) plot device as the focus, the show quickly wrapped up that storyline and waded deep into a murky swamp of clichés and tepid humor that had me reaching for the remote. It's a shame because the performances here are all fairly competent, but the characters are forced to hit so many obvious beats that Ray Charles could see who each "killer of the week" is.

Richard Castle (Nathan Fillion), a renowned writer of thriller novels, has just killed off his star literary character and is in need of some new inspiration to get past his writer's block. When a copycat killer murders three people just as he wrote in his books, the NYPD calls him in to assist in the case. There he meets Detective Kate Beckett (Stana Katic), a hard-working member of the homicide squad, whom he finds to be a suitable muse for his new series of novels. Castle, after pulling some strings with the mayor, is able to join the squad on their cases so that he can use his experiences to launch a new series of books.

For starters, the plot is absurd beyond belief. I know I'm not supposed to read into things too much, but I don't care if Castle knows the mayor or not, there's no way he would be allowed to tag along with a homicide detective and essentially act as her partner. No way. I can maybe buy it in the pilot episode since the murders mirror the literary demises of his fictitious characters, but anything past that is grotesquely ridiculous.

One glimmer of hope I had going into this series was that Rob Bowman serves as one of the main producers. Sci-fi fans, and fans of great television in general, will no doubt remember Bowman as producer of the long-running Fox series, "The X-Files" (1995-2000). He made some fantastic contributions to that series, and I expected some of the same from him here. But, alas, nothing substantial managed to materialize. "The X-Files" was a series that took risks each week. There was always a true sense of dread and mystery to look forward to each week. "Castle", however, plays the same tired tune over and over again. I don't think I've seen this many red herrings since the last Italian giallo I watched. Literally everyone aside from our main cast is considered a suspect through the eyes of the viewer. Once you discover the formula, picking out the actual murderer is about as difficult as grade-school math.

I will give credit to lead actor Nathan Fillion. The man does have some undeniable charms that are just about the only assist you'll get in making this show tolerable. I know he has a cult following thanks to his roles in "Firefly" (2002-2003) and "Serenity" (2005), but I know him as the wise-cracking town sheriff in the underrated horror comedy "Slither" (2006). Fillion has good timing and passable comedic chops, I just wish he'd put them to better use than on a formulaic series such as this. But I've also heard that television money is some damn good money, so I can't blame the guy for collecting an easy paycheck.

Season One of "Castle" contains the following episodes spread out over 3 DVD's:

- "Flowers For Your Grave"
- "Nanny McDead"
- "Hell Hath No Fury"
- Hedge Fund Homeboys"
- "A Chill Goes Through Her Veins"
- "Always Buy Retail"
- "Home Is Where The Heart Stops"
- "Ghosts"
- "Little Girl Lost"
- "A Death In The Family"

Video


The 1.78:1 anamorphic widescreen image is pleasant enough, though it hardly stands out as exceptional. The picture is as sharp as you're going to get for standard definition. Color reproduction looks to be spot-on, black levels are rich and whites, though occasionally a tad too hot, are passable. I'm sure the broadcast on ABC HD looks superior to these DVD's, but I'm guessing the fact that the show finished up around #25 in the ratings contributed to the fact we're not getting a Blu-ray release.

Audio


Likewise, the English Dolby Digital 5.1 surround sound track is perfectly serviceable; just don't go in expecting to be blown away. This is, after all, a television series. Surrounds spend the majority of each episode just hanging around, waiting for something fun to do. The LFE track gets minimal use at best. But dialogue is clear and the center track sounds properly balanced.
Subtitles are included in English for the hearing impaired, French and Spanish.

Extras


"Castle" gets a reasonable dollop of extras, consisting of audio commentaries on select episodes, behind-the-scenes featurettes, bloopers and some bonus trailers for other ABC properties.

DISC ONE:

Audio commentary on "Flowers For Your Grave" with creator/executive producer Andrew Marlowe, executive producer Rob Bowman, and actors Nathan Fillion, Stana Katic and Jon Huertas. Since this is the pilot episode, much of the focus is on the genesis of the show, how the actors were cast, etc. Since there are multiple participants, there's nary a void in the discussion, keeping this track relatively lively.

DISC TWO:

Audio commentary on "A Chill Goes Through Her Veins" with creator/executive producer Andrew Marlowe, executive producer Rob Bowman, and actors Nathan Fillion, Stana Katic, Jon Huertas and Molly Quinn. The six spend the duration of the track breaking down the episode, talking about character motivations and filling in details about the plot.

DISC THREE:

Audio commentary on "A Death In The Family" with creator/executive producer Andrew Marlowe, executive producer Rob Bowman, and actors Nathan Fillion, Stana Katic, Jon Huertas and Molly Quinn. Similar to the previous two tracks, this one covers many of the bases from a more technical standpoint, divulging extra information on the plot and discussing the shooting of many scenes.

Audio commentary on "A Death In The Family" with actors Seamus Dever and Jon Huertas. This is a much more jovial, goofy track than the prior one. These two have a good comedic rapport, so if you're looking for a less-technical track, this would be it.

"Whodunit: The Genesis of Castle" is a featurette which runs for 6 minutes and 15 seconds. Andrew Marlowe makes a case for why his show is so much better than other shows because the others lack "strong central characters". I guess I'm not too well-versed in primetime television because this show doesn't seem to break the mold; rather, it lives comfortably inside of it. The usual EPK fluff interviews are included as well.

"Castle's Godfather" is a featurette which runs for 7 minutes and 16 seconds. This is a quick look at Castle's legendary writer/guest star/producer Stephen J. Cannell. Think of it as a (very) mini biography.

"Write-Along with Nathan Fillion" is a featurette which runs for 9 minutes and 7 seconds. This tongue-in-cheek piece has the show's lead, Nathan Fillion, discussing how he got into the role of Castle by spending time with an actual mystery writer, Stephen J. Cannell.

"Misdemeanors: Bloopers & Outtakes" blooper reel runs for 2 minutes and 37 seconds. The cast cut loose behind-the-scenes with some flubs and corny jokes.

Finally, some "sneak peeks" bonus trailers are included for the following:

- "Ugly Betty: The Complete Third Season" runs for 55 seconds.
- "Life on Mars" runs for 1 minute and 4 seconds.
- "Desperate Housewives" runs for 32 seconds.
- "10 Things I Hate About You: 10th Anniversary Edition" runs for 57 seconds.
- "Lost: The Complete Fifth Season" runs for 58 seconds.
- "Disney Blu-ray" promo runs for 1 minute and 2 seconds.
- "Old Dogs" runs for 2 minutes and 32 seconds.

Packaging


"Castle" arrives on DVD in a clear amaray case with a hub on the left side holding Disc One, while Discs 2 and 3 are overlaid on the right side. A snazzy slip-cover which replicates the cover art completes the package.

Overall


If you're a fan of standard-format television, the kind where you know what's going to happen each week and there is little in the way of surprises, then you'll likely enjoy "Castle". As I said, it's not that the actors don't do a good job with their roles, or that the show doesn't have an interesting premise, but each episode is just so contrived and derivative of the last that by the halfway mark you'll be scrambling for the remote.
| | | | | |
| --- | --- | --- | --- | --- |
| The Show: C | Video: B | Audio: B- | Extras: C+ | Overall: C+ |