The Film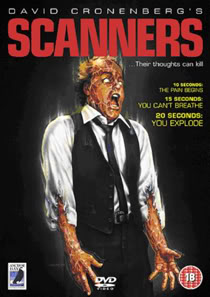 Cameron Vale (Stephen Lack) is a down and out, troubled by the voices in his head. He has telepathic abilities and when these abilities cause a woman to fit, he's spotted, chased, drugged and taken to Consec to see Dr Paul Ruth (Patrick McGoohan). He's enlisted into a program that will involve him in a battle against his fellow Scanners - led by Darryl Revok (Michael Ironside) the head of an underground association of Scanners that want world domination.

I'll start by noting that I come to this film having not seen it in many years. Indeed, it's only the classic "head exploding" scene that I can clearly remember. And at the end of the film, and DVD contents, I realise that the reason I only remember that one scene is because the film was largely publicised with the only two gory scenes in the film - that one and the climatic final scene.

Director David Cronenberg follows his now infamous trilogy (Shivers, Rabid and The Brood) with yet another close (and gory) examination of the human race. It would be presumptuous to begin an analysis of David Cronenberg "The Filmmaker" here since I can't claim to know much more than I have learnt from watching the DVD and researching him for this review!

I certainly have to be in the right mood for a David Cronenberg film as I can find it very difficult to get into them - The Fly is probably the exception and I suspect that's because it's his only film which works, at least for me, on two levels - it's a superb mainstream horror gore fest for those not wanting to think too hard but, on a higher level, is also another example of his personal intrigue for 'body horror'.

Video


The film is presented as an anamorphic 1.85:1 transfer (PAL) which is the original aspect ratio. The picture is very clean for a film which is now 25 years old although there are some minor film artefacts throughout the film. Colours seem appropriate - the scene in the shopping mall at the start presents some very vibrant reds.

Audio


As is the standard with Anchor Bay releases, the disc has three audio options: a Dolby Digital 2.0 Stereo track, a Dolby Digital 5.1 surround track and a DTS 5.1 surround options.

The Dolby Digital 5.1 track is similar to other Anchor Bay remixes in that it mainly adds greater ambience to the stereo option. There are a few occasions when the surround is noticeable, such as the echo created in the warehouse like setting of Dr Ruth and Vale's first meeting (approximately 25 minutes into the film) or the subway train a few minutes later.

I did also note some hissing just over a minute into the film but it wasn't too distracting.

There is only one subtitle track provided - an English Hard of Hearing one.

Extras


The film is accompanied by a modest set of extras which start with a documentary entitled The Directors: The Films Of David Cronenberg. Inside Scan: Scanners (a short featurette) follows and the extras are rounded off with Trailers, Film Notes, Biographies and a Stills Gallery.

The Directors: The Films Of David Cronenberg is an hour long documentary which was produced in 1999 by the AFi (American Film Institue) and charts the career of David Cronenberg up to the 1999 release of eXistenZ (along with a voiceover comment on what became his next feature film-Spider). Whilst it is an interesting addition to the main feature, it only spends five or so minutes on the film with David Cronenberg commenting on the production problems and a couple of sound bites from Michael Ironside. It goes nowhere near towards an informative background piece for a film that (at the time of release) was his biggest to date, and would probably come very high up the list of David Cronenberg films. It should also be noted that it's been available before as a separate release and is also on the Anchor Bay UK release of The Brood.

The Inside Scan: Scanners featurette begins with a spoiler warning, so obviously don't watch this before the main feature. Genre critic presents a very short (8:27), introduction to David Cronenberg and the film. It's full a clips and trivia but ultimately doesn't really reveal anything that you couldn't easily read on the internet if you didn't already know it. It is, however, worth watching, simply for the 'special effect' at the end.

Trailer 1 is the theatrical trailer for the film, which makes use of the now classic and infamous head explosion scene. Trailer 2 is the theatrical trailer for Scanners 2: The New Order, which looks more like a trailer for an action packed TV series. Trailer 3 is for Scanners 3: The Takeover and is simply clips from the film strung together with a hard rock soundtrack, which could just as easily be a music video. Finally, The Brood Trailer is of course just that - a trailer for Croneberg's 1979 film The Brood.

The Film Notes are simply four pages of text, entitled Scanners - Cronenberg's Explosive Breakthrough Movie, which provide brief background notes on the genre at the time, a film synopsis and production details.

The Biographies section provides access to text based notes for David Cronenberg (9 pages), Jennifer O'Neil (3 pages), Patrick McGoohan (6 pages) and Michael Ironside (4 pages)

Finally, there is a Stills Gallery which contains 21 stills. These include promotional artwork as well as on-the-set and special effects stills.

Overall


The film is undoubtedly a classic and one of David Cronenberg's best, so it's a shame that it is presented in package which is purely adequate. I was left feeling that it the film desperately needs a dedicated documentary, along with a commentary track by the director. If ever there was a director whose insight into his films is an absolute must, it's David Cronenberg.
| | | | | |
| --- | --- | --- | --- | --- |
| The Film: B | Video: A- | Audio: B+ | Extras: B- | Overall: B+ |