The Show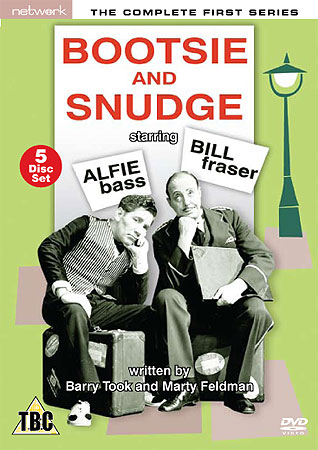 Spinning off from the popular National Service-set situation comedy The Army Game (Granada, 1957-61), Bootsie and Snudge (Granada, 1960-3) featured Private 'Bootsie' Bisley (Alfie Bass) and Sergeant Claude Snudge (Bill Fraser) finding new employment in The Imperial, a gentleman's club in Pall Mall. Bootsie is employed as The Imperial's boot boy, and Snudge takes residence as the club's major-domo. However, despite the change of context Bootsie and Snudge's relationship remains the same as when they were in the military: the blusterful Snudge bullies and harasses the incompetent Bootsie, and the dreamer Bootsie perpetually
antagonises Snudge.






Aside from the return of Alfie Bass and Bill Fraser as the protagonists, Bootsie and Snudge also featured input from the principal crew behind the production of The Army Game: like The Army Game, Bootsie and Snudge was produced by Peter Eton (who had also produced The Goon Show, 1951-60, for BBC radio) and written by Marty Feldman and Barry Took.




Like many other popular British sitcoms, Bootsie and Snudge revolves around the relationship between two men: in its construction, Bootsie and Snudge resembles Hancock's Half Hour's (BBC, 1956-60) mid-period shows, which were essentially 'two handers' featuring Tony Hancock and Sid James. A significant number of later British sitcoms used the 'two men' formula, most likely derived from the music hall tradition, and revolved around two very different male protagonists who are trapped together and therefore required to co-operate with one another. Arguably the most highly-regarded British sitcoms that used this format were Steptoe and Son (BBC, 1962-74) and Porridge (BBC, 1974-7). As in many of these shows, Bootsie and Snudge antagonise one another, but throughout the episodes it seems that underpinning their relationship is an unspoken acknowledgement that they need each other – as in the relationship between Harold Steptoe (Harry H. Corbett) and his father Albert (Wilfrid Brambell) in Steptoe and Son, or between Fletcher (Ronnie Barker) and Godber (Richard Beckinsale) in Porridge.




In Popular Film and Television Comedy (1990), Stephen Neale and Frank Krutnik describe these types of sitcoms as revolving around 'relationship[s] between two men which […] oscillat[e] between friendship and antagonism' (250-1). Many of the situation comedies that use as their central narrative focus a relationship that exists between two men tend to depict the men's relationship as symbolic of the relationship between a father and son (as per Fletcher's paternal relationship with his younger cellmate Godber, in Porridge) or more literally as a father-son relationship (in Steptoe and Son, for example). Bootsie and Snudge is no different, and throughout the series (as in The Army Game) Bootsie and Snudge's relationship resembles that of a parent and child, with the ridiculously authoritarian Snudge determined to instil in Bootsie a sense of responsibility – much as in Porridge Fletcher takes the young Godber under his wing and teaches him how to fend for himself in the prison environment, or in Father Ted (Channel 4, 1995-8) Father Ted Crilly (Dermot Morgan) has to remedy the behaviour of the childlike Father Dougal McGuire (Ardal O'Hanlon). To this end, Bootsie's behaviour is frequently depicted as childlike and driven by instinct ('Ain't your body big', Bootsie thoughtlessly tells a heavy-set man on the train after being demobbed), whilst like an overly-strict parent Snudge is often ignored or ridiculed in his attempts to rein in Bootsie's behaviour.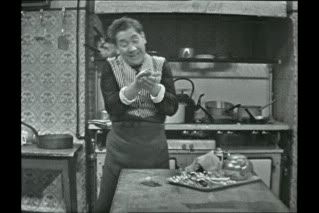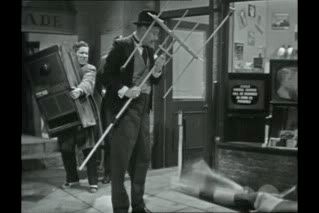 Aside from Alfie Bass and Bill Fraser, the great character actor Clive Dunn plays the club's elderly waiter Johnson, a veteran of the First World War who frequently mistakes Snudge for Lord Kitchener. As club's secretary, Kesketh Pendleton (Robert Dorning), tells Bootsie and Snudge in the first episode, 'The last hall porter we had, he [Johnson] thought he was the Kaiser; made his life a misery'. (Dunn would essentially play the same character when cast as Corporal Jones in Dad's Army; BBC, 1968-77.)




Disc One:
'Civvy Street'
'Bootsie's Punctured Romance'
'Snudge's School Friend'
'Watching Television'
'A Day Off'
'The Beady Eye of the Little Yellow God'
'Of Mouse and Man'
'Doing the Step'

Disc Two:
'Cordon Bleu'
'The Blind Date'
'Our Hearse'
'Locked in the Washroom'
'Bath Night'
'Johnson's Retirement'
'The Batchelor Party'
'Barber Shop Quartet'

Disc Three:
'Claude Faust'
'Hathaway's Dotage'
'The "At Home"'
'There's No Smoke'
'Mr Magee'
'The Morning After'
'Old Hassett's Chair'
'A Game of Snooker'

Disc Four:
'Snudge's Date'
'Bank Robber'
'Once a Thief'
'Morning Surgery'
'The Moth Hunt'
'The Cemetery'
'Old Comrades'
'How to Win Friends'

Disc Five:
'Days Fishing'
'The Launderette'
'The Concert Pianist'
'A Night Out'
'Rally Round the Flag'
'Visiting Time'
'The Holiday'

Video


Shot in a studio environment on monochrome two-inch videotape and presented here most likely via transfers taken from 16mm telerecordings, Bootsie and Snudge suffers from the limitations of that format: the monochrome image is low contrast and somewhat fuzzy, suffering from intermittent tape distortion – nothing too distracting for fans of archive television from the late-1950s and early-1960s. However, considering the age of the material and the fact that it was originally made to be watched on small 1960s-era television sets, this first series of Bootsie and Snudge looks remarkably good.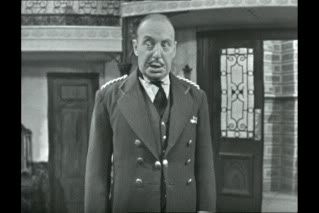 Audio


Presented in two-channel mono sound, the release shows some limitations in the original source material – there are some occasional hiccups on the audio track, but nothing that isn't to be expected from material of this vintage.

There are no subtitles.

Extras


There is no contextual material.

Overall


Like The Army Game, Bootsie and Snudge was very popular with ITV audiences in the early-1960s; in a satirical 1963 article by Raymond Durgnat (designed to lampoon the elitism of British film criticism), Bootsie and Snudge was famously lumped together with Bugs Bunny, Eartha Kitt, Thelonious Monk and Jerry Lewis as things about which a 'typical university-educated Englishman never speaks "a good word for"' (cited in Naremore, 2008: 29). However, over forty years since its first broadcast, Bootsie and Snudge is as fresh as ever, due in large part to Alfie Bass' and Bill Fraser's engaging comic performances. By the time of the production of Bootsie and Snudge, Bass and Fraser were at home with their characters, thanks to the years they had spent playing Bootsie and Snudge on The Army Game; and from the first episode ('Civvy Street') onwards, Bass and Fraser demonstrate a great rapport and well-honed comic timing to rival that shown by Harry H. Corbett and Wilfrid Brambell in Steptoe and Son. Bootsie and Snudge also features a near-universal central situation, depicting its two protagonists as they try to navigate their way through the world of work: as Rhodes and Westwood (2008) note, like many memorable British situation comedies Bootsie and Snudge takes as the chief locus of its humour 'the inter-related themes of work, work relations and work behaviour' (Rhodes & Westwood, 2008: 93). Due to its sharp writing, the contributions of Bass and Fraser (not to mention Clive Dunn and Robert Dorning) and its exploration of an almost universal context, Bootsie and Snudge is still a very amusing situation comedy, and as a result fans of classic sitcoms will welcome this release with open arms.


Sources:
Naremore, James, 2008: More Than Night: Film Noir in its Contexts. University of California Press (Second Edition)

Neale, Stephen & Krutnik, Frank, 1990: Popular Film and Television Comedy. London: Routledge

Rhodes, Carl & Westwood, Robert Ian, 2008: Critical Representations of Work and Organization in Popular Culture. London: Routledge


For more information, please visit the homepage of Network DVD.
| | | | | |
| --- | --- | --- | --- | --- |
| The Show: | Video: | Audio: | Extras: | Overall: |