The Film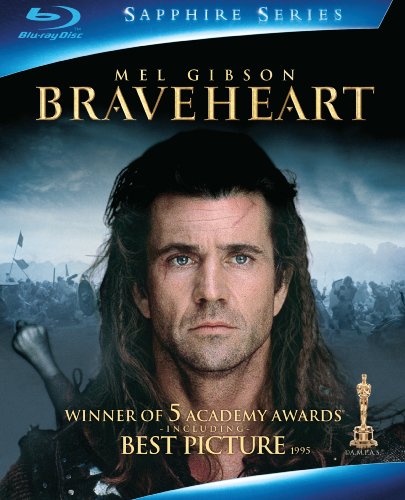 Did you know that Mel Gibson was actually popular (and loved) as a star and as a director back in 1995 before his recent drunken antics? He was lavishly praise and handed accolades for his directorial effort "Braveheart." The film became an Oscar darling of that year pinching 5 Academy Awards including the prestigious "Best Picture" award and "Best Director" award. It doesn't come as a massive surprise, after all the film has all the makings of a Hollywood epic that the industry loves so much. The scale is grand, the story is grander and based on true events it also features a fine cast and enthralls the viewer in its photography and score. But to cap it off the director is an actor and the Hollywood community loves to heap praise onto its actor/directors and have rewarded them in the past, examples include Kevin Costner, Robert Redford, Clint Eastwood, Warren Beatty and Richard Attenborough have all, like Gibson, walked away with a "Best Director" statuette from the Academy. Another trend it seems, is that most of these wins were all awarded among some controversy (Both Costner and Redford pinched their awards away from Martin Scorsese who until recently was snubbed several times is the most obvious one) but Gibson's film was the clear frontrunner and it won deservedly. I wonder how things would have turned out if Terry Gilliam had said 'yes' to directing this film? (He was originally approached for the job perhaps when the film was originally set up at MGM).

"Braveheart" tells the story of William Wallace (Mel Gibson) a common Scotsman who secretly weds his one true love Murron MacClannough (Catherine McCormack), when one day Wallace comes to her aid fighting off soldiers that wanted to rape her, in order to capture Wallace for his action the English Lord brutally murders Murron but this sparks a battle that eventually grows into outright rebellion against the English and a desire for freedom from the brutal King Edward I (Patrick McGoohan) also known as Longshanks who desires nothing more than to put an end to the war and kill Wallace once and for all.

The film begins with Wallace as a child being taken away by his uncle Argyle (Brian Cox), it is his uncle that teaches him to use his brain first then a blade second, and this influence led him to be the man he became. The film's script follows a natural progression from getting revenge for the murder of his wife to leading a nation of Scotsmen against the English all for the name of freedom. Although these events are based on real people there is no factual material that has survived about the real William Wallace outside of the legend, it is because of this that the screenwriter, Randall Wallace used creative license in many scenes and situations as well as used a 15th Century Poem entitled "The Wallace" written by a minstrel named Blind Harry to write the script. Whether the events are constructed or not the script touches on every emotion and delivers an impassionate tale, however there was one character moment I took issue with; Wallace started his fight by avenging the death of his wife, a woman he said was his only love yet in the middle of all this he sleeps with Princess Isabelle (Sophie Marceau) who has fallen in love with the freedom fighter. It seems so wrong that scene be in the film considering not long after when he's being tortured he finally sees his love once again grasping onto the embroidered cloth she gave him when they wed. Aside from that flaw, as an epic grandiose tale the film is near perfect (historical inaccuracies aside).

Gibson displays an expert hand at directing, considering his only other directorial effort was the much smaller scale "The Man Without A Face" (1993), then again he had years of acting experience and having been around other directors no doubt helped. Everything from the performances including Gibson's own but especially his supporting cast which includes James Cosmo, Angus Macfadyen, Brendan Gleeson and David O'Hara to name a few add memorable turns in the film. Additionally the scenery is captured by the breathtaking photography of John Toll and battle scenes can overwhelm and give the actors unparalleled space to play in.

The ultimate draw card for this film is that it has appealing qualities for both sexes, there's a romantic plotline and a grubby manly looking Gibson for the ladies and plenty of violent sword swinging action for the guys. It balances these elements quite well maintaining a flow that manages to capture interest for the near three hour duration, a rarity among films. "Braveheart" is one of those films you can watch over and over and never get tired of, its themes of freedom and how it can be attained are universal and the lengths that people will go to in order to achieve it always makes for empowering viewing.

Video


It's taken a while for this film to finally make its HD debut, a year ago Paramount released a "Special Collector's Edition" DVD which featured a new transfer and extras. The same master that was used for that previous DVD was also used for this HD edition. Presented in the film's original 2.35:1 widescreen ratio in 1080p 24/fps and mastered with AVC MPEG-4 compression, I was a little worried going into this film as the previous reviews for the "Gladiator" (2000) disc (also released as part of the "Sapphire Series") were a little disconcerting but this transfer is a pure pleasure to watch. Those that have owned the previous DVD editions will immediately see a marked improvement in terms of depth, sharpness, detail and colors appear a tad brighter too. From the film's opening shots to the black background of the credits this image is lush and brilliant. Detail is rendered very well right down to the intricate costume details and the stubble on the faces of the actors. You can almost reach out and peel the blue paint off of Gibson's face, the depth of the photography also shines here in HD with the expansive locations and sets looking vast, imposing and truly impressive in 1080p. Colors are natural and hold up well, skin tones especially. Blacks are deep and while there's grain, it's not too obtrusive, plus there's no evidence of any tampering (no DNR here), only a few specks offer the only flaws I could spot, but Paramount manages to maintain the integrity of the film in this reference quality image.

Audio


Three audio tracks are included in English Dolby TrueHD 5.1 surround mixed at 48kHz/24-bit as well as French and Spanish Dolby Digital 5.1 surround dubs. I was a little disappointed to see that Paramount didn't offer up a DTS-HD audio track, instead opting for a TrueHD track. However first impressions of the track are solid, offering up lossless audio with incredible depth and range, trumping any previous audio tracks this film has been released in. The film is a rousing epic and the big sound comes across effectively well throughout the 5.1 mix. The audio is robust, aggressive and active during the battle scenes especially. The ferocity of the audio immerses the viewer instantly as the filmmakers transport you back to medieval Scotland/England. The range is most impressive handling the transitions from subtle ambient and environmental sounds to the forceful battle scenes and epic scale of the soundtrack which adds a further layer to this complex and well mixed surround track.
Optional subtitles are included in English, French and Spanish.

Extras


Paramount has released this 2-disc set along with an audio commentary, two interactive features, a three-part documentary, two additional documentaries, a featurette and two theatrical trailers

DISC ONE:

The first extra on this disc is a feature-length audio commentary by the film's director Mel Gibson. This track was previously available on both DVD releases (Original and "Special Collector's Edition"). Gibson is not really that chatty as there are a lot of gaps in this track as the actor-turned-director comments on various aspects of the production revealing trivia and providing some anecdotes but they are few and far between. The interesting aspects of this track had to do with the historical background on the story and the character as well as shooting the film in Ireland (mostly), he makes some comments about the cast and shooting large scale scenes that require the coordination of many cameras, stunts, extras, and getting performance from the main cast while juggling both the task of starring in the film as well as directing it. Although he provides some interesting information for viewers you can tell from the start that Gibson hasn't done many commentaries, this track would have benefited greatly with the participation of other cast or crew members.

"Braveheart Timelines" is an interactive feature, that allows you to explore timelines for the production, as well as both fictional and historical timelines. You can use your remote to access the various timelines and read the pop-up information. There's a lot of cool trivia here for fans of the film and also those looking to learn more about William Wallace as well.

DISC TWO:

First up on the second disc is "Battlefields of the Scottish Rebellion" another interactive feature, that offers up a map which you can explore the history of the Battle of Stirling Bridge which took place in 1297, the Battle of Falkirk which took place in 1298, William Wallace's capture in 1305 and finally the Battle of Bannockburn which took place in 1314. By selecting which battle/event, you are greeted with pop-up information about the battles/events and provide further historical background for viewers.

Next we've got "Braveheart: A Look Back" a three part documentary which retrospectively takes a look back on the film. The parts can be viewed individually or with a 'play all' option and include:

- "A Company of Equals" which runs for 20 minutes 48 seconds, this clip takes a look at the genesis of the project, the scale of the film and on Mel Gibson's involvement as director. It also looks at putting the film together in a short amount of time, getting the studio backing for an epic scale production with an actor who'd not done a film of this scale as director before and the challenges the filmmaker's faced and also focuses on recruiting the best cast and crew to put this film together.
- "The Sound of Laughter" is the second part and runs for 19 minutes 16 seconds and takes a look at Mel Gibson as director, his vision and enthusiasm for the film, his investment in making the best possible film as we get a behind-the-scenes look at the filming process with some more retrospective interviews. There's a look at shooting the film and creating the look among other things, mainly a back patting piece informing the audience how great working with Mel is.
- The third part is "The Measure of a Film" which runs for 20 minutes 18 seconds, ends the trifecta with a look at the shooting of the battle scenes with the mantra of shooting these scenes from the inside out rather than the outside looking in (this helped create an intense, violent battle audiences hadn't seen before), the post-end process of editing, scoring and also explores the overall themes of the film among other things. The editing process is particularly interesting, looking at the sheer amount of footage that was shot and how the editor's culled the thousands of feet of footage into a coherent film, on the testing of the film, its premiere and response.

Following that is "Smithfield: Medieval Killing Fields" documentary which runs for 25 minutes 19 seconds. The first of two historical features on this disc, Wallace's capture and trial at Smithfield is explored. The features looks at the real place's history and what it's like today in an interesting clip that provides further information about the tortures, killings and other gruesome acts that were enforced there.

"Tales of William Wallace" is a History Channel documentary that runs for 29 minutes 19 seconds. This feature takes a factual look at the real person behind Gibson's film and provides a solid historical look at the figure, his legend and legacy. Mixing interviews and footage from the film and it's participants with a historical context as the feature tries to explore who the real man was. It's a well researched and presented clip and makes a welcomed addition to this disc.

Next on the disc we've got "A Writer's Journey" featurette that runs for 21 minutes 29 seconds, in this clip screenwriter Randall Wallace is interviewed and comments about the initial desire to learn about his ancestry which led him to discover the story of William Wallace. We follow the writing process and Gibson's interest in the script, the message of the movie and capturing the essence of the people, the challenges of writing a script were there is little to no factual material on the main character as well as themes and religious symbols among other things.

Rounding out the extras are a pair of theatrical trailers:

- Theatrical trailer 1 runs for 1 minute 41 seconds.
- Theatrical trailer 2 runs for 2 minutes 54 seconds.

Packaging


Packaged in a 2-disc Blu-ray case housed in a cardboard slip-cover.

Overall


This disc can be purchased at HD Movie Source. Your HD movie specialists.



| | | | | |
| --- | --- | --- | --- | --- |
| The Film: A | Video: A | Audio: A+ | Extras: B+ | Overall: A |