Golden Door AKA Nuovomondo AKA Ellis Island AKA Golden Door (The)
R1 - America - Buena Vista Home Entertainment
Review written by and copyright: Noor Razzak (11th February 2008).
The Film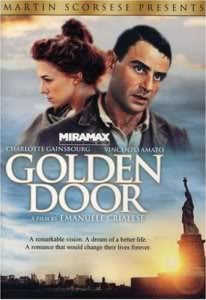 The hard life character who dreams of a better life is an iconic one, every culture has their tales regarding that simple dream of wanting the best for oneself and family and no other story has remained more relevant than that of the journey to America and its promise of living the dream in a land of plenty. Emanuele Crialese's "Golden Door" is as much a stab at American immigration policy as it is a simple story of dreaming for a better life. Set amid an impoverished Italian village, Salvatore Mancuso (Vincenzo Amato) decides to move his entire family to America, a land which he believes yields giant crops, money grows on trees and the rivers run with milk. It's a promised land and Salvatore and his family including his elderly mother Fortunata (Aurora Quattrocchi) and his two sons, Angelo (Francesco Casisa) and Pietro (Filippo Pucillo) travel the rugged landscape to the ports and board a ship to endure a long journey to America. While on the journey, Salvatore meets an English woman, Lucy Reed (Charlotte Gainsbourg). Salvatore is rather smitten by the redheaded Englishwoman and agrees to marry her making the immigration process easier as they embark on Ellis Island.
The arduous journey feels painstakingly authentic as it's obvious from the start that simple Salvatore is taken outside his comfort zone, he and is family endure this for what the New World has in store for them. It paints an intelligent and visually interesting portrait of what these people have endured through in order to live out their dreams, and in most cases reality drops on them like a ton of bricks, and peels away the veneer of the New World to reveal the unfair treatment of the immigrants.
The film starts off as impressionistic cinema incorporating the fantasy elements as Salvatore dreams encapsulating his thoughts on what the new world has waiting for him then halfway through becomes a document of early American immigration at Ellis Island. The film is set amid a rather bland setting and drives home the difficulty of what these characters are doing. It's depressing to watch but occasionally there are moments of sheer beauty peppered throughout and it's not limited to interactions of the cast but also in the film's shot selection and the light and playful score.
Vincenzo Amato delivers a charming performance as the simple-minded dreamer Salvatore his motivations are immediately clear and he sticks by his family even though his mother does nothing but complain, at the other end is the mysterious Lucy played by Charlotte Gainsbourg. Nothing is known about her past as we see her use her feminine charm to attain passage. If anything I was disappointed in the lack of her character's development throughout the film. What struck me as interesting about her character though is the uncertainty whether she does in fact have feelings for Salvatore or is simply using her feminine ways to get what she wants out of him. While my cynical side would suggest the later, it's in Gainsbourg's performance that perhaps suggests otherwise.
There's a lot of charm and imagination to "Golden Door" considering its dreary subject matter, and the film is certainly not for everyone. But, overall it's a fine picture that although is set in the early 1900's its themes are still relevant today. If you're a casual film goer that isn't interested in foreign films with subtitles, then I recommend doing as the character Salvatore does, step outside your comfort zone and take a risk by seeing "Golden Door".


Video


Presented in the film's original theatrical ratio of 2.35:1 this anamorphic transfer is sharp and clean. The image features hardly a flaw as the images are beautifully displayed within the wide frame. Colors are dulled down but this is appropriate for the film's era and intentional. Blacks are deep and bold and skin tones look very good. There are a few shots that appear soft here and there but overall it's a solid effort that does the film justice.

Audio


Two audio tracks are included in the film's original language of Italian as well as a Spanish dub, both tracks are in Dolby Digital 5.1 surround. I chose to view the film with its original Italian soundtrack and found it a decent effort considering this isn't the most active film out there. Dialogue is clear and distortion free and subtle ambient sounds make use of the surround channels as does the film's score. There isn't too much by way of aggressive sounds but a suitable ambience is created by this mix that immerses the viewer.

Optional subtitles are included in English, English for the hearing impaired, French and Spanish.


Extras


Buena Vista has included only a few extras such as an introduction, a featurette and a collection of bonus trailers. Below is a closer look at these supplements.

First up we've got a video introduction by Martin Scorsese which runs for 1 minute 41 seconds. In this clip the filmmaker talks about how the film touched him and the importance of the film's themes and subject matter.

Next up is "The Making of Golden Door" an original Italian featurette that runs for 26 minutes 8 seconds, it features subtitles in English. This clip takes a look at the themes of the film and the subject of moving to the New World including the consequences people faced through the journey. Throughout the clip we are presented with interviews with the director and cast as they talk about the film and their characters, a look at the research undertaken for the film, on shooting in Buenos Aires and working with the extras, as well as portraying the characters and working with each other. The feature also includes some behind-the-scenes footage taken during the production.

Rounding out the extras are a collection of bonus trailers for:

- "Wall-E" which runs for 1 minute 28 seconds.
- "Becoming Jane" which runs for 2 minutes 28 seconds.
- "Dan in Real Life" which runs for 2 minutes 39 seconds.
- "Disney Blu-ray" spot which runs for 2 minutes 21 seconds.
- "Truth Anti-smoking" spot which runs for 40 seconds.
- "Anti-piracy" spot which runs for 49 seconds.


Overall



| | | | | |
| --- | --- | --- | --- | --- |
| The Film: A | Video: A | Audio: A | Extras: B- | Overall: A- |

---
DVD Compare is a participant in the Amazon Services LLC Associates Program and the Amazon Europe S.a.r.l. Associates Programme, an affiliate advertising program designed to provide a means for sites to earn advertising fees by advertising and linking to amazon.co.uk, amazon.com, amazon.ca, amazon.fr, and amazon.de.