The Film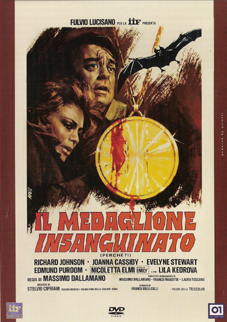 Michael Williams (Richard Johnson - e.g. "Zombi 2 AKA Zombie Flesh Eaters (1979)" and "Lara Croft: Tomb Raider (2001)") is a documentary filmmaker for the BBC in London. He´s also a widower after a tragic fire that eventually led to the death of his wife. Michael now lives with his young daughter Emily (Nicoletta Elmi - e.g. "Demons AKA Demoni (1985)") and their nanny Jill Perkins (Ida Galli - as Evelyne Stewart, e.g. "The Case of the Scorpion's Tail AKA La Coda dello scorpione (1971)"). Lately Emily has suffered from nightmares, taking her back to the fateful day when her mother was killed. In addition to that, she also sees strange visions from the dark ages, where she is chased by a furious mob of local villagers. The doctor suggests that Emily should go to Italy with Michael, where he is going to shoot his latest documentary. The change of scenery and fresh air will probably do some good for the troubled girl. The subject of the documentary is demons and occultism in the paintings and art. From the small village of Spoleto, Michael should capture some interesting footage. Their contact in Italy, Joanna Morgan (Joanna Cassidy - e.g. "Blade Runner (1982)" and "Ghosts of Mars (2001)") will help Michael, Emily and also Jill to settle down and makes all the arrangements. In Spoleto Michael also meets the local psychic, Contessa Cappelli (Lila Kedrova - e.g. "Best Actress in a Supporting Role" Oscar for "Zorba the Greek AKA Alexis Zorbas (1964)"), who should be able to provide some information about the mysterious painting that has puzzled Michael for a long time. The painting will be the backbone of the whole documentary. Cappelli instantly warns Michael that this particular painting is cursed and she´s not willing to share much more information. Apparently the painting simply "appeared" in one day in the late 1700s century and it´s said that it was painted by a saint - or by a demon. In the meantime the visions from Emily are getting stronger and people close to her are in danger. The medallion that at one time belonged to her late mother is also playing its part. Things are getting very interesting, when Joanna introduces the deserted, old villa that hold a great secret and - perhaps - the key to the mystery painting.

"The Cursed Medallion AKA Il Medaglione insanguinato (Perché?!)" (the on-screen Italian title also bears the word "Perché?!") by director/co-writer Massimo Dallamano (e.g. "What Have You Done to Solange? AKA Cosa avete fatto a Solange? (1972)") takes some influences from the films like "The Exorcist (1973)", but it would be wrong to say that this is another Italian "Exorcist clone". "The Cursed Medallion" is like an intelligent mystery, proving suspenseful more than a full-blown horror - let alone exploitation. Obviously it deals with the supernatural aspects, but nothing is very "simple" in the film, since there are several layers (and probably a couple of layers that aren´t fully solved during the film). The story also focuses on normal people and their relationships, which gives a "down to earth"-feel to any film. This more subtle approach also has its downside, since the tension takes its time and the flashbacks (especially the "dark ages"-ones) don´t always work that fluently within the big picture. Music is powerful and often beautiful, but sometimes a bit "all over the place". There are many great sequences, but as a whole it leaves something to be desired. The visual look is quite effective; the dark shadows and the autumn Italian village are providing the needed atmosphere, as well as eye candy. The ending is something truly powerful and very bold in many ways. "The Cursed Medallion" is a very good effort, including a solid cast and a very interesting story, but as a "horror-film" it doesn´t fully reach the finish line.

Video


"IIF (Italian International Film) Home Video" provides a very good, Anamorphic 1.85:1 (the image is very slightly windowboxed) transfer. Colours are strong and the black levels deep. The transfer is also clean and the sharpness is in a good level. The image is slightly faded in some scenes, which shows particularly in the right edge of the frame (probably not visible if the TV has some "overscan"). There is also minor wear and even slight "shimmering" in selected scenes, but I still assume that the transfer is remastered for this release. Overall it looks very good indeed. Note, that there are no end credits and that the back cover lists the aspect ratio as 2.35:1. The "dual layer" disc is coded "R2", and it has 24 chapters. The film runs approx. 88 minutes, but the disc itself is not time-coded for some reason.

Audio


The film includes only one audio track; Italian Dolby Digital 2.0 Mono. There are optional English or Italian subtitles. The track is quite clean, but if you turn the volume up, you´ll hear minor hiss and some odd noise that probably originates from the slightly worn out audio track. Additionally, a few "pops" can be heard. Since the lead actors speak English (Johnson is British and Joanna Cassidy is from the US), English dub probably would´ve been a better choice, but the Italian dub still does the job.

Extras


Section called "Film Cult Di Venezia 2005" refers to the retrospective of Italian film at the 2005 Venice Film Festival, and includes 4 theatrical trailers and poster still for each film:
- The Cursed Medallion AKA Il Medaglione insanguinato (1975) (Italian trailer - 2:22 min)
- What Have You Done to Solange? AKA Cosa avete fatto a Solange? (1972) (US trailer - 3:05 min)
- Planet of the Vampires AKA Terrore Nello Spazio (1965) (US trailer - 2:17 min)
- Dr. Goldfoot and the Girl Bombs AKA Spie vengono dal semifreddo (1966) (Italian trailer - 2:32 min)

Photo gallery includes 10 plain stills from the film. Text based extras (in Italian) include plot synopsis, cast & crew list and biography and filmography for actor Riccardo Garrone (playing Police Inspector) and actress Joanna Cassidy (filmography only). There´s also DVD credits.

Overall


Overlooked "The Cursed Medallion" is a smart, atmospheric horror-film and not to be confused with the cheap exploitation (not that there´s anything wrong with that, though). It probably won´t scare you to death, but it´s a nice ride into the supernatural and buried secrets. DVD-presentation is very good, but the lack of an English track and proper extras are a minor disappointment.

This DVD is available at Sazuma.com.
| | | | | |
| --- | --- | --- | --- | --- |
| The Film: | Video: | Audio: | Extras: | Overall: |