The Film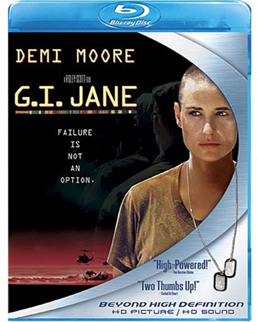 America loves heroes, especially in movies. One common setting is a military training school, where a person - who is either a) talented, but too cocky and overconfident, b) talented, but unmotivated or c) from a racial, cultural, educational or gender minority - tries to survive under the gruelling training and demanding drill instructor, who pretty much wants to get rid of the main character altogether. At first, that is. Before the end credits are rolling, the love/hate relationship is formed, respect is earned on both sides and some heroic deeds are done. Films like "An Officer and a Gentleman (1982)", "Men of Honor (2000)" and "The Guardian (2006)" all fit in this category and so does "G.I. Jane (1997)" from director/co-producer Ridley Scott.

Lieutenant Jordan O'Neil (Demi Moore) is serving as a topographic analyst in the army, where her quick mind, self-motivation and healthy appearance is noticed, when Senator Lillian DeHaven (Anne Bancroft - e.g. along with 4 nominations, won the "Best Actress in a Leading Role" for "The Miracle Worker (1962)") wants to open doors for women in the naval service. Due to political pressure, the army reluctantly agrees, but only if women are measured against men and in one of the toughest places in the whole army - the Navy SEALS (United States Navy Sea, Air and Land). Lt. O'Neil will be the first female candidate for the SEALS (in reality, the SEAL program is not open to women). She first has to pass the extremely tough selection program, led by the grim Master Chief Urgayle (Viggo Mortensen - e.g. "The Indian Runner (1991)", "The Lord of the Rings (2001-2003)"-trilogy, and "A History of Violence (2005)"), who´ll do almost anything to see his trainers quitting. Only the strongest ones survive from this 3-month period and many won´t last through the first week. From the first days of training, O'Neil has to run, march, crawl and fight virtually without any sleep and little food - morning to night, in rain and sunshine. Obstacle courses are not her only problem, since she also has to take the sexist comments and underrating attitudes from her fellow candidates. She also notices the "double standards" and different rules that are set to her - another attempt for preventing her from "fitting in" with the men. This will stop when she shaves her head almost bald, moves her stuff to the same barracks with the men and does everything to show that she has the place in the SEALS. Little by little, this is starting to pay off. What she doesn´t know is that in reality she is just one puzzle of the political play in the Senate and if she fails - very few actually care. Fortunately her boyfriend (Commander) Royce (Jason Beghe - e.g. "Monkey Shines (1988)") will hear some inside information about her status. O'Neil will learn in the hard way, that "trust", "loyalty" and "courage" don´t always exist in the civilian world and it´s hard to come by from some of her military superiors also.

British born Ridley Scott has always been a versatile and visual director, with an impressive list of quality movies in different genres; horror ("Alien (1979)"), science fiction ("Blade Runner (1982)"), cop-action ("Black Rain (1989)"), war ("Black Hawk Down (2001)"), drama-comedy ("Matchstick Men (2003)") and modern epic ("Kingdom of Heaven (2005)"). For some reason the 1990s wasn´t a greatest time for him, since after "Thelma & Louise (1991)" he only directed three movies with little critic and box office success - including "G.I. Jane (1997)". Demi Moore on the other hand was in the peak of her career in the early 1990s. After "St. Elmo's Fire (1985)" came hits like "Ghost (1990)" and "A Few Good Men (1992)" and Moore was the nr.1 actress in the country. Unfortunately her roles started to steer into a similar mould, where her sexuality and good looks - even nudity, started to dominate. Films like "Disclosure (1994)" and the in-famous "Striptease (1996)" (also introducing her new implants) didn´t do much for her acting career, but the paycheck was high. "G.I. Jane" (where Moore is also co-producer) clearly exploits the image that Moore had as an actress at the time, where her worked-out body is another tool for creating the character. In some scenes (like where she is doing push-ups and such) the film is like a steamy commercial and some selected "bra shots" are added to please the certain audience. "Lt. O'Neil is strong and independent, but also a woman" is probably the message, but often this is buried under the masculine scenes of Moore that feels a bit silly and too calculated now. Sigourney Weaver in "Aliens (1986)" showed that you could create a believable female "action-character" without any camp-values. "G.I. Jane" is Demi Moore´s show, where the rest of the actors are mostly visiting. Too bad that neither her talent - nor charisma, is enough to carry the whole film.

The film itself has some entertainment values, but the story isn´t really going anywhere during the first hour and after that most of the "action" falls short. The "training mission"-scenes are eventually too over the top for being truly believable and the last part in the Libyan coast feels rushed. The film is just too predictable from the start to finish. The "political"-side is also weak and the film probably would´ve worked better without it (since when it´s time to really get into the subject near the end of the film, everything is over in 10 minutes). Overall, "G.I. Jane" is a rather shallow and superficial movie, which doesn´t offer much story-wise if you start digging deeper and past the "woman-in-the-army"-premise. It doesn´t have the needed depth, and "character development" is nonexistent. At least I´m not sure what the deep motivation was that made Lt. O'Neil join the SEALS, and the character of Master Chief Urgayle had more potential than what was seen in the film. Fellow SEALS-candidates are just added for good measure, mainly to provide a few cheesy lines every now and then (playing "Slovnik" is James Caviezel from e.g. "The Thin Red Line (1998)" and "The Passion of the Christ (2004)"). On the positive side, Viggo Mortensen does a pretty good job with his character (at least in the first hour or so, when his character is more believable) and instead of super-glossy visual images, the film takes partly a more darker and misty look, which helped the credibility of the "military scenes". Scott usually knows the visual world in his films. Even though "G.I. Jane" is not a film meant to be taken fully seriously, in Scott´s standards it´s quite mediocre. The director probably made it without any burning desire, nor particular goal - he just made the quick popcorn-film. It´s never truly bad, but in the end comes rather forgettable.

Video


"G.I. Jane" is presented in 2.35:1 widescreen (1080p 24fps) and is using AVC MPEG-4 compression. Probably partly due to the original style, the film looks rather soft in comparison to many other Blu-ray-titles and some grain and even slight murkiness can be detected in the black levels. Colours are not very consistent, but it´s quite common that Ridley Scott alters the colours in his movies, so this is most likely intentional in some degree. Some brighter scenes (e.g. in Libya) fare better than others (at least if you´re looking for those "eye-popping" qualities), but mostly the transfer looks flat. I didn´t spot any obvious edge enhancement, but there were a couple of brief instances with dirt. The film is using "BD-50"-disc and there are 23 chapters. The film runs 125:14 minutes. Note, that the disc is confirmed to be "R0" (packaging also states "Region A, B, C").

Review equipment: Sony Bravia KDL-40W2000 LCD (1080p) + Playstation 3, via HDMI cable.

Audio


The film includes English PCM 5.1 (48kHz/16-bit - at 4.6 Mbps) and English Dolby Digital 5.1 (at 640 Kbps) tracks, along with French Dolby Digital 5.1 (at 640 Kbps) and Spanish Dolby Digital 2.0 Surround (at 256 Kbps). Optional English HoH, French and Spanish subtitles are included. Since my receiver doesn´t support HDMI yet and Playstation 3 lacks "Analog Out", I chose the Dolby Digital 5.1-option. You can get the PCM-track out from the disc via "Optical" or "Coaxial" also, but in that case it´s limited to uncompressed PCM 2.0. Based on a few samples, the PCM 2.0 actually sounds quite equal to Dolby Digital 5.1-track (or at least is not very far behind), if you choose "Pro Logic" from your receiver and get the 2.0 surround.

The English 5.1-tracks are excellent, providing clear dialogue and plenty of aggressive and crisp surround-activity. The subwoofer is active most of the film and comes truly alive in the various action sequences. Plenty is happening in the rear channels also. Music is loud and the whole track is very dynamic. Perhaps the sound mix is not as natural as in the newer movies and feel a bit too "MTV" in some scenes, but it´s hard to complain. I´m sure that the film hasn´t sounded this good in years.

Extras


There are no proper extras, which is a shame. It would´ve been interesting to hear the audio commentary from Scott and at least one good documentary about the film. Since Scott is usually very open minded in participating in DVD-releases, this feels like a missed opportunity.

Some bonus trailers are included (14:46 minutes, in 1080p). They run before the "Main menu", but can be skipped; "Deja Vu (2006)", "Apocalypto (2006)", "Invincible (2006)", "The Guardian (2006)", "The Prestige (2006)", and "Buena Vista Blu-ray promo".

The disc also includes the "Movie Showcase" chapter search for 3 scenes (you can choose "Play all"). This is the instant access to the selected scenes, which "showcase the ultimate in HD picture and sound". With some films, you can use this option to show of your equipment and the strengths of HD, but I don´t see much use of these type of features. This disc is packaged in a standard Blu-ray case.

Overall


For me, "G.I. Jane" is probably the weakest film from Ridley Scott, mostly because apart from the nice visual world, some action and Demi Moore´s tight top it doesn´t offer much. Blu-ray-release is basically barebones, but has a decent transfer and solid audio, which should please the fans of the film. Now where´s Blu-ray-release of my true guilty pleasure; "Someone to Watch Over Me (1987)"? Bring it on.

For more info, please visit the homepage of Buena Vista Home Entertainment (Blu-ray).
| | | | | |
| --- | --- | --- | --- | --- |
| The Film: | Video: | Audio: | Extras: | Overall: |