The Film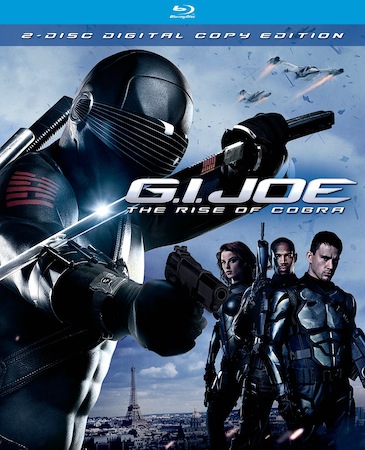 Once "Transformers" (2007) proved that 80's relics can be dusted off and marketed for a new generation, every studio and producer suddenly clamored to pinch up every 80's property they could fine, cartoon or toy, doesn't matter, if it's part 80's pop culture then it'll be in cinemas soon. "Thundercats" is coming in 2012, so are "The Smurfs", even board games are being adapted into films... sheesh! I though Hollywood ran out of ideas years ago, but now it's sinking in... "G.I. Joe's" development goes back to 2003, when producer Lorenzo di Bonaventura began plans to release a military action. Several script writers were attached, an announcement was made that a "G.I. Joe" film would see light, fans of the action figures and cartoon series from the 80's rejoiced (myself included, I loved those damn figures and also spent a lot of time glued to my TV screen after school and on Saturdays), however the euphoric happiness didn't last long as Stephen Sommers was announced as director... seriously? The guy that brings "cheese" to big budget films... this fan was not impressed. However, I can see why the producers chose Sommers, he make largely entertaining action films, they have a sense of fun, it's a shame they aren't that good. The resulting "G.I. Joe: The Rise of Cobra" is by far his best film in my opinion, but that isn't saying much as it's also a big, dumb, over-the-top mess of colorful family-friendly action... and guns that can shoot underwater... oh and Paris gets destroyed.

"G.I. Joe: The Rise of Cobra" is very much an origin film, in it we learn about the covert ops team that is "G.I. Joe," we meet Duke (Channing Tatum) and his buddy/side-kick Ripcord (Marlon Wayans), they encounter the Joes on what is essentially a routine escort mission of some newly developed weapons. Cobra attacks and next thing you know both Duke and Ripcord are inducted into the program, met General Hawk (Dennis Quaid) and the rest of the Joes; Heavy Duty (Adewale Akinnuoye-Agbaje), Scarlett (Rachel Nichols), Snake Eyes (Ray Park) and Breaker (Saïd Taghmaoui). They fight some Cobra bad guys, they save Paris by destroying it. Discover some plot twists, Sienna Miller struts around in tight black outfits, Snake Eyes and Stormshadow's (Byung-hun Lee) origins are thrown in randomly and they engage in an epic fight. Underwater battles take place, cheesy lines are thrown about, and both Destro (Christopher Eccleston) and Cobra Commander (Joseph Gordon-Levitt) rise and runway to fight another day.

Upon first glance, this ain't the cartoon series, it's much goofier and over-the-top, think "Team America: World Police" (2004) only live action. "G.I. Joe: The Rise of Cobra" tries to cram way too much into the film to maintain a coherent narrative. The problem being is that there are so many characters to keep track of that it's almost impossible to formulate and maintain any connection to them. Such brief amounts of time are allocated to them that we aren't afforded character depth and thus all end up as two-dimensional cardboard cut-outs. It doesn't help that the casting is ham-fisted at best. I don't know how Channing Tatum became a star? This guy has no charisma, very little acting talent and seems to have only gotten the part because he looks good in army gear. Dennis Quaid, Christopher Eccleston and Joseph Gordon-Levitt have done better and this film is essentially a giant paycheck. Cash it in, ham it up, do it again for more money in the sequel, done and dusted. I did however like Marlon Wayans' character, despite having some of the stupidest lines in the entire film, he managed to bring a sense of fun to his role and I've always liked Saïd Taghmaoui, I think he was the only actor that actually "acted" in this film, although he wasn't given too much to work with...

Ok, so performances aren't exactly what people go to see when watching "G.I. Joe: The Rise of Cobra," this ain't a costume drama! It's a summer popcorn film, that's meant to blow stuff up and entertain the viewer and it certainly does that. The action is over-stylised and ridiculously moronic, but I couldn't help smiling throughout it. There's just something so good about badly acted action movies (with the exception of "Transformers: Revenge of the Fallen" (2009), which is just bad) which have big-budget action set pieces, I couldn't get enough of the crazy vehicles, cool costumes and weapons, and seeing the Joes training/op-center facility. It was like being a kid and playing with the toys all over again, just realized on the screen. I found myself trying to name the vehicles and pick the character moments before they happened. This was about the only enjoyment I got from this film... but it was all I really expected. I just wish they didn't use so much CG effects, it gives the film such an artificial haze and CG ships look painfully obvious. For such a big budget film the effects could have been better.

Overall, my low(ish) expectations for the film were met, it was fun in parts but it was a silly film without any real merit to it, a sequel is expected, and will likely be bigger and introduce more Joes into the mix. If you're looking for a waste of time, this might be the film for you.

Video


Presented in the film's original theatrical ratio of 2.40:1 this film comes to Blu-ray in high-definition 1080p 24/fps and mastered using AVC MPEG-4 compression. Paramount continues their trend in delivering excellently produced high-definition transfer. The only way ti describe this image is: eye candy. The image is mostly razor sharp and impressively detailed (some CG shots look a little on the soft side), from the wide and expansive locations and sets to the intricate details of the costumes look good. The wide frame allows for an epic scope and although sometimes the action can seem a little cramped within the frame, the colors and "pop" of the image remains consistent. Skin tones look natural, blacks are solid and deep, grain is light and unobtrusive. The image is clean from any dirt and specks, no compression problems were detected or edge-enhancement. The film's consistent look manages to keep up with the action and constant change from daylight scenes, to dark sets. It's a terrific image.

Audio


Three audio tracks are included in English DTS-HD Master Audio 5.1 surround mixed at 48kHz/24-bit, French Dolby Digital 5.1 and Spanish Dolby Digital 5.1 surround. For the purposes of this review I chose to view the film with its DTS-HD audio. Much like the image the sound is incredibly detailed. Dialogue is clear and distortion free, but its the surrounds that deliver and active, aggressive and complex surround experience that truly envelopes the viewer amid the bullets, explosions and mayhem. The acoustics are bombastic, the basses are deep and robust, shaking the walls with it's rumble. This soundtrack is loud, the music is at times overwhelming, and totally satisfying. The best way to describe this audio track is that it's an all-out assault on your aural senses.
Optional subtitles are included in English, English for the hearing impaired, French and Spanish.

Extras


Paramount has included only a small collection of extras, they include an audio commentary, two featurettes and a digital copy of the film. Below is a closer look at these supplements.

DISC ONE:

On this Blu-ray we've got a feature-length audio commentary by the film's director Stephen Sommers and producer/editor Bob Ducsay. This is a fairly standard track that covers the general production process, they start off by commenting on Paramount's legacy and how great it is making a movie for the studio (yawn), they comment on how the writer's strike affected the production and on how the writers were on set during the filming (making changes and updates as they shot). Sommers delves into some behind-the-scenes trivia. They cover a lot of ground here, from the development, character design, casting, setting up the action among other things including the design of the film's aesthetic. They talk of filming in L.A. mostly but also on shooting in Prague and Paris and the challenges of the production and the inspiration of the "G.I. Joe" legacy and history. These two maintain a monotone droll throughout, with Sommers perking up occasionally when action scenes come up. They provide a lot of information but nothing Earth-shattering.

Bonus trailers are also included for:

- "The Last Airbender" which runs for 1 minute 41 seconds.
- "Transformers: Revenge of the Fallen" which runs for 2 minutes 35 seconds.
- "Star Trek" which runs for 2 minutes 17 seconds.
- "Monsters Vs. Aliens" which runs for 2 minutes 32 seconds.
- "G.I. Joe: Resolute" which runs for 1 minute 2 seconds.

DISC TWO:

This is a standard DVD disc and includes "The Big Bang Theory: The Making of 'G.I. Joe'" a featurette which runs for 29 minutes 34 seconds. This is a very basic EPK piece covering the development of the film, on making a film based on a product. The involvement of the director and how he was a fan of the figures and cartoon series from the 80's. The filmmakers wanted to introduce the "comic book" element of the property and on how to incorporate Cobra and the conflict. Other cast and crew talk about how cool the stories and characters are, the screenwriter ironically talk about characters and how that's important, yet a lot of the characters are glossed over quickly and are 2D cut-outs as I stated in my film review. The clip includes some cool behind-the-scenes footage shot during the production process and on prepping a film in a short amount of time, shooting on sets and dealing with effects as we look at the three major action set-pieces in this film.

"Next-Gen Action: The Amazing Visual FX and Design of 'G.I. Joe'" featurette runs for 21 minutes 8 seconds. The visual effects crew takes us through the various special effects created for the film. This film had an enormous amounts of effects and the film was made possible by today's technology. We get a look at CG set extensions, weapons, vehicles, digital characters. The clip takes a look at the scale of the film and on how it continued to get bigger and bigger as it evolved and the challenges of designing the film.

Rounding out the extras on this disc is a digital copy of the film for portable media devices.

Packaging


This 2-disc set is packaged in a Blu-ray case housed in a cardboard slip-case.

Overall


The film may not be the best example of an action film, but it does offer up some fun sequences for a rainy day, the Blu-ray release feels a little rushed and doesn't have a lot of meaty supplements for such a big-budget film. Perhaps Paramount are holding back some extras for an eventual double-dip?

This disc can be purchased at HD Movie Source. Your HD movie specialists.



| | | | | |
| --- | --- | --- | --- | --- |
| The Film: C- | Video: A | Audio: A+ | Extras: C | Overall: B- |