Green Fish AKA Chorok mulkogi
R0 - United Kingdom - Third Window Films
Review written by and copyright: Gary Jukes (6th January 2008).
The Film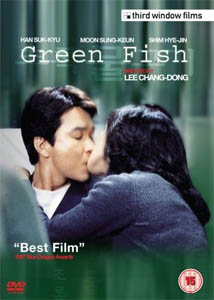 Kim Mak-dong (Han Suk-gyu), recently discharged from the military, is taking the train home when he encounters a beautiful woman being harassed by some youths. Going to her aid he is beaten for his trouble, and when the three young men who attacked him get off the train at the next station he rashly follows and attacks them, seeking retribution. Unfortunately the train then pulls away and he is left behind. With no other option available to him he walks home where, the next day, he finds everything has changed - his rural village is now a city, and his once-close family is fragmented and dysfunctional. Searching for a means of making money he eventually meets Mi-ae, the woman from the train, and through her he is drawn into the criminal underworld and ultimately into conflict with his gang boss, Bae Tae-gon.

The plot of Green Fish may not be exactly original, but it's well-executed by first time director Lee Chang-dong. Generally the performances are good and the characters are interesting, and the slow pacing of the film helps develop these characters and the situations they find themselves in. This is very much a drama so there isn't much in the way of action, despite the involvement of gangs - the main themes of the film are family and loyalty, themes which will be familiar to anyone acquainted with Takashi Miike's body of work. Han Suk-gyu gives a good performance as Mak-dong, though his character could have been a little 'warmer' - he seems far too content to drift along doing whatever he is told, and as a consequence I didn't really become too emotionally invested in the character. Of the other actors, Shim Hye-jin as Mi-ae is good, as is Moon Sung-keun as Tae-gon. Song Kang-ho (The Host) has a small role as a gangster but he makes a big impact with his limited screen time.

Overall Green Fish is an interesting and well-directed drama, with a good emotional tone throughout.


Video


A solid 1.78:1 anamorphic transfer, with good detail and vivid colours. The optional English subtitles are disappointing, though - while they are perfectly legible there are spelling and grammatical errors dotted throughout.


Audio


This is a dialogue-heavy film and the Korean Dolby Digital 2.0 Stereo soundtrack does a good job with nice separation through the front channels.


Extras


Disappointingly, there are no extras apart from a Third Window trailer reel.

Overall




Equipment: Toshiba HD-XE1, Toshiba 37X3030DB, Yamaha DSP-AX630, Mission speakers & subwoofer.
| | | | | |
| --- | --- | --- | --- | --- |
| The Film: B | Video: B | Audio: B- | Extras: E | Overall: B |

---
DVD Compare is a participant in the Amazon Services LLC Associates Program and the Amazon Europe S.a.r.l. Associates Programme, an affiliate advertising program designed to provide a means for sites to earn advertising fees by advertising and linking to amazon.co.uk, amazon.com, amazon.ca, amazon.fr, and amazon.de.