The Film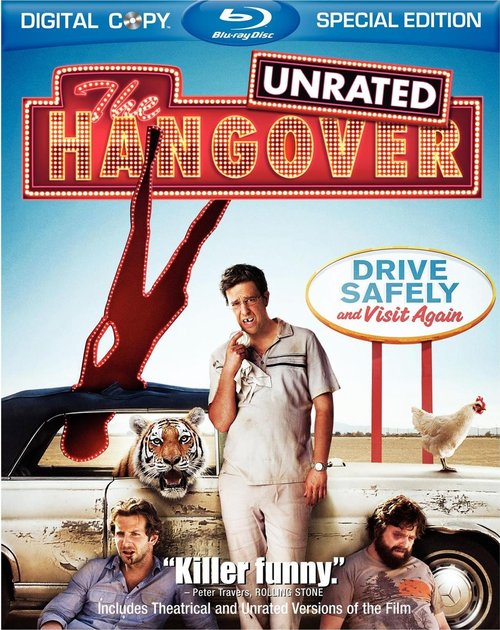 It seems like I'm always the guy who's making every effort to see the next greatest thing in theaters for fear of not being "in the know" and able to discuss it with my friends. And, yet, for some reason I managed to go the entire summer without seeing one the highest-grossing comedies of all-time, "The Hangover" (2009). I don't even know how I avoided it so well; I suppose the opportunity to see it just never came up like it did with other summer hits. Hell, I was able to remain relatively spoiler-free; an impressive feat considering everyone I knew had seen it. So, it was with a great deal of pent-up excitement and anticipation that I sat down to finally watch it.

But I really should have known that a great deal of the hubbub was hot air. Sure, the movie is funny, very much so at times, but I wouldn't even put it high up my list of top comedies of the year. Just because it did so well, that doesn't mean it's necessarily the funniest film ever made, a dubious claim I've overheard some say. I think I mistakenly assumed that the public praise would be worth its weight in laughs. Or maybe the film just didn't cater enough to my own personal preferences for comedy, which are typically jet-black. But, once it was all over, I still felt like it was an amusing romp through Sin City with some hilarious moments.

The film begins with our leading quartet of men getting ready to head out to Las Vegas: Doug (Justin Bartha), the husband-to-be; Phil (Bradley Cooper), his loudmouth best friend; Stu (Ed Helms), their nerdy buddy; and Alan (Zach Galifianakis), Doug's fiancées dim-witted brother. They arrive, check in and have a celebratory toast on the roof of Caesar's Palace, then the film time lapses us to the next morning where Phil, Stu and Alan are passed out in their now-destroyed hotel suite. Doug has gone missing and the 3 of them have to find him before the wedding in 2 days. Using various clues and tips from people they encountered throughout the night, the group carefully retraces their steps to find the missing groom.

The big deal I'd been hearing about this film was Zach Galifianakis' hilarious role as Alan, the group's man-child with a big heart and a minute mind. No doubt, he's easily the funniest of the trio, but he didn't bring the funny as much as I was expecting. He does do some great physical comedy, though. He reminded me of Chris Farley in many ways; he just needs to hone his act a bit more. With some high-profile projects coming up for 2010, I'm sure he'll have plenty of time to perfect his style.

The other two guys on the search, Phil and Stu, are funny in their own right. Bradley Cooper has always had that cocky swagger to his acting style, so he seems a natural fit for his role as Phil. He's like Josh Lucas if Josh Lucas weren't such an over-the-top, crappy actor. Ed Helms, who I don't think I've seen in anything before this, surprised me a bit as the cuckolded nerd who sort of finds himself through misadventure in Vegas. I kept expecting the film to take his character to familiar, overdone territory, and thankfully it never did.

Todd Phillips has a commendable, if not somewhat nonspecific, list of directorial credits to his name. "Road Trip" (2000) is mostly forgettable thanks to the inclusion of Tom "his- 15-minutes-have-been-up-for-a-decade" Green, but "Old School" (2003) is what managed to get him some more serious attention. That's another one that I felt was funny, but not THAT funny. "Starsky & Hutch" (2004) and "School for Scoundrels" (2006) were both unimpressive and lackluster. Thankfully, "The Hangover" is a step in a far better direction than those last two pictures. He's got another film with Galifianakis due next year, and a sequel to this film has already been given the greenlight, so it's a safe bet he'll be working for a long time.

This Blu-ray contains both the R-rated "Theatrical" and new "Unrated" cuts of the film. The difference is approximately 8 minutes. Though I didn't see the film in theaters, and don't know what was added, from what I've read it appears to be mostly dialogue extensions that add little to the overall film. No surprise, since most "Unrated" cuts that are released on Blu-ray usually just have extra dialogue that was deemed extraneous. So, don't expect some unseen, raucous gems that were cast out of the film in theaters; they aren't here.

Video


"The Hangover" might have been rough on its cast, but it's certainly not too hard on the eyes. The film features a 2.40:1 1080p/24fps VC-1 encoded image that does a superb job of faithfully reproducing the glimmer of Vegas' lights, the scorched, barren plains of the desert and the dark atmosphere of its nightlife. The hotel scene the morning after the big night presents some great background details that look remarkably sharp in high-definition. Black levels, like when the guys ascend to the top of Caesar's Palace (not possible in real life, by the way; there is no roof to be accessed) or when they have a tussle with Mr. Chow (Ken Jeong), all look rich and deep with no fluctuations in depth. Skin tones and facial close-ups look natural and lifelike. I didn't notice that a few shots looked slightly out-of-focus, but nothing too obvious to ruin the picture. This is yet another solid effort from Warner Brothers.

Audio


The film's English Dolby TrueHD 5.1 surround sound track mixed at 48kHz/24-bit, however, didn't impress me as much as I thought it might. There are a few hip-hop tracks that bring the LFE track to life, but the rest of the film relies heavily on dialogue exchanges. There should have been a more frenetic track commensurate with the frantic search for Doug, but instead the track is rather tepid. Dialogue sounds crisp and clear, there are no directional issues. But the surrounds barely add anything to the mix, surprising when you consider all of the people in Las Vegas that populate the streets 24/7. So, lack of dynamic sound aside, it's a well-adjusted track. But that kind of thing is expected from a Blu-ray title these days.
English, French (dubbed in Quebec) and Spanish (on "Theatrical" version only) Dolby Digital 5.1 surround sound tracks are also included. Subtitles are available in English for the hearing impaired, French and Spanish.

Extras


"The Hangover" makes a modest recovery on Blu-ray, featuring a Picture-in-Picture video commentary, additional improvisational scenes featurettes, an interactive map, a photo gallery and some BD-Live content for profile 2.0 players with an internet connection. There is also a second disc included which contains a digital copy of the theatrical version. The features are fairly weak considering the mint the film made at the box office this summer. I have a feeling we may be getting a more loaded edition down the line.

DISC ONE:

Picture-in-picture commentary with director Todd Phillips and actors Bradley Cooper, Zach Galifianakis and Ed Helms. I'll be totally forthright in saying that I don't particularly like picture-in-picture commentaries. Unless it's something groundbreakingly cool, like Zack Snyder's Maximum Movie Mode commentary for "Watchmen" (2009), I don't need to see the film's cast and crew sitting there, in a theater, watching the movie; the sound of their voices is perfectly sufficient. The four of them do get a good dialogue going with some production anecdotes and technical notes early on, but it feels like they quickly lose interest in talking and resort to watching the film, which leaves us with some gaps of silence. I expected a lot more from this one considering the participants, but it never took off like I wanted it to.

"Map of Destruction" is an interactive feature that allows you to retrace the guys' steps from the forgotten evening. Most sections include some behind-the-scenes foot age or history on the location. They are available for the following:

- "Palms" has no information.
- "Caesar's Palace Hotel" runs for 1 minute and 36 seconds.
- "Strip Club" runs for 1 minute and 7 seconds.
- "Best Little Wedding Chapel" runs for 1 minute and 11 seconds.
- "Caesar's Palace Suite" runs for 1 minute and 12 seconds.
- "Bellagio Hotel" has no information.
- "Mercedes Left on Strip" has no information.
- "Jail" runs for 1 minute and 33 seconds.
- "Desert Lot Mr. Chow" runs for 2 minutes and 1 second.
- "Hard Rock Hotel & Casino" runs for 1 minute and 53 seconds.
- "Riviera Casino" runs for 1 minute and 53 seconds.
- "Hospital" runs for 52 seconds.
- "Mike Tyson's House" runs for 1 minute and 44 seconds.

"The Madness of Ken Jeong" is a featurette that runs for 7 minutes and 56 seconds. The comedian runs wild in this extended montage of his impressive improvisational skills.

"Action Mash-Up" featurette is a random compilation of some of the films more exciting scenes of physical comedy, and runs for 35 seconds.

"Three Best Friends Song" is a video featurette with some additional singing from the lead trio; it runs for 1 minute and 23 seconds.

"The Dan Band!" is a short featurette of the hilarious wedding band singing the track "Fame"; it runs for 1 minute and 8 seconds.

A gag reel of flubs, bloopers, screw-ups and the like runs for 8 minutes and 16 seconds.

"More Picture From the Missing Camera" photo gallery contains extra stills that weren't seen during the film's end credits. It contains over 100 images, none of which are that outrageous.

A BD-Live link leads to some additional content specific to the film:

- "Cursing Mash-Up" runs for 34 seconds, and includes some of the film's finest uses of profanity.
- "Iron Mike Online Teaser" runs for 1 minute and 56 seconds, this is some additional footage of the former champ belting out Phil Collins' "In the Air Tonight".

First off, this stuff should have been on the disc itself. These are very short pieces that would have easily fit onto the Blu-ray. Secondly, it's really annoying having to either log-in or register with WB's BD-Live network every time you access it. I know what studios are trying to do with BD-Live, and I think it has some great potential, but unless they make viewing available content a lot quicker and easier, it's still just a gimmicky waste of my time.

DISC TWO:

This is a digital copy of the "Theatrical" version of the film that works with Windows Media and iTunes devices.

Packaging


The standard Blu-ray case comes housed in a cardboard slipcover which replicates the cover art.

Overall


Not the side-splitting ribald comedy I had expected, "The Hangover" is still a funny film with some hilarious highlights. The Blu-ray has some extra features that don't appear on the 2-disc DVD edition, and the near-flawless picture quality, and solid, if not unspectacular, audio makes this a good buy.
| | | | | |
| --- | --- | --- | --- | --- |
| The Film: B- | Video: A- | Audio: B | Extras: B- | Overall: B |