The Film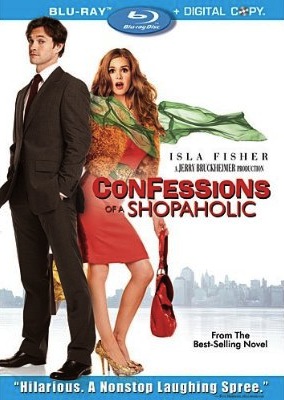 I'm sure the crew behind "Confessions of a Shopaholic" (2009) had to have known ahead of time that the film wasn't going to strike a chord with audiences. After all, terrible advertising aside, this was a film about a woman who lives to shop, shop, shop 24/7, eventually accruing a series of massive bills that loom ominously over her head. And the United States, as a nation, was smack in the midst of one of the worst financial crises in recent memory. Who wanted to watch a film about overspending, overindulgence, lack of fiscal responsibility and debt collectors? Hell, most people probably were living the film already. People often want a film to help them escape from reality, not remind them of it.

Rebecca Bloomwood (Isla Fisher) has always wanted to be the girl with the hottest and trendiest fashion sense. After she lands a job in New York City, she spends, and spends, and spends… and spends. For the entire film. Wracking up a massive debt and, in turn, being hounded by a debt collector. When she loses her job, and loses out on her dream job interview, she takes a job with a financial magazine and finds unexpected success with her columns. Rebecca ends up falling for the magazine's editor, Luke (Hugh Dancy), but risks losing him and her best friend when all of her lies and procrastinating problems finally come to a head.

That paragraph I wrote sounds infinitely better than the film itself actually is, and, yet, it still sounds about as appealing to me as shopping with my girlfriend. Honestly, this film is over 90 minutes of an out of control, incorrigible brat shopping her ass off in a feeble attempt to fill an obvious void in her life. Even worse, it takes her forever to start learning any of the lessons the character should know in the first place. It gets insulting watching her ruin personal relationships, jobs and romantic possibilities because she can't get a grip on her habit. The extra disgust may come from watching someone act so foolishly during our current financial climate, but it's also due to her inability to recognize a problem when it presents itself.

The film is based off of two different novels, "The Secret Dreamworld of a Shopaholic" and "Shopaholic Abroad," both of which were written by Sophie Kinsella. The novels were both set in England, and Rebecca was a British character, but the locale and nationality were both changed for the American production. I don't know if that was such a great idea. I think this film could have been marginally better had the lead been British, maybe Hugh Grant could have played the love interest… although, I may just be saying that since I assume Grant is in every romantic British comedy. But I digress, making her a self-spoiled vapid tartlet in New York just left my skin crawling.

I don't think Fisher is unconditionally at fault here. I found her to be amusing enough in "Wedding Crashers" (2005), haven't seen her in anything since, but she's got a likeable personality on film that seems to clash with the character she's playing here. I never had any sympathy for her to begin with; I'm not sure how anyone could. I realize that shopping, much like drugs, can be a serious addiction but watching a comedic film about it didn't work. There are times when Fisher came across as mildly humorous with some of her physical comedy and mannerisms, but more often than not she was over the top and occasionally crass.

The film's one saving grace is that someone had the foresight to cast John Goodman as Rebecca's father. Now, he's got minimal screen time, at best, but Goodman just has such an amazing presence on film that he can steal away the thunder from almost anyone he's acting alongside. For the 15-ish minutes he's in this film, he does just that. He's that brief patch of sun on a crappy day.

You know how to tell this film is bad? It's easily the worst thing Jerry Bruckheimer has ever produced that I've seen. Yes, folks, that's right. Mr. Summer Blockbuster himself, Jerry Bruckheimer, produced this movie. And with all of the implausible, outrageous, over-indulgent, explosive-heavy crap he's unleashed on theaters for over 20 years this is by far the worst thing I've ever seen his name attached to. And, yes, I know "G-Force" (2009) came out this year.

Video


The movie might be akin to having acid poured on the brain, but it's certainly easy on the eyes. The film's 1080p 24/fps AVC MPEG-4 encoded 2.40:1 widescreen image looks quite spectacular. We spend a major portion of the film checking out the hottest fashions, the trendiest clothing stores and the gaudiest window dressings, and they all look finely detailed and flashy. Colors pop off the screen with some great vibrancy, although some did come off a little too over-saturated. Night time scenes were slightly on the darker side, reducing the appearance of finer detail and shadows. Disney has proven to be a dependable studio regarding high-definition releases, and while this isn't one of their best efforts, it's certainly no slouch.

Audio


The English DTS-HD Master Audio 5.1 surround sound track mixed at 48 kHz/24-bit basically met my expectations in terms of clarity, directionality and sound design. Much like our leading lady's head, there isn't a whole lot going on here. Surrounds are used minimally; they don't even attempt to replicate the busy streets of the city. The film is generally a front-loaded affair, although a few pop songs do pump things up somewhat. Romantic comedies have never been acclaimed for their impressive sound design, so expect a sparse track and you should be unsurprised.
There are also French and Spanish Dolby Digital 5.1 surround sound tracks included. Subtitles are available in English for the hearing impaired, French and Spanish, Portuguese, Bahasa, Malay, Korean and Chinese.

Extras


The back cover of "Confessions" has a substantial enough list of extras printed on the back that it would seem it's overflowing with goodies. That isn't the case. Though they may be many in number, the total running time of everything included is barely 30 minutes. And I, for one, was incredibly grateful.

DISC ONE:

"Behind the Fashion" contains several featurettes on the film, all of which are presented in 1080p. Included are:

- "Wardrobe by Patricia Field" runs for 3 minutes and 1 second. Field takes viewers into her studio for a quick tour, as well as discussing a bit about her creative process.
- "Temple of Shopping" runs for 2 minutes and 32 seconds. We get a quick look at the store which is Rebecca's Mecca, Henri Bendel.
- "The Green Scarf" runs for 1 minute and 33 seconds. Learn everything you ever wanted to know about the majestic green scarf prominently featured in the film!
- "New York: Fashion Central" runs for 2 minutes and 34 seconds. This is a closer look at one of the country's most celebrated cities to shop in.
- "Sample Sale Madness" runs for 1 minute and 58 seconds. This is some behind-the-scenes footage of the stampede to save on designer goods.
- "Window Shopping" runs for 1 minute and 50 seconds. We get to see how they used motion-capture suits to bring the window mannequins to life in the film.

There are four deleted scenes presented in 1080p/24fps available:

- "19 Scarfity Scarf Scarf" runs for 52 seconds. Rebecca's mind wanders while she attends a meeting.
- "Zebra Print Pants" runs for 3 minutes and 26 seconds. Rebecca desperately wants a pair of jeans she can't afford, despite her friend's advice.
- "The Unexpected Kiss" runs for 1 minute and 24 seconds. Rebecca and Luke's potentially tender moment on the rooftop is ruined.
- "Plaid" runs for 36 seconds. Someone else is looking to be a star writer for Brandon Communications, a man in plaid.

"Bloopers of a Shopaholic" (1080p) is a blooper reel of flubs and goofs which runs for 2 minutes and 7 seconds.

There are three music videos available for the following:

- "Stuck with Each Other" by Shontelle featuring Akon (1080p) runs for 3 minutes and 25 seconds.
- "Accessory" by Jordyn Taylor (1080p) runs for 3 minutes and 32 seconds.
- "Takes Time to Love" by Trey Songz (1080p) runs for 2 minutes and 23 seconds.

Finally, there are some bonus trailers presented in for the following:

- "Morning Lights" (1080p) runs for 2 minutes and 28 seconds.
- "The Proposal" (1080p) runs for 2 minutes and 34 seconds.
- "Lost" (1080p) Blu-ray promo runs for 1 minute and 56 seconds.
- "Disney Blu-ray" (1080p) promo runs for 1 minute and 2 seconds.

DISC TWO:

This is a digital copy of the film which is compatible with iTunes and Windows Media players and portable devices.

Packaging


The 2-disc set comes housed in a standard Blu-ray case with the two discs on either side of the interior. There is a slipcover which reproduces the art seem on the front cover. I should also note there is "$10 Fashion Cash" included for those who view the film, learn nothing, and find themselves inspired to wrack up some debt trolling for haute couture.

Overall


I'm giving this movie a slightly higher grade than it deserves solely based on John Goodman's appearance alone, although he should know better than the lend his talents to dreck like this. Fisher is whiny and annoying, like a big baby. I don't think a film about unrestrained spending would be a joy to watch even if we weren't in a recession. At least the A/V quality is of a high quality, but the extras are still a weak bag.
| | | | | |
| --- | --- | --- | --- | --- |
| The Film: D- | Video: B+ | Audio: B- | Extras: C | Overall: C- |