The Film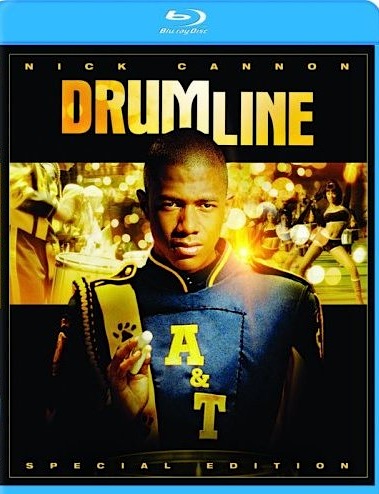 Have you ever found yourself in a situation where you have a preconceived notion of what a film will be about, only to sit down and watch that film and find it's nothing like you expected? Well, that was the situation I found myself in with "Drumline". Now, I did expect this to be a clichéd film with an overwrought plot – that did, in fact, happen. But I had expected this film to be some innocuous, tiresome yarn about drumming, not the musical equivalent of "Full Metal Jacket" (1987). Is the life of a college drummer really this intense? I wasn't sure if this was a film about achieving musical dreams or a subliminal recruitment video for the Army.

Devon Miles (Nick Cannon) is one of the finest drummers New York City has to offer, so he gladly accepts a scholarship offered to him from Atlanta A&T after graduating high school. However, when he arrives he finds that being part of the elite drumline isn't as easy as he had anticipated. Early mornings, rigorous exercises, demanding scheduling and ruthless instructors begin to test his patience, and soon his attitude and pride get the best of him. Devon needs to learn to control his temper and work as a cohesive unit with his other band members if they have any chance at out-drumming their longtime rivals, Morris Brown.

Now, when I said this movie played like a military recruitment video, I wasn't kidding. These kids are subjected to some intense conditioning. They're up and out of bed before 5 a.m., they're forced to run laps and do dozens of pushups, the mentors are more like drill instructors… it's crazy. So crazy, in fact, that the film has apparently been criticizes by real-life marching band members for its unrealistic depiction of practice and training. It's a relief to know that people aren't actually subjected to this type of routine. It was actually so ridiculously over-the-top that I ended up watching the film as a dark comedy, rather than a serious drama. Honestly, it becomes hard to take it seriously when you listen to some of the pre-digested lines about what it means to be doing what they do.

Reviews stated that Nick Cannon shines in the film, but I didn't notice anything of value within his performance. He's a loud-mouthed, cocky musical talent with a head full of rocks and a piss poor attitude. His character arc can be seen from 120 minutes away – there's nothing new brought to the table here. We've seen it done a thousand times before. Headstrong boy arrives on the scene, boy shows everyone up, boy gets kicked out for bad attitude, love interest girl turns boy's attitude around, boy makes triumphant return to help win the big game/performance/fight. Cannon does have a certain likeability about him, though. His character might be downright annoying at times, but Cannon exudes enough charm to give the performance some life. Hell, the guy's gotta have something going for him, right? Mariah Carey married him.

Director Charles Stone III fails to bring anything fresh to the table here. This is a film that comes pre-packaged. He takes a stock formula that has been used by an infinite number of films, and inserts drumming as the key plot device. I see the desire for films like this; obviously this dead horse plot has been used and abused, but on the other hand it also resonates with the public enough that filmmakers keep going back to it. So it's easy to package it up with a different theme each time, whether it be football, drumming, swimming, golf, etc., and give something to fans of that particular area of interest. It's almost a guarantee quick cash grab, but I have little respect for those who make these pictures and don't even attempt to inject them with a sense of style and personality.

This Blu-ray comes with both the theatrical and extended versions of the film, though I could find no information on what the differences between the two are. The theatrical version runs for 118 minutes, while the extended runs 4 longer at 122 minutes. My guess would be dialogue extensions since those are all the rage these days.

Video


"Drumline" might be a generic film, but the transfer is hardly mediocre. The film's 2.35:1 1080p 24/fps AVC MPEG-4 encoded image looks remarkably clear. Fox continues to show that they know how to preserve a film's intended looks on home video. The image is always cinematic in look and texture, with a light sheen of grain that retains the theatrical experience. Being that this is a college film, school colors are abound resulting in plenty of opportunities for the picture to show off with vibrant hues and lush shades. Black levels are deep and rich when seen. The majority of the film does take place in daylight and the white levels never appear too hot.

Audio


The English DTS-HD Master Audio 5.1 track mixed at 48kHz/24-bit is every bit as impressive as you'd expect it to be. Though the movie might not be about a sport, make no mistake that the film is very much handled like a sports movie. However, where those films tend to rely heavily on dialogue, this is a film about a marching band and it relies heavily on music. The design here is fantastic. Surrounds are constantly put to use during every band practice – you feel like you're sitting in the bleachers watching them perform. The orchestral tunes envelope the listener, creating an immersive track that is an auditory pleasure. Likewise, soundtrack tunes also pump out the wattage, especially the bass-heavy hop-hop selections. .
There are also French and Spanish Dolby Digital 5.1 surround sound tracks included. Subtitles are available in English, Spanish, Mandarin, Cantonese, Korean and Thai.

Extras


"Drumline" hits Blu-ray with a modest selection of extra features, including an audio commentary, a few featurettes, deleted scenes and the theatrical trailer.

The audio commentary with director Charles Stone III is about as exciting as the film he directed. Stone is neither hopped-up excited or monotonous and boring. Rather, he just provides a standard track which discusses the ins and outs of making the picture. Shooting locations, performances, casting, achieving the right "look"… he covers well-tread territory that is probably only worth listening to if you're a big fan of the film. It is available only for the theatrical version of the film.

"Half-Time Heroes" (480p) is a featurette which runs for 14 minutes and 2 seconds. We get a closer look at real-life marching bands, what they mean to their respective colleges and how having a film like this has affected some of them. The members discuss what being a part of the band means to them and what they get out of it.

"The Real Battle of the Bands" (480p) is a featurette which runs for 9 minutes and 1 second. This piece looks at real marching bands competitions that take place in Atlanta.

"Anatomy of a Drumline" (480p) is a featurette which runs for 9 minutes and 28 seconds. Part making-of and part instructional, this offers viewers a look at how a real life drumline is assembled and trained.

There is a selection of deleted scenes (480p) available for the following with optional commentary by director Charles Stone III:

- "Dr. Lee Conducts" runs for 1 minute and 53 seconds.
- "Battle of the Bands" runs for 1 minute and 59 seconds.
- "A&T Alternate Performance A" runs for 1 minute and 2 seconds.
- "Devon and Laila Drive Off" runs for 1 minute and 21 seconds.

The film's theatrical trailer (1080p) runs for 2 minutes and 8 seconds.

Overall


"Drumline" is the same emotionally-charged drama you've seen a thousand times, so unless you're a big fan of the subject matter or the stars it's not likely to impress you. At least the Blu-ray features a striking image with some great audio and a moderate selection of extra features. Fans of the film would find this release ideal for the presumed bump in audio/video quality.
| | | | | |
| --- | --- | --- | --- | --- |
| The Film: D+ | Video: B+ | Audio: A- | Extras: B- | Overall: C+ |