The Film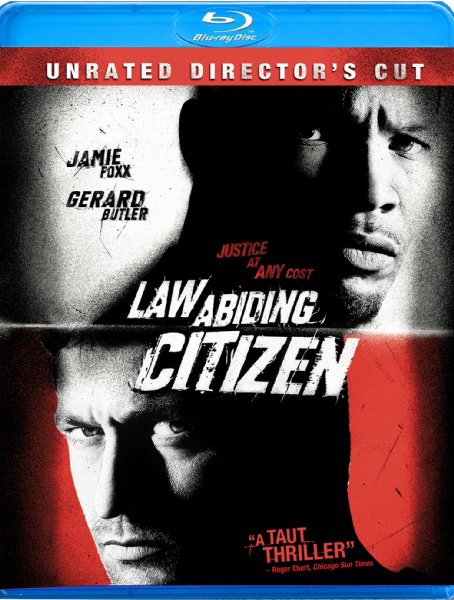 Though we all have a different idea of what qualifies as a "guilty pleasure" film, I have to admit it's been a while since I've watched a movie that completely fits my personal definition. These are the films that are often incredibly implausible, outrageously violent and undeniably entertaining. "Law Abiding Citizen" (2009), for my money, fits that bill to a T. After watching the uninspired trailer earlier this year, I decided to skip the film in theaters. The nearly-universal horrendous reviews didn't help much either. But I'll admit I was slightly intrigued by the film if only because its subject matter was revenge, one of my absolute favorite subgenres. If done with even the most minute amount of competence, a "bad" revenge movie can still be insanely awesome.

Clyde Shelton (Gerard Butler) is a loving husband and father until a break-in at his home leaves his wife and daughter dead. The men responsible have been captured, but District Attorney Nick Rice (Jamie Foxx) wants to cut a deal so that one of them gets the death penalty and the other serves a minimum sentence. This doesn't sit well with Clyde, who waits 10 years to exact his revenge not only on the men responsible for his family's death, but also the legal team who made the plea deal. Police quickly surmise that Clyde has brutally slaughtered both men, but his master plan only begins to come to fruition once he is locked securely behind bars. Rice and the Philadelphia police have to figure out who Clyde's accomplice is before everyone and their families are killed in the name of Clyde's justice.

It's been far too long since we last saw Gerard Butler kicking some hardcore ass. You'd have to go back 3 years to 2006's epic, "300", to see him in prime fighting condition. Since then, he's been focused on churning out non-descript rom-coms and generally doing his best to stay out of the action spotlight. In fact, originally he was to star in this film as Nick Rice, and Foxx was going to be playing Shelton. I'm glad they made the switch because a vengeance-fueled Butler is far more frightening than Foxx could ever dream of being. We don't have enough real men working in film today. Butler needs to stick to making these hard-edged pictures and ditch the rom-com crap his agent has been drowning his career in. Here, he's ripped, raging and ingenious enough to pull a fast one on an entire city's government. Heed the call, Gerard, and keep making more movies like this!

Jamie Foxx has never done much for me as a dramatic actor. There have been exactly 3 films of his that I can consider solid: "Collateral" (2004), "Ray" (2004) and "Miami Vice" (2006). Outside of that, he doesn't do much for me. Hell, I could even see those roles recast just as easily and not think twice about it. I'm not sure what it is; maybe his personality or his general lack of screen presence. He can act, that's not questionable, but he never leaves me wanting to see more out of him. I think maybe it has to do with the fact that I'm more familiar with him as a comedian due to his days on "In Living Color" (1991-1994), but even I'll agree that after "Booty Call" (1997) he should stay out of that genre. I never felt like he was brining anything special to his role here as DA Nick Rice. Anyone could have played this role, and Foxx does nothing to change that sentiment.

Director F. Gary Gray has always been hit-or-miss for me. I'm a big fan of "Friday" (1995), "The Negotiator" (1998) and (to a lesser degree), "The Italian Job" (2003). But other films, like "Set It Off" (1996) and "A Man Apart" (2003) didn't do anything for me. One thing I didn't expect from him, though, was a totally exploitive revenge thriller. I could totally see this film being made in the 70's by someone like Larry Cohen. Though this modern production is too slick to be considered a low-budget affair, in essence what we're getting is a glossed-up film that's one part "Rolling Thunder" (1977) and one part "The Mechanic" (1972). Although, if you're a fan of those two films, it's not as nearly good as either one.

The script, written by writer/director Kurt Wimmer, throws in a healthy dose of blood-soaked kills, some of which are totally unexpected. Wimmer is another hit-or-miss guy, delivering the goods in his directorial debut (which he also wrote), "Equilibrium" (2002) and the smart sci-fi flick "Sphere" (1998), but failing to do so with the futuristic "Ultraviolet" (2006) and the gritty urban drama "Street Kings" (2008). He has a lot of fun with the writing here, playing up aspects of the story that are likely to excite viewers. Aside from some outrageously outlandish plot points, which you'll just have to overlook if you want to really enjoy this film, the script hits a lot of beats that keep the pacing up for the entire duration of the film.

This Blu-ray contains both the "Theatrical" and "Unrated Director's Cut" versions of the film. The difference in running time is around 9 minutes. Having missed the theatrical run, I can't tell you exactly what has been inserted but I have a nagging suspicion that, aside from the requisite dialogue extensions, some of the gory bits have most likely been extended as well.

Video


"Law Abiding Citizen" has been sentenced to Blu-ray with a passable transfer that never really impressed me much. The 2.40:1 1080p 24/fps AVC MPEG-4 encoded image is rather uneven. Some scenes look great – warm skin tones, exquisite detail, and rich black levels. But others look soft, out of focus, grainy and anemic. Even my girlfriend, who notices virtually nothing about a film's transfer, noted that one scene in particular of Foxx looked terribly out of focus and soft. So if she's making a comment about it, you know it's bad. But overall the image is generally pleasing; it just doesn't even come close to being a demo-worthy picture.

Audio


The audio track fares slightly better, though I wish Starz/Anchor Bay Entertainment would start using DTS-HD tracks for their top-tier releases. The sole track here is an English Dolby TrueHD 5.1 surround sound track mixed at 48kHz/24-bit that sounds solid, if not a tad underwhelming. Surrounds get some great use during courtroom sessions, or when we're within the confines of a prison brimming with inmates. Likewise, explosions aplenty will keep the LFE track fat and happy. Dialogue is crisp and clean with no hisses or noticeable distortion.
Subtitles are available in English for the hearing impaired and Spanish.

Extras


"Law Abiding Citizen" gets served a 2-disc set with a judicious set of extra features. Included are an audio commentary, a few featurettes, the film's theatrical trailer and a few bonus trailers.

DISC ONE:

This disc contains the "Unrated Director's Cut" version of the film.

"The Justice of Law Abiding Citizen" (1080i) is a featurette which runs for 6 minutes and 12 seconds. The film's cast and crew discuss the justice, or lack thereof, featured in the film; and how what we perceive to be justice may not actually ring true.

"Law in Black and White – Behind the Scenes" (1080i) is a featurette which runs for 15 minutes and 6 seconds. This mostly black and white piece looks at some of the film's larger action sets, and features interviews with the principal cast and crew about their respective characters and the film in general.

"Preliminary Arguments – Visual Effects Progressions" (1080i) contains short featurettes about the visual effects work seen in the film. Included are the following, which can be played separately or all together with the "play all" function:

- "Execution" runs for 1 minute and 25 seconds.
- "Snow Enhancement" runs for 1 minute and 16 seconds.
- "Gun Injection" runs for 1 minute and 5 seconds.
- "Finale – Prison Explosion" runs for 1 minute and 28 seconds.
- "Car Crash – Pre-Vis" runs for 1 minute and 19 seconds.

"The Verdict – Winning Trailer Mash-Up" (1080i) appears to be a fan-made trailer, presumably part of some contest, which runs for 1 minute and 3 seconds.

The film's theatrical trailer (1080p) runs for 2 minutes and 26 seconds.

Finally, there are "Also on Blu-ray" bonus trailers (1080p) for the following titles:

- "The Crazies" (2010) runs for 2 minutes and 32 seconds.
- "The Men Who Stare at Goats" runs for 2 minutes and 23 seconds.
- "Capitalism: A Love Story" runs for 2 minutes.
- "Spartacus: Blood and Sand" runs for 1 minute and 47 seconds.

DISC TWO:

This disc contains the original "Theatrical" version of the film.

The audio commentary with producers Lucas Foster and Alan Siegel is a moderately stimulating track. The duo deconstructs the politics of the film, talking about how they set up scenes to have us feelings different emotions for the characters. They wanted to try putting the viewers in the shoes of Sheldon and Rice so we could get a better understanding of their emotions in the film. They have a good rapport with each other and make this an informative track rife with anecdotes and extra tidbits that may not have been entirely clear within the film. Their goal was to make this a film that dealt with politics and the justice system without making too bold a statement about its state.

Packaging


The 2-disc set comes housed in a standard Blu-ray keepcase with both discs on a hub opposite each other.

Overall


Make no mistake - this film is ridiculous in many ways. But it's so damn fun to watch. Butler's character is a riot; you never know what he's got up his sleeve. You'll be left guessing for much of the film, and there are some great, gory surprises thrown in for exploitation fans. File this one under "guilty pleasure" and enjoy it for exactly what it is. The video isn't of the highest caliber, but the audio is solid and the extras are worth checking out.
| | | | | |
| --- | --- | --- | --- | --- |
| The Film: B- | Video: B- | Audio: B+ | Extras: B- | Overall: B- |