The Film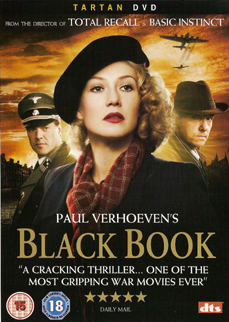 Dutch born director/co-writer Paul Verhoeven has now come full circle. After doing his WWII-film "Soldier of Orange AKA Soldaat van Oranje" in 1977, he's exploring a similar subject in "Black Book AKA Zwartboek (2006)". Before returning to work in his native country, he spent 20 years in Hollywood, where his reputation as a provocative filmmaker was sealed after the films like "RoboCop (1987)" and "Basic Instinct (1992)". Sex and violence were often incorporated into his films in a stylistic and effective way, but there were times when it just got sleazy ("Showgirls (1995)" and "Hollow Man (2000)"). Hollywood can give, but it can also take away and Verhoeven wanted to get out of the system - to find his passion again as a filmmaker. The script had been circling in his mind for 15 years and it eventually took him back to his childhood town The Hague, in both the story and location wise. The Dutch resistance during the WWII is a subject near to his heart..

After the prologue, the story starts from September 1944. Roughly four years earlier the Netherlands was invaded by Nazi Germany. For the 140,000 Jews that lived in the country, this was a grim period and eventually only 30,000 survived the war. Rachel Stein (Carice van Houten - e.g. "Valkyrie (2008)") is a Jew, hiding under the false identity in the occupied Holland. She learns that the Germans are on her tail, which means that she has to flee from the area. Local policeman Van Gein (Peter Blok) offers help, which eventually leads to a dangerous boat ride in the middle of the night to the liberated area of the country. She borrows some money from Notary Smaal (Dolf de Vries - e.g. "Soldier of Orange AKA Soldaat van Oranje (1977)" and "The Fourth Man AKA De Vierde man (1983)"), an old friend of her father. Allied forces had finally landed on Normandy in June 1944 and are on the Dutch borders. Unfortunately their major "Operation Market Garden" had just recently failed, so the full liberation of Holland hadn't materialised. Some of the southern areas of Holland were still in Allied hands and that's where Rachel - along with some other Jews, are headed. The trip to the safe haven turns into bloody carnage, when a German patrol boat ambushes them out of nowhere. Rachel barely escapes and watches from the distance SS officer Günther Franken (Waldemar Kobus - e.g. "Stauffenberg AKA Operation Valkyrie (2004)") and his men mercilessly kill everybody, including her family. From here on it becomes "personal" for Rachel. She joins the resistance movement in The Hague, run by Gerben Kuipers (Derek de Lint - e.g. "Soldier of Orange AKA Soldaat van Oranje (1977)"), with energetic Hans Akkermans (Thom Hoffman - e.g. "The Fourth Man AKA De Vierde man (1983)") serving as his right hand man. They have a bold plan; Rachel will have to seduce the SD ("Security Service", intelligence service of the SS) officer, Hauptsturmführer Ludwig Müntze (Sebastian Koch - e.g. "The Lives Of Others AKA Das Leben Der Anderen (2006)", Albert Speer in "Speer and Hitler: The Devil's Architect AKA Speer und er (2005)"-mini-series and the lead role in "Stauffenberg AKA Operation Valkyrie (2004)" TV-production) and infiltrate enemy territory. The dark haired Rachel will turn into a blonde femme fatale Ellis de Vries, doing what the legendary Mata Hari (allegedly) did in the WWI - to spy and gather information. Ellis is willing to do whatever her mission requires - even if it means having an affair with Müntze. Sexuality is her weapon of choice. There's one thing she didn't consider, though; What if she falls in love?

"Black Book" solid piece of craftsmanship and narrative by director Verhoeven, it stays intriguing and entertaining - even with almost 140 minutes of running time. The film is inspired by the true events, but I believe the main characters and the storyline is pretty much fiction. It's important to know that even when the film is set to WWII and in predominantly historical places - including drama with many moving elements, the film is partly a "thriller". It has also some action sequences that would fall under a "WWII adventure". This means that it treats the subject matter a bit more on the "entertainment" side of the genre, even "pulp" occasionally. In that sense the film is a mixture of historical elements, Hollywood-influences and European filmmaking, all of which Verhoeven handles well. Most of the action sequences are rapid, explosive and violent, this is very much "Verhoeven style" in my opinion. Some scenes are reminded of Hollywood productions - for both good and bad, but once the general tone of the film becomes clear, you pretty much start to enjoy it as it is; an adventure-war film. Granted, some rather silly - even unconvincing, scenes are included. Eroticism is also present and the film has its share of nudity, this is another familiar aspect of his films. It still usually serves the story, either by being a part of the relationship between the "Ellis" and Müntze or just showing the hidden free-spirited lifestyle that goes on in the depths of the Third Reich. The latter is a familiar aspect in most modern WWII-movies; Russians are already in Berlin, but Germans still drink, dance and party. They try to alienate themselves from the reality. One could argue, that perhaps the film includes a couple of characters too many, since there's no time to fully explore them all. Actors are still well chosen and Carice van Houten is definitely the actress of which we shall hear from. Sebastian Koch is a true professional, but in the end Müntze stays too one-dimensional, without any real edge. His superior, Obergruppenfuhrer General Käutner (Christian Berkel - e.g. "Der Untergang AKA Downfall (2004)") is a good, but rather minor character. Ronnie (Halina Reijn) - the friend of Ellis, is a welcome addition and in a way is portraying one of the controversial women during war-time, that collaborated with the Germans. Many of them did that just to save themselves, but eventually paid the price for that after the liberation.

Like Verhoeven has stated, "Black Book" is a story where the Germans are not always the "bad guys" and the resistance the "good guys". War brings out the worst from every side and sudden heroism can quickly turn into opportunism. In the end, many people want to save their own necks and money and power can be blinding. Fatal mistakes were made on both sides and innocents also suffered in the hands of resistance (where among the "heroes" were also pure criminals). The film introduces several characters from both sides (and some in the middle), there are many twists and turns, "cat & mouse"-games and plenty of scheming in the shadows. Essentially "Black Book" is still the story of one brave woman, trying to survive the hell that is war and to help the resistance movement, driven partly by revenge. Since the war is often uncontrollable, tides turn more than once for her, and not always in the desirable direction. The story is mainly fiction and often rather adventure-like, but it's making some important points from that era and might serve as a minor "eye-opener" to some. In war, the tables can turn in minutes and that "good guy" suddenly becomes something else.

Video


The film is presented in Anamorphic 2.35:1. The transfer is expectedly clean - with strong colors and solid black levels, but there's some softness that at least caught to my eyes. Some mild edge enhancement can be also spotted. Considering that the film is so new, the transfer was probably a minor disappointment, but it's still quite a decent effort. The "Dual layer" disc is "R0" (back cover is correct this time) encoded and has 16 chapters. The film runs 139:36 minutes (PAL).

Audio


As usual, "Tartan Video" has included three audio choices, all in Dutch (with e.g. some German and English dialogue); DTS 5.1, Dolby Digital 5.1, and Dolby Digital 2.0 Stereo (with Surround encoding). I chose the DTS-option, which is a very good one. Unlike a few other releases by "Tartan", the track is well balanced, natural sounding and it includes also some nice surround-activity in the action-scenes (which are quite aggressive). Not all the scenes are that "punchy", but generally everything is clear and pleasant. Optional English subtitle are included (note, that a few lines of dialogue in English are not subtitled).

Extras


-"Paul Verhoeven interview" -featurette runs 12:36 minutes and is in English (no subtitles). Director/co-writer Verhoeven tells about his roots in Holland, where he has some strong memories (e.g. how the WWII ended). It was also an experience for him to come back from Los Angeles to Holland after many years, since everything had changed - also the film industry. After "Hollow Man (2000)" he had made a promised to himself that he would only do films he would care about and this was one reason why he left from Hollywood. Since Verhoeven was pretty much "out of the loop", he had to get familiar with the Dutch actors. There was a lot of casting (Verhoeven brought back his old casting director) and after 6 hour from one of them, Carice van Houten stepped in and quickly convinced the director. He also talks about the more difficult scenes in the film and states that director has to set an example if that's needed. The film (the most expensive Dutch film so far) had gotten a good reception by the viewers (no "old wounds" were torn when it comes to history), but the critics were not that kind (he states that he has never been "a darling to the critics").

-"Carice van Houten interview" -featurette runs 21:53 minutes and is also in English (no subtitles). The actress tells about the casting process (he heard that the "master is back") and despite the reputation of Verhoeven, the director was almost like a father-figure for her in the set and with clever humor guided her through the difficult scenes (take a pick; coffin, s*it, nudity, water and bubbling under - cutting the fishes heads). Singing (she performs some songs in the film, being very good, I might add) wasn´t very difficult, since she had took many singing and dancing lessons in the "theater school". She also studied 6 years of German language in the school and like most already know, now lives with German actor Sebastian Koch (yes, "Müntze" in the film). Houten also tells that she learned something from the history during the production, since like many other from her generation, she always had learned that the Germans were always those "bad guys". Houten tends to ramble a bit, but this is still quite interesting piece.

-Dutch theatrical trailer is included (2:19 min), with "forced" English subtitles.

-4-page booklet includes liner notes by film critic Anwar Brett.

Overall


It's nice to see that Europe can challenge Hollywood when it comes to WWII-films and find their stories from the wider perspective (let's hope that "Leningrad (2006)" also arrives soon to DVD - "Tartan", take note). "Black Book" is an entertaining and adrenaline packed war-thriller, which shows that Paul Verhoeven is far from finished from the movie business. It might not follow history in the strongest sense of the word, but you'll have a good time. Nobody blamed "Guns of Navarone (1961)", now did they? The DVD-presentation is fairly good, offering a dynamic DTS-track and some decent interviews.

For more info, please visit the homepage of Tartan Video (UK).
| | | | | |
| --- | --- | --- | --- | --- |
| The Film: | Video: | Audio: | Extras: | Overall: |