The Show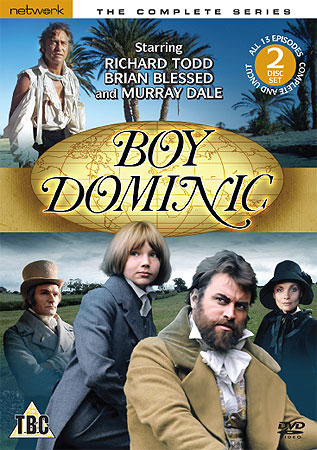 Boy Dominic (Yorkshire Television, 1974): The Complete Series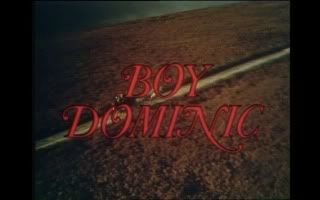 Produced for Yorkshire Television in 1974, Boy Dominic is notable for featuring Richard Todd's first appearance in an ongoing television drama. Essentially a Robert Louis Stevenson-esque 'boy's own' adventure story, Boy Dominic opens in 1820 and focuses on Dominic/'Nick' Bulman (Murray Dale). Dominic's father is Captain Charles Henry Bulman (Richard Todd); and when Charles' ship, the Bright Star, is wrecked off the coast of North Africa, Dominic and his mother Emma (Hildegarde Neil) find that they must sell their house in order to pay the family's debtors. They travel to Charles' family home in Harrogate. However, they find Lady Bulman (Mary Morris), Charles' mother, unwilling to help; after listening to Emma's requests for aid, Lady Bulman asserts 'I have no grandson' and refers to Emma as 'a ridiculous woman' who only married Charles in order to gain access to the Bulman family's apparently depleting wealth.

The situation appears bleak, but Dominic and Emma are saved by William Woodcock (Brian Blessed), a former shipmate of Charles and a comrade-at-arms 'At Trafalgar, Mrs Bulman, and elsewhere', who identifies Dominic and Emma as Charles' family after hearing Dominic call out to his pet monkey Bathhurst; Woodcock and Charles worked together on the frigate The Reliant, and during that time Woodcock bought Bathhurst for Charles.




After being honourably discharged from the navy, Woodcock became a coach driver: he is 'a man of disreputable appearance but no little wealth', and he proposes a 'partnership' to Mrs Bulman: 'I've got the money, you've got the manner. You see, I've bought this big house in Boston [.…] My idea is to let rooms to visitors, and what I need is a well-spoken woman'. Woodcock and Mrs Bulman go into business together, renting out rooms at Marston Lodge. The house has a checkered past and is said to have been cursed by a former inhabitant; Woodcock tells Dominic and Emma that 'It's said that the first owner were a witch. She were tested in the river, and then burned. She cursed this house, and all those who would follow'.

To get the house ship-shape, Mrs Bulman enlists the help of her housekeeper in Greenwich, Bessie (Ruth Kettlewell). Dominic, Emma and Woodcock also begin to discover that the wreck of the Bright Star may not have been an accident, and may in fact have been engineered by the ship's owner, Mr Kemp (Ivor Dean).

Meanwhile, Charles is washed ashore in a foreign land. Unable to communicate with the locals and apparently suffering from amnesia, Charles suffers a number of hardships, including being worked as a slave and imprisoned, before beginning to remember fragments of his past.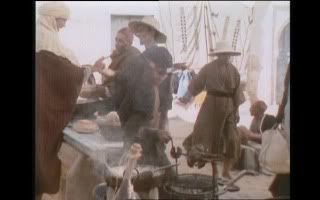 Throughout its thirteen episodes, the series establishes parallel narratives of Dominic's adventures and the experiences of his father in Africa. Dominic provides offscreen narration, in the form of his diary which, on the advice of his absent father, is written as a 'captain's log', allowing Dominic to 'assemble my thoughts and observations in a properly ship-shape way'.

As the series progresses, Woodcock also begins to develop more depth as a character, revealing that he worked in a mill from the age of ten, before he was press-ganged into service for the navy. In fact, Blessed's performance as Woodcock arguably anchors the series; for Dominic, the character of Woodcock fulfils the role of Dominic's absent father, and in the majority of episodes Woodcock is the voice of experience to whom Dominic and Emma turn for help and support.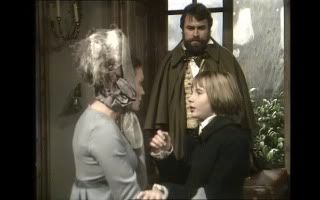 The ongoing narratives of Emma's attempts to clear her husband's name, and Charles' attempts to recollect his past and return to his family, are offset by each episiode's self-contained narrative. Each episode finds Dominic involved in a different adventure, including the appearance of an escaped prisoner (Morris Perry) who, disguised as an elderly woman, takes lodgings in the Marston House with the aim of accessing the money he hid away in the building; the man was a former owner of the building who was imprisoned 'for a debt to a woman' ('Lodgings to Let'). In a later episode, Dominic is faced with a vicar, Tobias Watson (Brian Wilde), who lodges at the house with his wife Lavinia (Frances Cuka). The Watsons are pursued by a detective from London, Sam Weathervane (Ken Jones) ('an officer from Bow Street'), who enlists Dominic's help in proving that the apparently innocuous couple have murdered an elderly woman and stolen her silver ('Sermons and Snuff').

The series aims to be historically informative, covering a range of historical issues, from the plight of young orphans who are bought and sold as labour for the mills ('The Man Who Loved Children') to the conflict between pre-19th Century medicine (including bleeding and leeching) and more modern methods ('Medicine Men').




Throughout the series, the characters demonstrate the importance of sympathy for the underdogs in society. In 'The Man Who Loved Children', Dominic comes into conflict with a Yorkshire mill-owner, Mr Mountain (Reginald Marsh), who is buying orphans to use as slave labour in his mills. Mountain and his wife (Nancie Jackson) are childless; and in Dominic, Mountain sees the son he never had. However, Dominic becomes aware that the only value Mountain places on the children in his mill is in relation to the amount of money that he paid for them. Whilst Dominic is visiting Mountain's mill, one of the orphans is discovered stealing. Mountain, who professes to love children, thrashes the orphan brutally. Mountain tells the boy, 'Now, you listen to me, lad: when I bought you, I paid good money for you. Fifty-eight shillings, tha cost me, so tha's my property. Thou's robbing me of thissen, does tha hear?'

When Mountain is told that one of the orphans, Bob Varley (Jonathan Arundel), has escaped from the mill but has apparently drowned whilst trying to swim across the river, Mountain seems only concerned about the amount he paid for the boy - 'and I've nowt to show for it'. However, Varley is not dead; Dominic's mother is hiding him in the barn, and she and Woodcock arrange for the boy to escape. 'I admire courage and feeling. I was in a mill, when I was ten. Then I was press-ganged into service. I don't much care for chains myself', Woodcock tells Mrs Bulman.

In another episode that foregrounds the series' focus on 'underdog' characters, in 'Captain Darkness' Dominic becomes involved in the story of a highwayman, Captain Harry Darkness (Leslie Schofield). Darkness accidentally kills Black Jack Armstrong (Dan Meaden), the driver of the stagecoach that Darkness is holding up. However, Armstrong has sympathy for Darkness, a former soldier during the Napoleonic Wars who fell upon hard times and was forced to steal in order to survive; with his dying words, Armstrong tells Darkness to 'Ride, son. Ride or they'll hang you'.

Dominic comes across the badly-wounded Captain Darkness, who shows kindness to the boy and takes him under his wing, telling Dominic that 'You don't even know that when we came back from the war, there was no work. What people don't like, they ignore'. However, in desperation Darkness takes Dominic hostage, and Woodcock – who has 'known Harry [Captain Darkness] all his life' – approaches Darkness and tells him to free Dominic and turn himself in. After Darkness is caught, Dominic asks Emma about Charles' experiences after the war. Emma tells her son that after the war, Charles found it difficult to find work – until he entered the service of Mr Kemp. However, Emma reflects that the wealthy Mr Kemp 'may prove a worse villain than Captain Darkness': where Kemp is a middle-class, 'white collar' criminal, Darkness is only a poor man who has been railroaded by circumstance into a life of desperation and crime.




The series seems to strive to highlight the social injustices in 19th Century Britain; as Emma tells Dominic in 'The Man Who Loved Children', 'Sometimes the world is cruel, Nick. We can't change it all at once; we can try to improve it in small ways'.

However, the series' sympathy for the underdog is arguably counterbalanced by its use of crude stereotypes. The footage detailing Bulman's trials and tribulations in North Africa – at least a portion of which was apparently shot on location in Tunisia – depicts the locals as single-mindedly cruel and exotic, and the episode 'A Frog He Would A-Wooing Go' features a stereotypically lustful, sleazy Frenchman, Pierre Latour (David Knight), who romances a young girl at the local finishing school (Yvonne Nicholson) simply in order to gain access to her family's wealth. In Boy Dominic, foreigners are invariably presented as either evil or untrustworthy; but it could be argued that these stereotypes simply serve to reflect the archetypes and beliefs that were popular in the 19th Century adventure serials upon which Boy Dominic models itself.

The series makes excellent use of its half-hour format, with the condensed narratives offering a combination of adventure, moral dilemma and a healthy sprinkling of historical detail. The outdoor photography is handsome and evocative, and the performances are uniformly strong. Todd's performance as Charles Bulman is memorable, but the material involving Charles' adventures in Africa is overshadowed by Dominic's adventures in England. Sometimes Charles' experiences are placed in juxtaposition with the narratives set in Britain: in 'The Man Who Loved Children', Mountain's treatment of the orphans in his employ is juxtaposed with Charles Bulman's experiences as a slave in Africa.

In 1976, Boy Dominic was followed by a second series. Dropping the word 'Boy' from the title, the 1976 series featured an even bleaker starting point: the murder of Dominic's parents.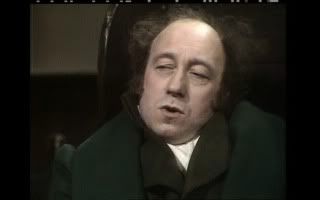 Disc One:
1. 'Lost At Sea' (24:40)
2. 'Lodgings to Let' (24:22)
3. 'The Man Who Loved Children' (24:24)
4. 'Captain Darkness' (24:24)
5. 'Fair Game' (24:34)
6. 'Medicine Men' (23:14)
Image Gallery (10:52)

Disc Two:
7. 'The Man With the Painted Face' (23:40)
8. 'A Frog He Would A-Wooing Go' (24:59)
9. 'Sermons and Snuff' (24:47)
10. 'Friends of the Family' (24:32)
11. 'A Ghost in Greenwich' (24:44)
12. 'Lady Bulman Regrets' (24:09)
13. 'Charles and Emma' (23:31)

Video


The series is presented in its original broadcast screen ratio of 4:3.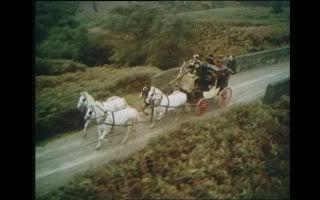 Containing a mixture of 16mm film (for location work) and videotape (for studio-bound footage), the series gets a good presentation on this DVD set. The videotaped material looks surprisingly good for a series of this vintage, showing only intermittent signs of tape wear throughout the entire thirteen episodes. The filmed location footage looks good too. The series makes particularly handsome use of the British countryside, but the only glimpses of Tunisia that we see tend to be little more than travelogue footage, highlighting Charles' reactions to the exotic culture of the land in which he is washed ashore.

Oddly, break bumpers are missing on some, but not all, of the episodes, which results in some noticeable 'jumps' and cuts mid-music. However, this only affects a small number of episodes.

Audio


Audio is presented via a two-channel mono track. This is effective but is sometimes weak and tinny. No subtitles are present.

Extras


Disc one contains an image gallery (10:52) that displays stills from the production of the series.

Overall


Boy Dominic is a fun children's adventure series of the kind that does not get made today: its attempts to be historically informative and its focus on some troubling and upsetting issues (for example, the use of orphans as slave labour in Britain's mills during the industrial revolution; the damage caused by smallpox, in 'The Man with the Painted Face') would most likely designate it as an 'adult' drama in today's cultural climate. In fact, the series' refusal to patronise its audience ensures that it is as watchable by adults as it is by the child audience that it was made for.

Although the series is arguably a little unbalanced, in that Charles' narrative is overshadowed by Dominic's adventures, the series' use of the condensed half hour format is assured, and its setting is evocative – although more could arguably have been made of the footage shot in Tunisia. Fans of period-set dramas will find much to enjoy in Boy Dominic, and with any luck Network will release the 1976 series Dominic too.


For more information, please visit the homepage of Network DVD.
| | | | | |
| --- | --- | --- | --- | --- |
| The Show: | Video: | Audio: | Extras: | Overall: |