The Film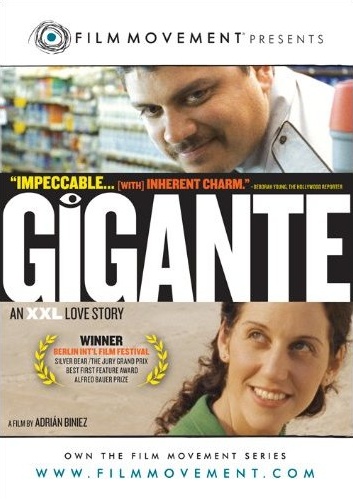 Winner of many prestigious awards at four renowned festivals from around the globe – including Best Picture at the Berlin International Film Festival, the Golden Hugo at the Chicago International Film Festival, Best Actor and Best Script at Gramado, and the Best Latin American Film at San Sebastian – and part of the Official Selection at countless other functions (landing on the lists of both the Telluride and Toronto film festivals), "Gigante", a co-production between companies from Uruguay, Spain, Germany and Argentina, and set in Montevideo, the film is definitely full of foreign flavor, and a perfect fit for Film Movement. It's also a pretty decent motion picture too, so the piles of awards laid upon it don't come as all that much of a surprise to me either. Honestly, I rather liked it. Mostly.

Jara (Horacio Camandule), our protagonist, is a hulking presence. He spends his weeknights working the graveyard shift as a security guard at the local grocery, and his weekends as a bouncer at a nightclub. Mindlessly wondering through life, simply doing his respective tasks with an oddly repetitive rhythm, Jara half-watches others on the CRT monitors in his dark office, and effortlessly throws rowdy attendees out the door on Saturday nights. A man of few words, he does what is asked of him, but little else, has few friends and is the very definition of social awkward. Because of his large size and frightful demeanor, the village ogre as it were, is an outcast from society with little to no personal interaction with people. And perhaps he likes it that way.

On a day like any other, Jara notices a new, attractive cleaning woman named Julia (Leonor Svarcas) on one of his CCTV displays. Intrigued by her mere presence, and even more infatuated with what he imagines he personality to be like based on the slight quirks he's noticed in watching her – that she's clumsy, meek and maybe a little of an outcast herself – the heavy-metal loving security guard takes what can only be described as a creepy interest in her. Quite literally stalking her, following and cataloging her movements throughout the day in his off hours and consistently watching her on the TV screens at the market, Jara's infatuation with this cleaning woman bends the very definition of love – posing the question, "where does inquisitive curiosity end and pure obsession begin?"

First time writer/director Adrián Biniez has written a wonderful script, having created an oddly dark, sort of funny, all together eccentric tale. His characters are placed at a distance so you never really get to know them all that well. It's a voyeuristic picture, in both the way it's written and the way Biniez directs it. Jara watches from a far and so do we; close ups of Jara and longer lens material of what he's "watching." It's, in a word, effective – or in a more than a few words, really smart filmmaking. Also exceptional is the way in which Jara develops as a character. Were not sure, until the final seconds of the film, if he's a dangerous sociopath of Travis Bickle proportions, ready to explode at any moment, lashing out in murderous (rapey?) rage, or if he's just a meager, reserved type of person, simply too shy to act out. He lurks large, and the tension looms at every corner of the frame, but it's never really clear until those final frames what exactly he's planning on doing, and what's inside his head.

But, the build up – the incredible build up – is also sort of "Gigante's" main problem. This not knowing, while great for tension, makes the end game, climax and resolution, seem like they are an eternity away. The story rambles about with little happening – there's near no dialogue and characters spend their time doing repetitive and derivative actions. As Jara watches Julia from a few rows back at the movie – the sounds of an unseen horror film unfolding on the screen – Jara smiles as she react to the, assumed unsightly footage. A nice juxtaposition and it feeds directly into the wonderment of whether or not our main character is insane, but nonetheless, I feel like the scene (and many like it) run far, far too long. "Gigante" has a slight 84-minute runtime – including two longish credit sequences within that timeframe – and honestly I felt like I had spent twice as long watching the film. The "surveillance" of Julia is indeed one of the main aspects of the whole story, but often the mundane nature of the material drags an otherwise intriguing narrative to an almost-screeching halt.

"Gigante" is a definitely a refreshing take on the standard love story, and as the work of a first time director and writer, the film is indeed impressive. But, at the same time, I have to admit it's not without fault; I found that parts of the film were often too slow to unravel, and the whole story is kind of a bore in the middle. Still, the pluses far outweigh the few, minor, negatives. This is a compellingly original, authentically dark comedy that mostly works… and sometimes doesn't.

Video


"Gigante" features a 1.85:1 anamorphic widescreen transfer that seems faithful to the source but is limited by the standard definition format and the style of the film. Shot on 35mm film, grain is present but is largely rendered as noise in dark scenes, which make up a majority of the runtime. "Gigante" also intermixes CCTV footage extensively and said material (simulated or not) looks rough and videotapey. Colors are drab, but natural. Visuals are bland, but detail is decent to good in medium shots and close-ups. In all, this is neither a bad looking disc, nor an exceptional one. It's just… average.

Audio


Yet another native language, this time, in Spanish Dolby Digital 2.0 stereo mix (48 kHz/224 kbps) from Film Movement. Why this is a 2-channel track is beyond me; the included essay and press release make note of "Gigante's" "impressive" sound design but I don't understand the hubbub. Sure, dialogue and effects are nicely separated across the front speakers but this sounds mildly thin and, in my opinion, is the exact opposite of what one might call an enveloping experience. My thought is that the praise bestowed upon the mixing and design was based on a more full-bodied, modern 6-channel offering, which isn't included here. I don't know why, but looking over their past releases it seems Film Movement has only given 5.1 Dolby treatment to a select few of the titles in it's collection, even though many of their offerings feature 5.1 mixes in other markets (see Optimum Releasing's UK release of "Somers Town" (2008) versus Film Movements handling of the same film).

Extras


After being treated to a few more exciting, informative extra features on "Somers Town" (2008) and "The Drummer" (2007) it's back to the mundane string of supplements: just a handful of throwaway text features, a couple of bonus trailers and, most enticing of all, a short film. In all standard stuff for the Film Movement series, but not good bonus material by any means.

A 2-page text feature offers a biography on writer/director Adrián Biniez.

A theatrical trailer for "Gigante" runs 1 minute 29 seconds, in 16x9 window box.

"Also from Film Movement" is a text-based feature that simply lists a few of their recent DVD titles including such films as Shane Meadows "Somers Town" and Bohdan Sláma's "The Country Teacher" (2008).

"This Month's Short Film…." – every month Film Movement includes a short film with each main feature. Accompanying "Gigante" is "Dennis", a film by Mads Mattheisen, from Denmark. "Dennis" (2007), a timid body builder takes a local girl out on a date, much to the behest of his disappointed mother. Against his mother's wishes, Dennis takes the young lass out for a night that neither will forget. I actually really liked this short, truthfully almost more than the feature it supplements. 1.85:1 window-boxed widescreen with Danish Dolby Digital 2.0 stereo sound. English subtitles are included. Runs 17 minutes 36 seconds.

'About Film Movement' includes a short text-based description of the DVD series and features a short trailer advertising the company.

Start-up bonus trailers are for:

- "About Film Movement" spot runs for 30 seconds.
- "Somers Town" 2 minutes, in anamorphic 1.85:1 widescreen.
- "The Drummer" 2 minutes 10 seconds, in anamorphic 16x9 widescreen.
- "The Window" 1 minute 20 seconds, 16x9 window box.

Packaging


A clear plastic amaray case houses a single disc. The interior of the case also includes two short essays – one from the filmmaker and one from the disc publisher. "Gigante" is film nine of year seven.

Overall


Unconventional, a little strange, but altogether definitely a worthy little film, "Gigante" didn't totally grab me the way that "Somers Town" or [Spoiler Alert] parts of "Troubled Waters" (2006) did. But I find many aspects of the picture – particularly the script – admirable. The DVD release is sort of disappointing, with average video, merely sufficient audio, and basically zip extras. The film by itself is probably strong enough to warrant a recommendation; just don't go in expecting particularly earth-shattering qualities in any regard.
| | | | | |
| --- | --- | --- | --- | --- |
| The Film: B- | Video: C | Audio: C | Extras: F | Overall: C |