The Film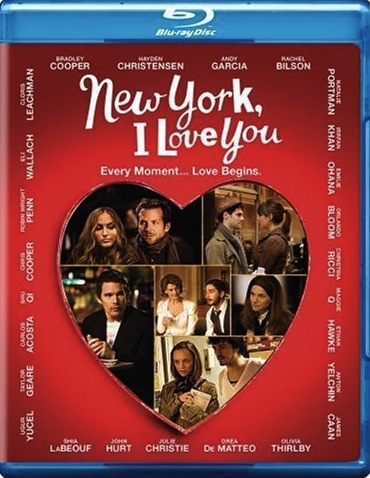 In this world of sequels and remakes, it really doesn't surprise me that almost three years later we're being given a follow up to 2006's successful, critically praised anthology "Paris, Je T'aime." Sure, it "only" pulled in a worldwide gross of around 18 million bucks, but on a budget of $12 million, and at it's widest release, screening in a mere 200 theaters (figures from Box Office Mojo), that's not too shabby. Considering that it technically made it's money back, the sequel idea makes a whole lot of sense – these days, making a profit, however small, seemingly guarantees that a second film be made, and a possible franchise, born (and if it didn't make it's money back; just wait a few years – someone will release a completely inferior sequel direct-to-video.)

"New York, I Love You" is a proper theatrical sequel (down to a fault really – which means, yes, "New York" is not as good as it's predecessor). The film takes the same premise of the original – a collection of segmented stories about love and set in a cosmopolitan city, chooses New York as it's location, cuts the number of stories in half (from twenty-two in "Paris", down to eleven here), and collects a wide array of talent to place in front of and behind the cameras. While the names behind the cameras are of largely lesser stature than "Paris", which had shorts helmed by the likes of Ethan and Joel Coen, Alfonso Cuarón, Tom Tykwer, Alexander Payne, Wes Craven, and Gus Van Sant, among others, the acting roster is genuinely more well known this time around (the names may be recognizable, but I'd debate as to whether this is a more talented cast).

Some of the recognizable names behind "New York" include Brett Ratner, Allen Hughes and Natalie Portman, but those even vaguely familiar with cinema will spot the likes of Mira Nair (director of "Monsoon Wedding" (2001), "Vanity Fair" (2004) and most recently "Amelia" (2009)), and the man behind the "Elizabeth" films (1998 & 2007), Shekhar Kapur. The cast includes many, many names and faces that are internationally recognizable – Orlando Bloom, Natalie Portman, Hayden Christensen, Anton "Kyle Reese/Pavel Chekov" Yelchin, Shia LeBeouf, Bradley "That Guy from 'The Hangover'" Cooper, and a few names and faces for the over 25 crowd – including James Caan, Chris Cooper, Robin Wright Penn, Cloris Leachman, Eli Wallach (Leachman and Wallach star together in my second favorite segment; a tender, sweet love story written and directed by Joshua Marston), as well as John Hurt and Julie Christie. Ten of the segments are self-contained short films (although, occasionally there is some crisscross between); an eleventh "transition" piece is interwoven throughout. Stopping at least once in each of the city's five boroughs, the segments try to be as clever and meaningful as those in "Paris, Je T'aime" but overall the film just isn't as successful in doing so. Try as the writers, directors and actors might, there are more misses and relatively lackluster segments in "New York, I Love You" than in the original. However, that's not to say that the whole film is bad: not at all. In fact, the good segments (of which there are more than a few) are excellent.

If I were forced to pick a favorite it'd be a close race between Marston's final chapter and, the segment that eventually won out in my internal balancing scale, Shunji Iwai's story about David (Orlando Bloom), a film composer, and his budding romance with the voice of Camille, his contact on the project that he's working, which he's only "met" via phone. Christina Ricci is perfect as Camille and the concept is sort of familiar, yet fresh. The segment is also nicely directed and Bloom does his darndest to make me like him (and is mostly successful). This segment is made all the more impressive in my mind because, as you'll learn in the supplements, the director basically doesn't speak English and Ricci and Bloom were basically given storyboards to work off of, rather than a script. It's a naturally ikable and wonderful little short.

Although it wasn't my favorite, I have to mention Brett Ratner's segment, as of all the pieces of the film, his was easily the most unexpected. Dumped by his girlfriend (Blake Lively) just before his prom, a dejected boy (Anton Yelchin) spills his soul to a sympathetic shopkeeper (James Caan), who suggests that he take his daughter Mallorie (Olivia Thrilby) to the dance instead. Only the shopkeeper left out one mildly important detail – his daughter is wheel chair bound. Ever the standup guy, the boy shrugs this revelation off and the two head out to the prom and into a night that neither will ever forget. The hackish Ratner is so completely unlike himself here, it's startlingly refreshing. Quirky, totally inappropriate (bordering on offensive), but also strangely heart-warming and, dare is say, "cute", this short totally caught me by surprise.

But, while there are some great little segments in the film – including Ratner's part that came out of the blue and some great material towards the beginning and end – with such a wide-ranging collection, there were bound to be a few stinkers in here too. The film's opening segment with Hayden Christensen, Rachel Bilson and Andy Garcia is particularly sub par – inspiring little faith of what will follow (thankfully, the following short my Mira Nair is much better and the film generally improves from there). But, as I said, some shorts are not as good as others. Yvan Attal does double duty, directing two sort-of connected stories. Unfortunately, both of his segments – the first about a writer (Ethan Hawke) and a call girl, the second about a married couple (Chris Cooper and Robin Wright Penn) – are dreadfully grating; particularly the first with Hawke who annoyed not only the hooker played by Maggie Q, but me as well. His fast-talking, nonsensical ramblings about the sexual pleasures that he could give her approach Cruiseian levels of couch-jumping douchebaggery; off putting to say the least.

"New York, I Love You" really shouldn't work. Anthology films rarely do. The fact that this film has lesser writing, directing and, in some sequences, lesser acting, than it's predecessor should make it a far worse off film than it really is. But, it's not. The numerous thematic and narrative misses in some of the various shorts would, in most cases, make my final score much lower, but, the strong parts outweigh the faulty and overall, while it was a bumpy ride, "New York, I Love You" won me over. It's not as good as "Paris, Je T'aime" but it's close – very close.

Video


Shot by different directors and cinematographers, each with different intentions, different lighting, different film stocks and, sometimes, even different formats all together, the visual aesthetic of "New York, I Love You" is nothing if not jumbled, but the Blu-ray is also the epitome of what I'd call faithful to the source. The 1080p 24/fps AVC MPEG-4 encode, framed at an HDTV friendly 1.78:1 widescreen ratio, is consistent from shot-to-shot, but not from short-to-short, if that makes sense. Some of the shorts are more colorful than others (to the point of oversaturation at times), while some segments are softer-focus beasts, and a few are more showy than the rest – colorful, sharp and clean all at once. A few were shot in HD and others are products of standard 35mm film. As such, so times there's grain, sometimes there isn't – but always natural and unaltered within the appropriate segment. No unwanted post-processing is to be found – DNR, artificial sharpening and noise are all nowhere to be seen. Overall, the picture is attractive, bright, detailed and looks great in high definition. Just understand that consistency is not one of this transfers strong points, but, then again, it's not really supposed to be.

Audio


"New York, I Love You" comes to Blu-ray with a mostly exceptional English DTS-HD Master Audio 5.1 soundtrack mixed at 48kHz/24-bit. Again, there is some variance between segments, with differing qualities simply because some shorts are more lively than others. But across the board dialogue is clean, clear and well prioritized, surrounds gets decent use and the score anchors the whole thing nicely. To my surprise, in most of the segments bass is robust – it frankly caught me off guard, as LFE was one aspect of the mix that I didn't expect to be so strong.
Optional subtitles are offered in English. Certain scenes have default English subtitles when characters speak in their native tongue (or a foreign language).

Extras


Light but not pointless, "New York, I Love You" has an underwhelming package of supplements in the form of interviews and two additional segments that were excised from the final cut. Disappointingly the segments are presented in standard definition (with lossy audio). The interviews are encoded in decent looking interlaced HD. There is a theatrical trailer and a bonus trailer. A closer look at the extras is included below:

Two bonus film segments are included. You could basically call these two huge deleted scenes:

- "These Vagabond Shoes" (16x9 SD) runs for 11 minutes 43 seconds, is a segment written and directed by Scarlett Johansson and starring Kevin Bacon. Shot in black in white and artsy for artsy sake, Johansson's directorial debut is a middling, plodding affair that thinks it's better than it really is. I can see why it was cut (sort of), as it's easily one of the weaker entries, but as to whether this short is the worst of the lot, including some of what's in the final film is debatable. In a perfect world, even if this isn't a perfect piece, I'd have liked to see the material upgraded to high def, with an option to seamlessly branch the segment into the film proper.

- "Apocrypha" (16x9 SD) runs for 13 minutes 31 seconds, a second bonus segment, written and directed by Andrey Zvyagintsev is better than Johansson's short, and would have been a better fit than a few of the segments that made the final cut. Again, I would have liked the option to seamlessly branch this segment into the main presentation; a shame that the distributor overlooked what would have been an interesting (and easily implemented) feature.

We don't get true commentaries, which would have been great, but a few folks step out from behind the camera to sit down for a collection of director's interviews (1080i) which runs for a total of 16 minutes 26 seconds. Although technically encoded in high definition, a majority of the material is obviously upconverted from standard definition sources. It's not the stuff of deep insight, but I was more than willing to listen to what attracted each person to the project and their sometimes-random thoughts on their respective segments. Ratner, Attal, Marston and Nair all give fairly standard interviews – Shunji Iwai, who's English is, by his own account, terrible went for a more abstract approach, hiding behind an animation and speaking in his native tongue with English subtitles. Interviewee's include:

- Brett Ratner runs for 2 minutes 1 second.
- Yvan Attal runs for 3 minutes 26 seconds.
- Joshua Marston runs for 4 minutes 55 seconds.
- Mira Nair runs for 2 minutes 56 seconds.
- Shunji Iwai runs for 3 minutes 5 seconds.

Finally the original theatrical trailer for "New York, I Love You" (HD) runs for 1 minute 59 seconds is included.

Pre-menu bonus trailer(HD) is for:

- "Big Fan" which runs for 2 minutes 25 seconds.

Overall


Taken at face value I really liked "New York, I Love You." Sure, a few of the individual segments fall flat and drag the picture down, but that's why the spaghetti monster in the sky invented home video and the chapter skip button. Overall the flick works, even though it probably shouldn't. The Blu-ray is a winner in most aspects with near perfect video and surprisingly powerful audio. Recommended.
| | | | | |
| --- | --- | --- | --- | --- |
| The Film: B | Video: A- | Audio: B | Extras: D | Overall: B |