The Show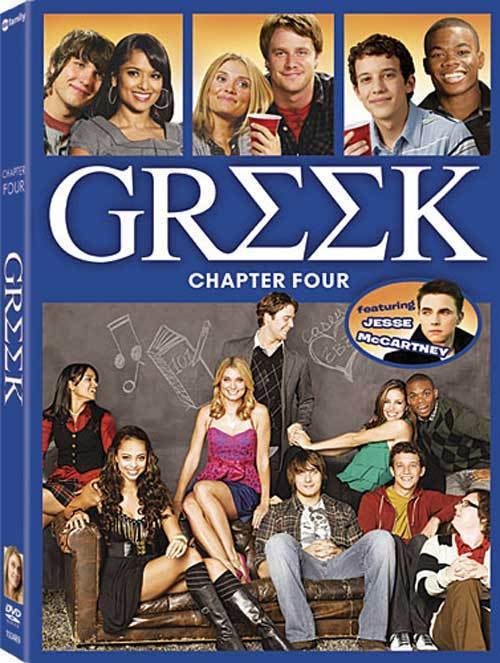 If you need a refresher on the series look at the reviews of the first, second and third chapters of "Greek", because at this point it just seems stupid to continually recap character relationships and plot developments seen in previous DVD releases and seasons from the past this late in the game. If you don't know Rusty (Jacob Zachar) and Casey (Spencer Grammer) Cartwright, the boisterous Cappie (Scott Michael Foster), Evan Chambers (Jake McDorman) and shrewd Frannie Morgan (Tiffany Dupont), or what the acronyms ZBZ, KT or IKI stand for, or who the Omega Chi's are and what Cyprus-Rhodes is, then, really, you shouldn't be seeking out the "Chapter Four" DVD release. Why? Because, this 4th DVD release is preceded by nearly three years and one and a half seasons of these characters, their actions and the places where they did them. There's just too much material to continually recap from the beginning, and thus I'll only refresh readers on the season 2.0 finale.

If you'll remember, the midseason break ended with Frannie leaving Zeta-Beta-Zeta to create a new sorority entirely funded by boyfriend Evan Chambers, the confused heir to a large East Coast family fortune, taking a large number of sisters with her. Casey and newly elected chapter president Ashleigh (Amber Stevens) were left dumbfounded, and the ZBZ house, in shambles. Casey's little brother, and Kappa Tau pledge, Rusty was beat down by her ex-boyfriend and Omega Chi president, Evan, who took a paddle to the side of the younger Cartwright's head, thus igniting an all out brawl between rival fraternities Kappa Tau and Omega Chi. Casey was accepted into an internship in Washington, while her genius-boyfriend Max (Michael Rady) secretly turned down graduate school in California to spend time with her. And Cappie realized that the girl he thought her was over (that'd be Casey for the slower readers in the crowd), he wasn't really over.

As the second half of the season starts up, Casey returns to Cyprus-Rhodes University to a life that unfortunately isn't evolving with her. The boyfriend she thought that she loved, she's not so sure about anymore (and a bit weirded out by his willingness to abandon his dreams for her), and the Ex she thought of, as a good friend may be more. Her little brother, now an active member of his fraternity, is not adjusting as well as he'd hoped to KT life, and is constantly seeking her advice, especially as he fails to find time to study in the too rowdy house of his – a problem for an honors student. And the bitter conflict that she thought would end with the defection of her enemy to another house has only gotten pettier and more aggravating as the days tick by.

Two new cast members join this semester: one good, one… not so good. Rusty's new love interest is played by a lovably, likable girl who sort of embodies the free-spirited artsy type and does it well well. And her character is sufficiently fleshed out too, which is expected (characterization is one of the strongest aspects of the series' writing) but always welcomed. The other addition is a football player and pledge prospect played by Jesse McCartney; I'll say that he's not convincing and leave it at that. The fact that his face is so promoted on the DVD cover does a disservice to the otherwise (mostly) stellar group of episodes.

If you have an interest in watching "Greek", do so. It's surprisingly good. But, go back and start from the beginning. I did just that after having the "Chapter Three" DVD set dumped on me last year and I couldn't be happier. "Greek" is a smart, funny program with a large body of great characters, and in it's brief three or so years, has proven to be one of the better cable offerings for young adults. Admittedly, the show does run a little soapy – at times over concerned with who's in love with or sleeping with who – but, unlike so many other shows that focus on the love lives of it's characters, "Greek" doesn't do it in a grating or off-putting way. In fact, because the characters are so well defined and their histories well documented, the focus on their relationships is oddly captivating and seems only logical to comment on.

But, the show's not just about love triangles and spiteful spats between one-time friends. Not only. It's also a decent, fairly realistic (or at least believable) – and always entertaining – portrayal of college (and, I assume, Greek life), tackling the difficulties in navigating the intricacies of schoolwork, midterms and teachers, while trying (and sometimes, miserably failing) to keep an active socially acceptable existence on the table.

12 episodes, spread evenly across three discs, and culminating in the finale of the second season, comprise "Chapter Four", including:

- "Take Me Home, Cyprus Rhodes" - Casey returns from her summer internship in Washington, D.C. with some big plans and the realization that sorority life hasn't prepared her for adult life as well as she'd thought. Meanwhile, Rusty, no longer a lowly pledge, begins his sophomore year with high hopes as he moves into the Kappa Tau house. Episode Grade: A-

- "From Rushing, With Love" - Rush Week has begun and with it, old rivalries reignite. ZBZ battles it out for pledges with Frannie and her new IKI sorority, with the help of ZBZ's own spy, Rebecca (Dilshad Vadsaria) providing much needed Intel, while Evan and Rusty both have their eye on a prized pledge (Jesse McCartney) who each thinks will be a perfect match for their respective fraternities. Episode Grade: B

- "Engendered Species" - Casey finds an unpleasant surprise waiting for her in Women's Studies, taking the form of Cappie, who's taking the class to study his female classmates. Also, Rusty is crushing, hard, falling quickly for the new girl in his Art History class named Jordan (Johanna Braddy). Eager to know more about her, Rusty invites Jordan to a KT party where they'll hopefully connect, only to have his plan foiled when Jordan meets someone else at the mixer – Rusty's front running pledge, Andy. And Ashleigh hires a new hasher named Fisher (Andrew J. West), whom all the sisters – including Ashleigh – seem to have an eye for. Janeane Garofalo guest stars. Episode Grade: B+

- "Big Littles & Jumbo Shrimp" - Rusty is hesitant to take Andy under his wing as his "little bro" after he learns that Jordan and Andy hooked up, but, forced with no other options and worried that if he doesn't accept Andy as his brother, none of the other KTs will either, Russ, begrudgingly, agrees. Meanwhile, Evan's older brother Patrick is in town, having flown in from his trust fund-free and liberated life in Costa Rica. Evan wants advice about whether or not he should bend to their parents will, or do what his older sibling did and renounce the Chambers name, but is disappointed when Patrick tells him to say the course and asks for some money. Episode Grade: B+

- "Evasive Actions" - Casey, Ashleigh and Frannie come to blows over much in this season but the first real showdown comes in the from of a dodgeball game, which Casey uses to incite some sisterhood in fledging pledge Jordan, who's not too sure that ZBZ is the house for her. And a disastrous attempt to get Rusty's roommate Dale (Clark Duke) out of their apartment leaves both of them homeless and a black mark on Casey's credit. Episode Grade: B-

- "Dearly Beloved" - Are those wedding bells? Kiki, Casey's "grand-big-sis" comes back to Cyprus Rhodes for her wedding, but Casey is less concerned with the frenzy of flowers and bridesmaid's and more taken aback when Max announces that he wants to take their relationship to the next level. With Andy on the road playing football, Jordan asks Rusty to accompany her to the big ZBZ wedding and Rusty uses the opportunity to his advantage. And a half-joking kiss with an openly gay big sister (Anna Osceola) leaves Rebecca questioning her sexuality. Episode Grade: B+

- "Guilty Treasures" - When a hidden closet, full of the spoils from past brethren's kleptomaniacal exploits, reveals the unsavory history of the KT house, Cappie decides to order the safe, and more importantly secret return of many of the items to their original homes. Meanwhile, after Casey learns that Max turned down his free-ride to Cal Tech for her, she does her best to make sure that his future isn't jeopardized on her accord, and sneaks him into a dinner party, where one of the guests may just hold the key to acceptance into an Engineering study at Oxford. Episode Grade: B+

- "Devine Secrets and the ZBZ Sisterhood" - While being inducted into a skull-and-crossbones style secret society who's lair they tried to find years before as Freshmen, Cappie and Evan come to terms and realize that maybe, just maybe, they can be friends again. In a parallel, Rusty and Dale seek the location of the secret lair. And, convinced that she's a lesbian, Rebecca comes out to the house, and goes on a date with Robin, the woman who sparked her homosexual interests in the first place. Alan Ruck guest stars as Dean Bowman. Episode Grade: B+

- "Social Studies" - Two girls that Cappie is currently dating at the same time both end up in his study group for their Women's Studies midterm, which Casey is also a part of, bringing forth both expected and unexpected secrets and consequences for all parties involved. Meanwhile, Rusty is having doubts about his continued friendship with Jordan, and Rebecca solicits help from Evan to retrieve her laptop. Episode Grade: A

- "Isn't It Bro-Mantic" - Lonely, and with Max away in England, Casey encroaches on her little brother and his first date with Jordan; Rusty's once romantic evening turns south – fast. Calvin (Paul James) learns a secret about one of his Omega Chi brothers, and Evan and Cappie's newly rediscovered friendship is tested when they both like the same girl, a curiously similar situation to the one that caused their falling out three years prior. Episode Grade: A

- "Tailgate Expectations" - It's time for Homecoming and that means one thing – floats. An unfortunate turn of events means that the ZBZ and KT houses are partnered up, forcing Casey and Cappie, both of whom are trying to avoid each other after certain unwanted words were exchanged a few weeks back, to work together. Rusty uses the float to help out Heath (Zack Lively), an older KT brother who wants to leave a legacy and be remembered for more than being the gay guy in the house. Elsewhere, Evan learns that he may lose his trust fund – which is just want he wanted… right? Episode Grade: B

- "At World's End" - In the aftermath of an incident with the IKI float, Kappa Tau has their social event privileges revoked for two weeks by the Greek Council. That is, two weeks starting the following week. The result is they decide to throw a party to end all parties (or at least to tide them over for the next couple of weeks) – and thus the "End of the World" bash is on. Meanwhile, Casey realizes that while she's not sure that she's still in love with Cappie, at the very least she knows for certain that she's not really in love with Max. Rusty gets a D in Chemistry, making him reconsider his priorities. And Dale and Calvin make a purity pledge together when neither feels like they can resist their perspective love interests for much longer without help. Episode Grade: A

Video


"Greek" may not be the sharpest looking show on cable, but the anamorphic 1.78:1 widescreen transfer afforded to the episodes of the show's fourth DVD release is a bit better than the previous "Chapter Three" set. As expected, because "Greek" is shot on 16mm film, the image is quite gritty and a bit fuzzy at times, but flattering lighting and good compression render the grain quite well, rarely (if ever) reducing the image to a swathe of noisy artifacts. Colors are good, as is contrast, detail is decent and stylistically the show remains quite nicely directed (and production value remains rather high). The source is clean of damage and debris, and the DVD's look to be free of edge enhancement, DNR or any other unneeded over-processing. I'd say that the presentation is a bit better, and sharper looking here in comparison to "Chapter Three" but neither are quite as attractive as the 720p HDTV broadcast (no, really?) – although both do upconvert rather well without introducing too many unnecessary issues.

Audio


The English Dolby Digital 5.1 soundtrack is a bit better than the previous DVD as well. Not that the previous discs were bad – just a little underwhelming, largely consisting of a front focused, dialogue driven source. The same is still true of "Chapter Four" – the show is mostly dialogue, with little surround action. But, the second half of season two is more musically inclined than it's predecessor and thus the mix has more to work with. Depth, breadth, clarity and LFE are all above average for a lossy DVD rendering. "Greek" is a pretty good sounding TV show, but admittedly not a great one. Set your expectations accordingly.
Subtitles are offered in English, French and Spanish.

Extras


Unfortunately, while the audio is a bit livelier, the video slightly more refined and the show as addictively good as ever, the one area that "Chapter Four" actually earns a lower score in comparison to "Chapter Three" is the supplements. Scattered across the 3-disc set are two audio commentaries (one less than the previous chapter), an all too brief and overly fluffy featurette, an overlong blooper reel and a god-awful music video. A slew of bonus trailers round the whole package out. Video based supplements are presented in 16x9-enhanced widescreen.

DISC ONE:

On disc one, one episode, "From Rushing with Love", features an audio commentary by executive producer/creator Patrick Sean Smith, writer Matt Whitney and actors Scott Michael Foster, Amber Stevens, Dilshad Vadsaria and Jacob Zachar. As with the "Chapter Three" discussions, the participants are all easy going, laid-back and always ready to impart info when called up.

The aptly titled "Greek Recap" clip summarizes the first season and a half of "Greek" (volumes 1, 2 and 3 on DVD) in a brisk 3 minutes and 24 seconds. It automatically plays when you select play all from the disc one menu.

Pre-menu bonus trailers are for:

- "The Last Song" runs for 2 minutes 33 seconds.
- "Gary Unmarried: Season One" runs for 1 minute 10 seconds.
- "10 Things I Hate About You: Volume One" runs for 1 minute 7 seconds.
- "Make it or Break it: Season One" runs for 58 seconds.
- "Disney Blu-ray" promo runs for 1 minute.

DISC TWO:

On disc two, one episode, "Divine Secrets and the ZBZ Sisterhood", features an audio commentary with writers/co-producers Jessica O'Toole and Amy Rardin and actors Spencer Grammer, Scott Michael Foster and Tiffany Dupont. As with the "Chapter Three" discussions, the participants are all easy going, laid-back and always ready to impart info when called up. Of the two tracks, this is the better commentary – in my opinion, of course.

DISC THREE:

"At World's End", running 8 minutes 19 seconds, is a brief featurette that works in tandem with the season finale. Here, the actors talk about what they would do if the world was ending and they knew that they had only 24-hours to live. It's too promo-y and full of episode clips.

This oddly much-touted blooper reel (mentioned on a removable sticker, the rear artwork and the disc label itself) is overlong, but at times funny. Runs 5 minutes 20 seconds.

A not-so-nice music video for Jesse McCartney's "How Do You Sleep?" is included. Runs 3 minutes 56 seconds.

In the end, the audio commentaries go a long way, but it would have been nicer if ABC had included one more (on the finale). The featurette, bloopers and music video are totally skippable in my mind.

Finally, here are few more bonus trailers under the "Sneak Peeks" menu, a standard for Disney DVD's:

- "Gary Unmarried: Season One" runs for 1 minute 10 seconds.
- "Army Wives: Season Three" runs for 1 minute 7 seconds.
- "Old Dogs" runs for 2 minutes 26 seconds.
- "10 Things I Hate About You" runs for 1 minute 23 seconds.
- "Disney Blu-ray" promo runs for 1 minute.

Packaging


The three-disc set comes housed in a clear Amaray case with a slightly textured slipcover. Much improved over the last set, discs are mounted on a flip-holder, which makes removal far easier compared to the two-panel stack-job that was "Chapter Three."

Overall


My endorsement of "Greek" from my "Chapter Three" DVD review still stands – I really, truly like this show. It's fun, well written, and has great characters. It's also, at times, oddly addictive (I burnt through the whole set in a day and a half). If you're a fan of the show, this DVD set, containing the final 12 episodes from the shows second season, is for you. Extras are a bit lackluster, but the video and audio are faithful to the shows intentions and the episodes themselves are great stuff. Recommended.
| | | | | |
| --- | --- | --- | --- | --- |
| The Show: A- | Video: B- | Audio: B- | Extras: D | Overall: B |