The Film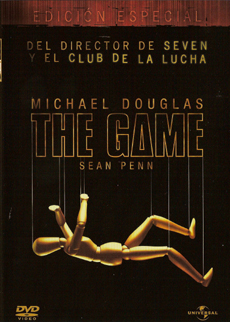 David Fincher was a hot item in Hollywood after his original and edgy films "Se7en (1995)" and "Fight Club (1999)". Now "he´s back" with "Zodiac (2007)". The rest of his filmography is often a bit ignored, even when they all offer something good - especially visually; "Alien 3 (1992)", "Panic Room (2002)" and "The Game (1997)". The latter unites two powerhouse (and one of my favourite) actors; Michael Douglas ("Best Actor in a Leading Role" Oscar for "Wall Street (1987)") plays the wealthy San Francisco investment banker Nicholas Van Orton, while Sean Penn ("Best Actor in a Leading Role" Oscar for "Mystic River (2003)") plays his restless brother Conrad. Their father committed tragic suicide at the age of 48 and now Nicholas is reaching the same magic number. Something special is in the air, when Nicholas meets his brother Conrad for a lunch. The relationship of the two bothers still has some warmth and even bounding, but their mothers death some years ago probably cut one of the few remaining lines between these two men. Nicholas has isolated himself in his huge mansion ("The biggest down the street!") and now this divorced man lives mainly for his work. The only thing that matters are the stock markets. The trusted and hardworking men are fired if the stocks go down - at the end of the day they´re merely puppets that people like Nicholas Van Orton control. He only answers to the shareholders, who in the end have made him rich - $600 million lies in his bank account. He´s still far from happy. Somewhere deep inside of Nicholas, there is buried guilt, many unanswered questions and frustrated emotions. Also, the lack of love. His life is about to change, when Conrad hands him a card - a gift. It says: "CRS - Consumer Recreation Services". Conrad explains that it gave him a "profound life experience" and yes - ultimately changed his life. Nicholas goes to the firm and agrees to take part in their "game". He learns that it´s "specifically tailored" for every participant, "different" everytime and it "provides what is lacking". One day, the game "begins". After filling out some forms and taking several tests, Nicholas leaves, mostly baffled and annoyed. He feels that the game is merely a hoax and just one desperate thing for the grown people to find something to do. After he´s witnessing that the news anchorman on TV is actually communicating with him and he starts finding mysterious keys from the different places, his opinions are starting to change. The spicy waitress Christine (Deborah Kara Unger - e.g. "Silent Hill (2006)") takes Nicholas to the darker territory, that could eventually ruin his reputation, end his professional career and even make him a criminal. Ultimately, his life could be in danger, since it´s evident that his brother Conrad is even deeper in the "game". Around every corner, there could be something dangerous waiting.

Fincher likes to explore the complexity of the human mind and place his characters in claustrophobic and hostile situations. "The Game" is a prime example of that, since the film truly lives up to its name. The whole film is set to trick the main character and the audience with him, who are constantly confused and puzzled, never truly knowing what is reality, what is part of the "game". When the game is going too far - when does it actually become threatening? What is the real purpose of the game, and does it have an end? When was it started anyway? Are those men in the bar or in the airport just part of the "game" and who´s the main wizard behind it all? Who´s Christine? What does Conrad fear from his life, and why is he so scared that he even doubts his own brother? I could go on forever with these questions, since that´s the essence of the film. You´ve got one question after an other, but never any answers. Not any real ones, at least. All will be revealed in time and - after that - all will make sense. For the audience also.

Like e.g. Michael Mann, Fincher is considered as a demanding, gifted and energetic visual director. Both can find that "rough beauty" in the midst of the urban back alleys and skyscrapers. Night is their time of the day and in there, the characters are finding their inner demons. "The Game" can be a dark and sometimes even murky film, but that decision does wonders for the story. Nicholas spends his days in the shady office and dull looking business rooms, only to return late at night to an almost empty home. When his "game" begins, he spends quite a lot of time running in the night, sweaty, dirty and wet. You don´t find that much light from the film, let alone that it looking brightly lit and vivid. The style of the film has some resembles to the character of Nicholas Van Orton himself, who´s (before the "game") unemotional, full of routines - almost "brain-dead" when it comes to his soul and heart (like Douglas says in the audio commentary). During the "game", he wakes up from his sleep. The score by three times Oscar-winning composer Howard Shore is memorable and, especially with the flashback, it really adds something powerful to the film. Michael Douglas was in his prime in the 1980-1990s and is the key to making "The Game" work - to go that "extra mile". His unique way of being tough, convincing, handsome, fragile and vulnerable shows in this film and, together with "Falling Down (1993)", is probably one of his most underrated performances. Sean Penn is in a very supporting role, but with him, you just can´t go much wrong. "The Game" is an ambitious project, where the threat of it becoming unconvincing, predictable and repetitive is constantly in the air. Fincher almost manages to avoid this, but I still can´t say that the film is "perfect". After the very intriguing first part, the film introduces some rather dull and probably a bit too light "action" (mainly chases). The original vibe is restored in the third part and e.g. the scenes in Mexico are very strong (again both story wise and visually). There´s also some humour in the film - very slight, but it´s there. It´s mainly the acting from Douglas that provides those different nuances for the film, from humour to drama. Whether the ending truly works or not is definitely debatable, but it´s still unique and memorable. In the end, "The Game" offers a lot more good than bad (in many senses) and is a film that deserves more recognition. It´s not as brilliant as e.g. "Se7en", nor everyone´s cup of tea, but it´s one game you want to play in your living room. Trust me.

Video


The film is presented in Anamorphic 2.35:1 and the print is relatively clean. Since the look of the film is intentionally dark, slightly grainy and low lit, it´s not fully clear what is inherited from the original stylistic choices, but the transfer tends to look soft and the dark scenes can look noisy. Some edge enhancement can be spotted. This doesn´t feel like a top-notch transfer, but I believe the certain "murkiness" is actually intentional. The transfer never feels "bad", but a minor disappointment it still is. "Dual layer" disc is coded "R2" and has 16 chapters. Running time is 123:16 minutes (PAL).

Audio


English and Spanish Dolby Digital 5.1-tracks, along with English HoH, Spanish and Portuguese subtitles are included. English 5.1-track is pretty good and dynamic. Even when there´s some "action" - some car crashes and gun shots - the film can still be quite dialogue-driven. Like the story and the look itself, the audio can be also moody and dark, capturing the nightly ambient noise in the city and the hollowness of the big mansion. You´ve surround-activity, but also some constrained moments. The audio is a pretty good mix of both.

Extras


"Special Edition" offers some good news for the fans. Almost all the extras from the old Laserdisc are included this time. All of them also include English HoH, Spanish, and Portuguese subtitles (with the majority of the extras, this mainly means the audio commentaries). Note, that this SE is not released in the US at the moment.

-Full length Audio commentary with director David Fincher, actor Michael Douglas, screenwriters/co-producers John D. Brancato and Michael Ferris, director of photography Harris Savides, production designer Jeffrey Beecroft, and visual effects supervisor Kevin Tod Haug is included, again ported from the older Laserdisc. It seems that most of the participants are recorded separately and edited together. Fincher is a very unique personality, who can talk plenty about even the smallest details and "hidden meanings" that some scenes and imagery might have. He´s probably over-thinking it for the many casual film buffs, but for Fincher it´s just how he sees and feels his art. Everything has a meaning. In "The Game" and its visuals, he wanted an open and simple style (not rapid editing) and mainly to use "moving masters" - meaning wide shots. In his way of thinking (and he talks plenty about this issue), you should use close-ups for a good reason only. Every close-up should have that "meaning", since the audience is expecting it. He´s also telling about the different lenses he used and also reveals that one scene is slightly "tweaked" for the Laserdisc (and eventually to this DVD); in one scene where there´s firing from the rooftop, Fincher didn´t want to see the squibs blowing the dust - only the impact of the bullets. In the Laserdisc/DVD, these sparks are now painted out. DoP Savides also chimes in when it comes to the look of the film, often pointing out that the film is not very lit and in some scenes there´s only one light or similar for the actor. In some scenes, the eyes are told where to look (where Douglas "should go" next) and that is done by lighting. He also mentions, that since the film would be shown in the 4:3 aspect ratio (e.g. in TV) later on, Fincher used Super 35, which would allow to show the film also in "open matte" (almost at least). During filming, they also wanted to "protect" the 4:3 ratio and eliminate as much "pan&scan" as possible. So 4:3-versions for the film are most likely "open matte", 2.35:1 still being the "OAR". Douglas is a joy to listen to and he would´ve deserved a solo track. He starts off by saying that he didn´t see the "flashback home movies" before shooting and says that since he was going through his own divorce at the time of the filming, he used some of those emotions for the character. He talks about his acting style, also mentioning that he isn´t a "student of film" (doesn´t know different films that well). He points out that the actors also need some time and space before each take, the thing that is sometimes ignored (lights are tweaked to the last minute etc). In "The Game", this wasn´t a problem, since both Fincher and DoP Savides wanted everything to be ready for the actors. Since Douglas was literally in almost every scene (based on him - 107 out of 108 shooting days), everything had to work with him and Fincher - they had to work like a "team". Fincher still says that films are not made "for the actor", meaning that the actor is there for the character and ultimately for the story. And in the end - it should be the director´s movie anyway. They debated how "mean" the lead character should be and eventually it seems that they ended up in a compromise. Douglas didn´t want him to be too cold and brought also some humour into the role. Fincher wanted him to be more like a traditional "Scrooge"-type. Originally Nicholas Van Orton was a younger character and the film has a lighter tone. The story also revealed more about his father and there was a love story included (as is the case usually with "traditional filmmaking"). Conrad was also originally his friend, not brother. Generally the audio commentary explains the motives, goals and some of those "hidden and not-so-hidden" meanings of the film and also the ending is discussed (screenwriter speaks about the same issues that probably most of the viewers wonder about). An informative audio commentary for those who want to learn something about the art form known as filmmaking. Just don´t expect any juicy stories from the set or light "joking".

-"Behind-the-Scenes Footage" -featurettes also include optional audio commentary (by director David Fincher, actor Michael Douglas, director of photography Harris Savides, production designer Jeffrey Beecroft, and visual effects supervisor Kevin Tod Haug). The participants vary within the segments, though. You can see some behind-the-scenes-footage from four scenes and also some finished and edited material. With e.g. "The Taxi"-scene, you´ll see how many angles the one short scene needs. There are also some storyboards and generally locations where these scenes where shot. You´ll also learn from the visual style (night looks like night, not "lit") and Douglas says something from the actors point of view (he also says that he likes to do action and sex scenes, since "you don´t need to talk"), talking also about Fincher. With "Play All", the featurettes run 29:06 minutes:
*Dog Chase (4:26 min)
*The Taxi (12:03 min)
*Christine's House (4:57 min)
*The Fall (7:42 min)

-"On Location Footage" -featurettes work in a similar fashion, also including optional audio commentary (with director David Fincher, director of photography Harris Savides, production designer Jeffrey Beecroft, and visual effects supervisor Kevin Tod Haug). You´ll see different sets and learn about the style and creative decisions. Savides almost complains that some of the film stock (he mentions "T-Grain" by Kodak) tends to flatten the apparent grain and often films (at least back in 1998 when the Laserdisc came out) look crisper and sharper than they did in the 1960s and 1970s, when grain was more "visible". Here lies the lesson for every film fan; some films are grainier than others and grain is not the "enemy" (this is quite a current issue at the moment, since some HD-releases tend to reveal more grain, thanks to the added resolution and sharpness). Commentary also reveals that money was spent more on the sets and props rather than lighting. With "Play All", the featurettes run 9:29 minutes:
*Exterior Parking Lot: Blue Screen Shot (0:44 min)
*Exterior Fioli Mansion: Father's Death (1:03 min)
*Interior CRS Lobby and Offices (2:38 min)
*Interior Fioli Mansion: Vandalism (2:46 min)
*Exterior Mexican Cemetery (2:19 min)

-Trailers-section also includes (!) optional audio commentaries; Trailer with director David Fincher and Teaser with title designer/digital animation supervisor and animator Richard 'Dr.' Baily, who also created the Teaser. The Teaser is almost solely made with CGI and it´s an interesting effort. Another lesson can be learned here; companies should always include all the trailers and teasers, since in some cases they can be an art form of their own. You can use "Play All":
*Theatrical Trailer (2:19 min)
*Teaser (with test CGI footage - 1:33 min)

-Alternate Ending runs 1:11 minutes. This one you have to find out yourself.

-Production Design Artwork includes 15 images.

-Storyboards includes apparently 274 images and essentially the same four scenes like the "Behind-the-Scenes Footage" (Dog Chase/The Taxi/Christine's House/The Fall).

Overall


I always felt that "The Game" was ignored both in the box office and also on home video. This SE-release doesn´t bring any huge gains in image, or sound-wise, but the extras are well worth the price. The whole package is quite solid.

This DVD is available at Xploited Cinema.
| | | | | |
| --- | --- | --- | --- | --- |
| The Film: | Video: | Audio: | Extras: | Overall: |