The Film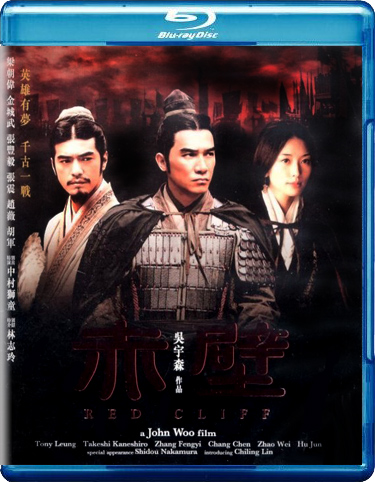 John Woo always seems to take great pleasure in whatever he puts on the screen. A fan of lavish spectacle, you can tell his work from a mile away Ė even further in glorious HD. And "The Battle of Red Cliff" (2008) is a film that delights in showing you an expansive world, full of battles that seemingly do stretch for miles. And it does not rest on its laurels, for two minutes in we are already embroiled in the midst of a vicious conflict. It is merely a taste for what is to follow in this first of two part version of a justified box office smash.

In 209 AD during the days of the Three Kingdoms a force of fifty thousand men, led by the warlords of the southland kingdoms Wu and Xu, went into battle to defeat the corrupt Prime Minister Cao Cao (Zhang Fengyi) and the Emperorís army of one million. The two warlords, Sun Quan (Chang Chen) and Liu Bei (Yong You), have obvious issues of mistrust from issues in their past. But different methods of warfare come together beautifully under the watchful eye of chief military strategist Zhuge Liang (Takeshi Kaneshiro) as they fight to resist the annexing of their lands.

For quite a few viewers, theyíll know who all the historical figures are, so they need little character build. I initially knew nothing of this time period but, to be fair; in this movie I didnít want nor expect detailed character work. I expected something more akin to tales from Greek mythology, where the characters are loud and strong, their deeds rounding out your knowledge of their desires and beliefs. The safety of a John Woo film is that you get what you expect. In this case it even goes further than that because this isnít a John Woo film Ė itís a John Woo epic. And itís an epic that earns its brand name.

Now the issue with many an epic is that they do forego originality and humanity for emotion and scenery. "The Battle of Red Cliff" is no exception in regards to the moments between battles. Characters engage in stern discussions over their plans followed by sweeping shots of locations, weather, and longing looks. Iíd be intrigued to see how the full four hour version runs and what it adds to the overall feel of the film. I get the impression this version, cutting out 132 minutes of the running time, mainly pared back on the character development Ė the beginning features an American narration that attempts to fill in a lot of what I assume weíve missed or would be hard to pick up.

The latter chunks of the film are just glorious. All issues with sections that were removed for this version are gone as you are swept up in the action. Woo does a fantastic job of keeping the inventive military plans clear to the audience for total enjoyment. The stunning graphics and set pieces compliment the direction beautifully as well. Itís like youíre watching the worldís most fascinating military handbook in motion. The sheer scale of the epic is the likes we havenít seen in quite some time and especially not done well. Not like this, where you will stare at some of the action and smile, edging towards the remote control to go back and relive what just happened.

If youíve sat down to watch a film by John Woo, you didnít do this looking for deep character work or insight into the human psyche. You wanted action, loads of it, coupled with spectacle and pageantry. Do you get that here? Of course you do. John Woo canít be anything other than John Woo, and as such his weaknesses and strengths will always be displayed without restraint. With this film he gifts us an epic of mythological proportions. History buffs will probably find enough to irritate the senses, but action buffs will leave with their senses well sated. Far better than anything Hollywood can produce on its own. The masters of their craft strike again.

Video


Presented in a lush 2.35:1 high definition image delivered onto Blu-ray in 1080p 24/fps and using AVC MPEG-4 compression this transfer is a thing of beauty. The image is razor sharp with depth that shows off the expansive locations and sets. The level of detail is astoundingly impressive and rivals any big-budget Hollywood production, the HD image allows us to view the grandeur of the picture in full detail. From the finest costume touches to the battle scenes that are shot with an energy and flair only John Woo can deliver. The textures are impressive, from the weathered faces of the cast to specks of sand that cover the shields of the soldiers. Colors are visually stunning, retain their balance well especially the crisp whites and the deep and dark black levels. Grain is light but present preserving the filmic look and weight of the 35mm format. Overall it's an impressive picture that screams reference quality. This is one to show off to your friends.

Audio


Three equally impressive audio tracks are presented here all in the film's original Mandarin spoken language, the first is a powerful PCM uncompressed 7.1 surround track (48kHz/16-bit), we also have a DTS-HD Master Audio 7.1 (48kHz/16-bit) and a Dolby TrueHD 7.1 (48kHz/16-bit), a track for all cinephiles to argue over which is truly the best. Having watched the film in PCM (and sampled and compared scenes to the other two tracks) there was hardly any difference, the PCM track edges out only slightly with what felt like broader depth to the audio, however all three are solid tracks that'll offer up some aggressive rumble to your viewing experience. Dialogue is clear and distortion free, ambient sounds are well mixed and feel natural, as does directional sounds and effects and the battle scenes are simply immersive in their powerful mix that makes use of all speakers in the configuration.
Optional subtitles are included in Chinese, both simplified and traditional as well as English. The English subtitles were easy to read without any spelling or grammatical errors that I can detect.

Extras


Mei Ah Entertainment has provided some decent extras all of which are unfortunately in Mandarin without any subtitles so these supplements have gone unreviewed and are listed below.

The disc has a collection of interviews, these are fairly standard talking-head style clips and feature:

- Tony Leung interview 1 runs for 3 minutes 11 seconds.
- Tony Leung interview 2 runs for 1 minutes 51 seconds.
- Hu Jun and Zhang Fengyi and runs for 4 minutes 11 seconds.
- Chang Chen runs for 4 minutes 36 seconds.
- Lin Chilling runs for 1 minutes 46 seconds.
- John Woo interview 1 runs for 4 minutes 31 seconds.
- John Woo interview 2 runs for 4 minutes 16 seconds.
- John Woo interview 3 runs for 3 minutes 56 seconds.
- John Woo interview 4 runs for 4 minutes 56 seconds.

Next up on the disc is the "Beijing Press Conference" footage 1 which runs for 7 minutes 21 seconds, this is a Q&A from the original press junket, all in Mandarin, no subtitles and features some rather annoying techno music over the clip.

A second "Beijing Press Conference" footage 2 is next and runs for 10 minutes 15 seconds. Basically more of the same.

"Hong Kong Press Conference" footage 1 is next and runs for 2 minutes 16 seconds, more footage from the press junket promoting the film in China.

"Hong Kong Press Conference" footage 2 runs for 4 minutes 3 seconds, yet again more of the same here.

"Hong Kong Premiere and Press Conference" footage runs for 6 minutes 22 seconds, is a red carpet feature about the premiere of the film and we get yet more press conference footage.

The film's original theatrical trailer is included and runs for 2 minutes 19 seconds.

Finally there's a photo gallery of 50 images taken during the production.

Overall


This disc can be purchased at Yesasia.com. Your source for Asian films on Blu-ray.
| | | | | |
| --- | --- | --- | --- | --- |
| The Film: A+ | Video: A+ | Audio: A+ | Extras: C+ | Overall: A- |