The Film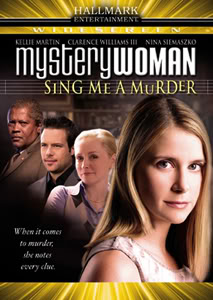 Given the multitude of TV channels available in America, there is no doubt an abundance of TV movies that most people won't even have heard of, let alone remember. It's probably fair to say that quite a few of these won't ever make it to DVD, and some of those that do - especially on the lower-budget labels - aren't worth anyone's time anyway. This was my initial reaction to "Mystery Woman: Sing Me a Murder" before I took a proper look at the front cover and noticed the head banner "Hallmark Entertainment". This raised my hopes, as Hallmark is a strong TV channel in my opinion, and one of the many that I've heard of and seen material from (both "Dinotopia" and the following "Dinotopia: The Series", "The 10th Kingdom" and the TV movie "Animal Farm" to name a few off the top of my head). Unfortunately for 'Mystery Woman', this set my expectations high - as I had at least appreciated, if not immensely enjoyed, the named series and TV movie mentioned above.

One of the first things I noticed when I put this DVD on to watch, was that it started up with a promo spot for the "Mystery Woman" series of TV movies - nothing that grabbed my attention, but gave me a bit of info about what the show was all about. For those who hated or found extraordinarily irritating the premise of the popular TV series "Murder, She Wrote", this will probably equally annoy, if not moreso. Whilst from an early age I quite enjoyed the detective plots and twists of "Murder, She Wrote", and didn't mind Angela Lansbury too much, over time I began to find the meddling and 'outside inteference' of non-police to be a frustrating theme - something which would drive me slowly insane over the twelve (yes, twelve) seasons of "Murder..."; it's amazing I still tune into Agatha Christie's "Poirot", but then maybe it's the writing and the interest I have in the characters and story which keeps it going.

Given the solid cast of "Mystery Woman" - Kellie Martin (most notable for her appearance in later seasons of ER), Clarence Williams III (from such things as "The General's Daughter"), Nina Siemaszko (most notable to me for her performance as Ellie Bartlet in "The West Wing") and more, combined with the backing of Hallmark, I had put my doubts away, and approached "Sing Me a Murder" with an open mind.

Whilst it didn't exhibit as much annoyance as I had anticipated, the writing of "Sing Me a Murder" was sadly a bit of a let down. That's not to say it was bad; it wasn't. Neither, however, was it enthralling, and so by the end of the film I was beyond caring who the killer was or why they had killed. I was intrigued by the main characters - Samantha (Kellie Martin), Philby (Clarence Williams III) and Cassie (Nina Siemaszko) - and would be interested to see how any development of them might progress in other releases from the "Mystery Woman" series. I don't think I'll be watching any of them twice though; they just wouldn't hold up to repeat viewing for me.

The "Mystery Woman" series consists of three main characters. Samantha is the investigative sleuth who owns and runs a bookshop in her spare time (or should that be the other way round...?). Philby helps out at the bookshop and is a (begrudgingly) retired man, who used to be part of the crime force in some way, and who doesn't think people should "waste" their skills, especially in retirement. Cassie is the Assistant DA and amazingly still has her job despite allowing Samantha and Philby to help run police cases, though in most cases Philby uses all his old contacts to get the information he needs, which is then presented to Cassie once Samantha and Philby have the answers.

In "Sing Me a Murder", by some miraculous coincidence, a once famous folk-rock band comes to town to play a charity gig, and the location it is to be held is outside the bookshop. If that wasn't contrived enough, Samantha grew up listening to the band and so they are a big part of her life. No, really. Everything begins to unravel when the band's producer is mysteriously killed in his hotel room. Samantha and Philby go to work...

Video


Presented anamorphically in a ratio of 1.78:1, this picture is good with some strong colours. It does suffer a bit from compression, and a transfer on a DVD-9 might have improved it further. Clocking in at roughly 86 minutes, though, it doesn't especially warrant it. The best thing about this transfer, other than the overall look, is that it is widescreen and anamorphic - something that isn't that common for lower budget TV output in the US.

Audio


The audio track is in 5.1, although as Jari pointed out in his review of another Echo Bridge title, HERE, it's basically the same sound coming out the front speakers, and nothing much from behind. Judging by what's on offer, no surround is really needed, though. Music and dialogue is clear, and the track has no real complaints to put against it. Nothing spectacular, but then I wouldn't expect it to be. It serves its purpose well.

Extras


There are a few trailers upon start-up. These are for the 'Mystery Woman' series (Snapshot; Sing Me a Murder; Mystery Weekend) (1:33), "Angel in the Family" (1:10) and "The Adventures of Black Stallion: CE" (1:28).

Overall


If you're a loyal fan of the "Mystery Woman" series, this DVD is for you. Sadly there are no extras, but if you should find this in a bargain bin for about $6, and enjoy the films, then you may be forgiving of the lack of features. If you like the premise and think it would be worth a watch, I'd recommend looking out for repeat airings on Hallmark (if you live in the US, that is - although to be fair if you live outside the US you've probably never even heard of this). If this is your idea of high quality TV I recommend you take out a subscription to HBO to see how wrong you are.
| | | | | |
| --- | --- | --- | --- | --- |
| The Film: D+ | Video: C+ | Audio: B- | Extras: F | Overall: D |