The Film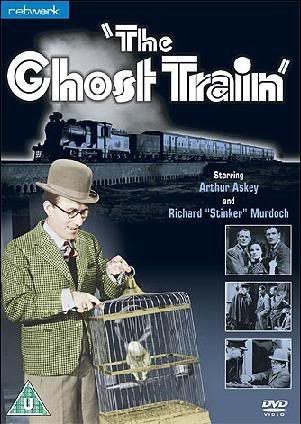 The story for the film is fairly simple; a group of people travelling on a train miss their connection at a rural station due to the moronic actions of one, only to discover the place is haunted and there is a danger they all may die.
Made in 1941 this mildly interesting thriller stars such notable actors as Richard Murdoch - who went on to star in more well-known things such as "Rumpole of the Bailey", and even "Black Adder", as well as being the narrator for the truly excellent childrens' TV program "The Moomins" (which I watched when growing up) - and Arthur Askey - who didn't really do anything more successful subsequently. Askey is most notable in this film, but sadly for being the one everyone wants to see bumped off; his unfunny and very irritating antics providing a sense of annoyance to the viewer. It's not even that I think he himself is bad, but his character in this film is asking for a lot of slapping, and when he's not he's asking for a booting. Despite this rather unhelpful trait sticking out like a sore thumb, when viewed as a whole, the film itself is an enjoyable watch, and at just over 80mins nothing that overstays it's welcome (much). Probably the funniest thing in it are some of the conversations between the soon-to-be husband and wife, and their innocence (or lack thereof).
My only complaint would be that the ending is too short, but the suspense built up to it is better than I thought it would be, and considering the story is mainly carried through in a railway station building, a good use of camera work and exploration of shots to keep up the interest. Quite a fun film, really.

Video


Presented in it's OAR of 4:3 (or thereabouts, possibly Academy Ratio) the transfer looks good, but the print has suffered a fair bit of wear and tear (unsurprising, given its age). For the most part, the picture looked clear and black and white shades were, in my opinion, fairly sharp, but there was some inevitable rainbow shimmering present too (although not as much as I feared, I'm glad to say). Unless a major restoration is undertaken, which I doubt for this film, this is possibly the best it's going to look - and it certainly could have been a lot worse.

Audio


Network have presented The Ghost Train in it's original mono soundtrack, and it sounds very nice. There were no distinguishable crackles or pops or other faults with the soundtrack that I noticed, so any present were not distracting to the viewing of the film. Dialogue was a little quiet in places but I am pretty sure this was intentional, so nothing to be worried about there either.

Extras


None

Overall


No extras are provided, but since the main actors (if not all) are dead I think the best that could have been available would be to create some form of retrospective, which for a film this small would probably have been too big an expense. Still, Network are only charging an RRP of £9.99 for this, so I will excuse them on this matter. Which leaves only the disappointment of lack of subtitles again. I don't think this is a deliberate trait by Network, but I really wish they would include subtitles on their releases; they are alienating a wide market of buyers as a result. Other than this I am quite happy to recommend this if it takes your fancy and you find it for a good price - a fairly entertaining way to spend 80 minutes of your time, and a real Sunday-afternoon type of film.
| | | | | |
| --- | --- | --- | --- | --- |
| The Film: B- | Video: C+ | Audio: B- | Extras: F | Overall: D+ |