The Film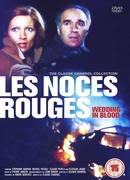 Arrow Films continue their Claude Chabrol Collection with this offering. Once banned due to similarities with an actual French murder case, Les Noces Rouges is the story of two lovers, each unhappily married to other people.
Pierre (Michel Piccoli) is having an affair with the mayor's wife Lucienne (Stéphane Audran). Pierre's wife is ill and pretty much bed-ridden for the entire film, feeling dejected as a result, whilst Paul (Lucienne's husband) appears to be unable to truly connect to her and her daughter - Hélène (Eliana De Santis). By coincidence, Pierre is called upon to help Paul for a political purpose, giving him the opportunity to spend more time with/be closer to Lucienne. Shortly after, Pierre's wife dies under mysterious circumstances, the reason of which is only known to the lovers. Paul later becomes embroiled in some shady dealings to benefit himself and requests the help of Pierre to pull them off. He then discovers the truth about his wife Lucienne's fidelity, and decides to use it as blackmail to help him with his scam...

Chabrol's film is a sturdy exercise in both romance and politics, with subtle observations of both - mixed in with occasional scenes of black humour. The film's romance is not spoilt by exploitation of the characters (in scenes of passion), rather allowing the viewer to imagine the events unfolding and the suggestions made. This could be because Audran was Chabrol's wife in real life, but could well have been an artistic decision. The political nuances are nothing particularly unexpected, with power and corruption once again becoming part of the exploration. Despite this, the mix of the two comes off pretty well.

The look of the film is fairly bleak - getting bleaker towards the end. Whilst some scenes display prominently bright colours, the overall mood of the film is fairly sombre, adding to its realism. The musical accompaniment is good and serves most of the scenes well, but like the picture it too is fairly bleak - reflecting the story and outcome of the film itself. Story-wise, the film takes many routes that are perhaps unexpected, and benefits all the more for doing so. It moves along at a fairly swift pace, keeping the attention of the viewer as much as possible. Editing has been done well, and the film is kept to a shorter length than most - presumably an attempt to keep the viewer watching and to not outstay its welcome.

Altogether a good film, exploring well the disastrous effect affairs can have on relationships and life, delving at times into film noir territory, with a poignant ending.

Video


The transfer given to this film is very impressive indeed. Granted, there are some noticeable flaws in the image, most notably the 'cigarette burns' which occur sporadically throughout, but for the most part this transfer is sharp and detailed. Presented anamorphically at 1.66:1, rather than allow for major overscan the picture appears in a 1.78:1 ratio, with black bars on the left and right hand sides. I found this much more preferable to other films which simply ignore the processes of a Widescreen TV and leave it up to the consumer to correct it.
I was also most happy to find that -unlike the last Arrow disc I reviewed- the subtitles on this film are not burnt-in; even better - they are optional! Good move by Arrow.

Audio


The only audio track available is the original French presented in 2.0 Dual Mono. Levels are well balanced and dialogue is very clear (showing some of the lapses in subtitling). The track is nothing spectacular, but does the job well and appears distortion-free.

Extras


Not a bean. I would have liked to see a Trailer (even if for other Claude Chabrol films - to see if they catch as much interest) but there isn't anything here.

Overall


A very worthwhile film presented very well. Sadly no extras are present at all, not even Trailers of any kind. This would be the only major fault of the disc, so if you are unconcerned about bonus material then this release is well worth checking out.
| | | | | |
| --- | --- | --- | --- | --- |
| The Film: B+ | Video: A- | Audio: A- | Extras: F- | Overall: B- |