George Stevens: A Filmmaker's Journey
R4 - Australia - Warner Home Video
Review written by and copyright: Rob Hunt (19th July 2005).
The Film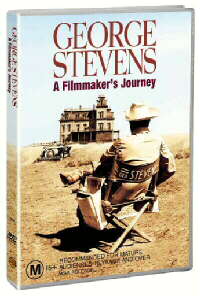 "George Stevens: A Filmmaker's Journey" tells the story of George Stevens' movie career, narrated by his son George Stevens Jr.. The film covers a wide area of Stevens' life - from his early experiences and work with RKO to his assignments in World War II to his later career with films such as "Giant" (1956). With fond memories and personal stories there are many interviews with actors and producers - relating to Stevens' style and methods of filmmaking, as well as his overall personality.
As a documentary the film is both entertaining and moving, with scenes of joyful reminiscing intercut with harrowing footage of concentration camps (with Stevens' reactions to such horrors of war) and archive footage, such as clips from the Nazi propaganda flick "Triumph Of The Will" - a technique I have found can work well in some films, whilst it can take away from others. Thankfully it works well in this film, in my opinion.
The commentary by Stevens Jr. is both in admiration of his father and full of knowledge about his life, coming across well when it is used. The wide variety of interview soundbites used are appropriate and not cut short (like in some documentaries) - allowing for fascinating viewing and providing interesting information.
The film is edited together well, mixing together clips from Stevens' films with interviews and other shots. Stevens' film clips are given precedence despite this, allowing them to tell the story - something I also thinks works well, adding to an already impressive documentary.
There is little to no music used, as far as I could tell, but that which was contributed to the scenes, including the catchy music that is also played over the main menu when the disc is loaded up.
I found this to be a worthwhile and intriguing documentary. Whilst I have seen many documentaries in the past I find it always a wonder to watch ones about prolific personalities - especially if, like in this case, I have not heard a great deal about the actual person. Watching this documentary it is clear to see Stevens' passion for filmmaking and how important film is to him and his life, most evidently after the war. Whilst it may have glossed over many details of his life, and touched only briefly upon his later (and sadly not as good) films, what it does cover it covers well.

Video


I do not know what the original Aspect Ratio was intended to be but this DVD is presented in a Fullscreen, Non-Anamorphic PAL transfer - a ratio that is different (I think) to the films presented within. However, a fair bit of the documentary is interviews and archive footage, which probably was filmed in this way. The image holds up well, and is perfectly acceptable.

Audio


Presented in DD 1.0 Mono the only track on offer here is the original English one. Most of the films shown in the documentary probably only had Mono tracks, so nothing much is lost here. Nothing particularly impressive, but dialogue is clear and music is well placed.

Extras


Warner Brothers have not included any extras at all.

Overall


This is an interesting and informative documentary on the life of George Stevens - a man I had not heard a great deal about, but of whom I have learnt a lot. It is clear to see the talent and fervour that Stevens possesssed, and the variety of events on his journey in life. Sadly there are no extras on this DVD, but I would still recommend it (if found at a good price) as it is well worth a watch.
| | | | | |
| --- | --- | --- | --- | --- |
| The Film: A | Video: B- | Audio: B- | Extras: F- | Overall: B+ |

---
DVD Compare is a participant in the Amazon Services LLC Associates Program and the Amazon Europe S.a.r.l. Associates Programme, an affiliate advertising program designed to provide a means for sites to earn advertising fees by advertising and linking to amazon.co.uk, amazon.com, amazon.ca, amazon.fr, and amazon.de.