Melinda and Melinda AKA Melinda & Melinda
R2 - United Kingdom - Twentieth Century Fox Home Entertainment
Review written by and copyright: Rob Hunt (11th July 2005).
The Film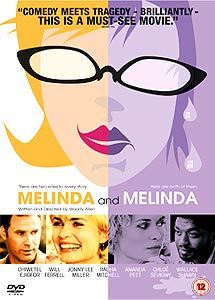 When hearing the name Woody Allen, there are a series of words that crop up in my mind. Drama. Comedy. Dialogue-driven. Witty. These words pretty much sum up most of his films, and "Melinda And Melinda" continues this mould. As such, it may be of no interest to some viewers who have seen his earlier (and arguably better) films. But this film is still very enjoyable, and I would recommend watching it - if only once.
The story begins with four characters having a meal together in a restaurant, where two of them (both film producers) are arguing whether life is a comedy or a tragedy. One of the others has an idea for a film, and asks the arguing pair whether it is material for a comedy or a tragedy. And so ensues variations on the story of a girl - named Melinda (Radha Mitchell) - showing her life from a comedic perspective and from a tragic perspective, intertwining both the different elements. These storylines of Melinda, as both comedic and tragic, are distinguishable - but only just. Thankfully Allen had the sense to use alternate characters in each of the scenarios - and so each scene is recognisable as to which storyline it is continuing. Both stories are quite different in the way they are told, but contain a fair few similarities. In the end the message is clear: life can be both comic and tragic.
Interestingly, the only actor who had access to the entire script was Radha Mitchell. All the other characters only had their particular storylines to work from - a decision which may or may not have affected the film's overall performance - but I personally don't think it did. The actors used to portray the characters are very good - but out of all of them Will Ferrell is a clear standout. His lines and character are the most witty and funny throughout the film - despite this being a more serious comedic role than his other films. The other actors do well in their respective roles, but Ferrell really steals the show in my opinion.
The look and feel of this film starts and finishes quite warm, but tends to be more washed out and colder throughout the main part. This may be reflective of the storylines on offer, or highlighting the differences between the stories of Melinda and the scenes at the restaurant table - either way it works well to differentiate between the two. The way the film way was assembled, however, can be seen as quite confusing. Editing and the pace of the film is fairly slow, but is over rather too quickly in the scene at the restaurant just before the first appearance of Melinda.
The music of "Melinda And Melinda" is quite intriguing. The film starts off with a classical piece of music which rather abruptly changes into a far different piece. The music used throughout is classical for the most part - some of which contributes to one of Melinda's tales. Other than this I saw no connection between the music and the film, but the music was in no way offputting or a distraction to the film - however, I would not say it greatly enhanced it either.

Video


Fox have presented this film in its original aspect ratio of 1.85:1 with an Anamorphic transfer. The picture is good and there is little evidence of problems present - however, this is something I would expect from a fairly recent film. Altogether the transfer appears perhaps a little soft, but this would be my only criticism of it - and it could well be intentional, knowing Allen.

Audio


There is only one (English) audio track on this DVD - and as this is a Woody Allen film it will most probably come as no surprise to learn it [like all the others] has been presented in Dolby Digital 2.0 Dual Mono. Whilst this limits the track to an extent, as said earlier Allen's films are predominantly dialogue-based, requiring little to no demand on the track at all. Balance between music and vocals is good, but I can't help but wonder whether a 2.0 Surround (or even 2.0 Stereo) track would have improved things - perhaps creating a better atmosphere.

Extras


Nothing. Although Woody Allen DVDs are often bereft of extras I was sad not to see the Theatrical Trailer - which some may argue is better than the final product in terms of keeping interest.

Overall


"Melinda And Melinda" is a welcome addition from Woody Allen, whose previous recent films have been rather less than impressive. The storyline can be a little hard to follow at times, but generally is worth it in the long run. The look and sound of the film are good, and the acting by the main leads - most notably Will Ferrell but also Radha Mitchell and ChloŽ Sevigny amongst many others - is very enjoyable. The film also has a rather neat ending which is far smarter than some parts of the actual film itself. Sadly the DVD is lacking in terms of extras - not even including the basic trailer - and as such I would recommend a rental rather than a purchase, unless this is a personal favourite.
| | | | | |
| --- | --- | --- | --- | --- |
| The Film: B+ | Video: A- | Audio: B | Extras: F- | Overall: B- |

---
DVD Compare is a participant in the Amazon Services LLC Associates Program and the Amazon Europe S.a.r.l. Associates Programme, an affiliate advertising program designed to provide a means for sites to earn advertising fees by advertising and linking to amazon.co.uk, amazon.com, amazon.ca, amazon.fr, and amazon.de.