Diana: Queen of Hearts (TV)
R1 - America - Genius Products
Review written by and copyright: Pat Pilon (12th September 2007).
The Film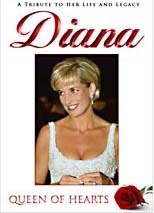 With the 10th anniversary of her untimely death (and the 10th anniversary of her funeral less than a week ago (at the time of posting)), Genius Products decided to release this 1998 documentary recounting the life and times of Diana, Princess of Wales. The documentary is a nice one, though missing some detail, as it glosses over all the important events of her life.

One big problem about making a biographical documentary is that it might get pretty gossipy, telling you all the small details of her personal life. Luckily, this documentary is pretty respectful, showing you the most important parts of her life. You, of course, hear about her childhood, her vigor for life and her curiosity. You also hear about how she met Prince Charles and, of course, you see the endless train on her wedding dress.
With all these things, you sort of wonder why they start talking about her hair. It really doesn't have anything to do with her life. Another thing along those lines is the last half hour. After that time, the doc focuses on her children and on the work she did and causes she advanced after her divorce.

There are plenty of personal stories from Cystic Fibrosis sufferers, Turner's sufferers and other people that got her help. They all say very nice things about her and it's all very sweet. The problem is that the documentary spent the first hour telling you that she's very nice and she wanted to help people and leave a mark. These stories tug at your heart but from a documentary point of view, they don't really advance any new information.

With the likes of Richard Attenborough (who narrates), and Hilary Clinton, the interviews with various professors, journalists and people who personally knew her, there's a lot of nice little stories and anecdotes about her and her life. It's a light documentary and, though no information is new to people who followed Princess Diana's life, it's a good way to introduce the big events of her life to those who don't know much of her story.

Video


1.33:1 full screen. Like the sound, the video quality varies depending on whether you're seeing archival footage or more recent interviews. Either way, the picture isn't as clear and clean as it could be. The source is taken from the TV doc from some years ago. The colours are okay, though not as bright as they could be and the entire picture looks a bit soft. It's an okay picture considering the program, but if it were a film, then it would be quite disappointing.

Audio


This comes in an English Dolby Digital 2.0 stereo track. It's adequate. The only thing you hear in this doc is interviews, and everything is clear and clear. The clips and archival footage you see varies in sound quality, but overall you hear everything you have to clear clearly.
No subtitles are provided.

Extras


None!

Overall



| | | | | |
| --- | --- | --- | --- | --- |
| The Film: B- | Video: C | Audio: B- | Extras: F | Overall: D |

---
DVD Compare is a participant in the Amazon Services LLC Associates Program and the Amazon Europe S.a.r.l. Associates Programme, an affiliate advertising program designed to provide a means for sites to earn advertising fees by advertising and linking to amazon.co.uk, amazon.com, amazon.ca, amazon.fr, and amazon.de.