Mother of Mine AKA Äideistä parhain
R1 - America - Film Movement
Review written by and copyright: Noor Razzak and Stevie McCleary (8th December 2007).
The Film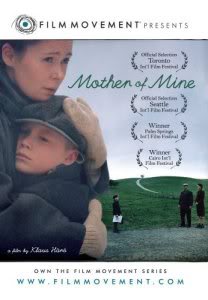 Mother of Mine is the tale of Eero (Topi Majaniemi), one of over 70,000 Finnish children sent to Sweden (because of its neutrality) during World War II. His mother is forced, in an attempt to protect him, to send him to a family she doesn't even know. This family, with the exception of the wife Signe (Maria Lundqvist), accept him for the most part. But Signe's issues with Eero stem from painful memories in her own past...and only if she lets go of those memories can she allow herself to love again.
This review has dogged me for the last week. I have found it nearly impossible to structure any thoughts about this film. The main reason? A large amount of indifference. Does this film have a strong heart? Yes. Is the acting well above par? Yes again. Has the film been very well-received by critics and movie-goers alike? Mmmm hmmm.
But does it just feel like a really shiny 'made-for-TV' movie to me? Yup-a-roonie.
While I may have university film course credits to my name, I prefer my entertainment to be more...light and fluffy. I'm a sucker for bad horror, bad comedies, documentaries based on crazed religious folk... it's not my personal idea of pleasure to watch a drawn out tale of a sad kid missing his mother. That being said, I can and have enjoyed plenty films of this nature. It's hard to deny greatness, despite any initial moans and grumbles as you're being dragged into the theatre. But this film...it smacks of 'I've seen this all before.' I've seen plenty heartfelt movies set during wartime and it's always sad, but yeah, getting bored of it now. I was not enthralled at any point during the film and constantly had to fight off a sense of vague indifference.
The cast do bring great performances though, they give it their all. I'd hate to not acknowledge the work they put into making this film. Indeed there is nothing really wrong with the film at all actually. It is sweet and touching and I feel tired just typing this all down. I get the serious feeling that many people would appreciate this film much better than I would, but then I still have lingering doubts about it all due to my complete lack of interest in the film as it played out in front of me: it never grabbed me, I never worried about Eero and how he would grow up, and I pegged how the whole thing was going to go down from the beginning.
I have found the whole process of reviewing this film to be frustrating. Do I talk about how I couldn't care either way for it? Or do I try and put forward how it's a sincere movie that probably would appeal to a wider audience...of people who like going to quiet, arty flicks? I mean, it is a film that a strong feeling of ambivalence has left me not really knowing which way to go at all - Powerful yet morose film...or sublime time wasting drama? Beats me.

Video


Presented in the film's original theatrical ratio of 2.35:1 this transfer is presented anamorphically, The image isn't anything to rave about, while mostly sharp there are instances where the image is a bit on the soft side. I felt that overall it was a little dark, with a toned down look to it, blacks are solid and the print is essentially clean and dirt free but the flatness of the transfer let it down a fraction.

Audio


A single Finnish/Swedish Dolby Digital 2.0 Stereo track is included and as I've noticed with releases from Film Movement they really don't splash out on 5.1 mixes and as far as this stereo track goes it's yet another in a line of average soundtracks. While the dialogue comes across well I found that depth was very limited, ambient sounds are kept to a minimum and the film's music comes across quote well.
Optional subtitles are available in English only.

Extras


Film Movement have included a short film, biographies plus some bonus trailers as supplements on this disc. Below is a closer look at them.

The short film included on this release is entitled "Uncle" a 1996 production by and runs for 6 minutes 6 seconds, this black and white animated short is about an Uncle told from the perspective of a nephew and is about his passions, failings and beliefs. It's a nice little film but not among the best or interesting claymation (stop-motion) animation I've seen.

Also included are 1 page text bios for:

- Director Klaus Härö (1 page)
- Topi Majaniemi (1 page)
- Marjaana Maijala (1 page)
- Maria Lundqvist (1 page)
- Michael Nyqvist (1 page)
- Esko Salminen (1 page)
- Aino-Maija Tikkanen (1 page)

Bonus trailers for other Film Movement titles are also included for:

- "A Simple Curve" which runs for 2 minutes 17 seconds.
- "El Bola" which runs for 2 minutes 6 seconds.
- "Film Movement" spot which runs for 31 seconds.

Plus a single text page is included that lists other titles available at the Film Movement website as well as a single text page with 'about Film Movement' information.

Overall



| | | | | |
| --- | --- | --- | --- | --- |
| The Film: B | Video: B | Audio: B- | Extras: C | Overall: B- |

---
DVD Compare is a participant in the Amazon Services LLC Associates Program and the Amazon Europe S.a.r.l. Associates Programme, an affiliate advertising program designed to provide a means for sites to earn advertising fees by advertising and linking to amazon.co.uk, amazon.com, amazon.ca, amazon.fr, and amazon.de.