The Film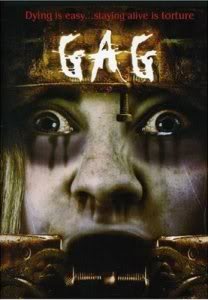 Here is a classic indie film scenario: two guys who are passionate about movies get together, come up with a script, beg their friends and relatives for cash find a cinematographer with his own camera, cast themselves as actors, and sweat a bit until the thing is made. Hard work and passion for their craft is all it takes to make their cinematic vision come alive. This can-do spirit is evident in "Gag", which was made by (and stars) director Scott W. McKinlay along with producer Vince Marinelli.
These two men have put forth their considerable efforts to bring us a movie that has... no value at all. It is a shame that the resources assembled to make "Gag" could not have been put towards something with more merit.
The basic plot here is that two burglars stumble into a creepy coach house behind a Beverly Hills mansion, surprise the wrong freak, and end up being tortured for an hour. Said freak has a few other victims laying around the house, and these people are not in very good shape. Suffering and pain ensue.
As a second-rate entry in the wholly unnecessary torture-porn genre, "Gag" hasn't improved the world at all by existing. Forgetting the social irresponsibility of an entire style of film making that exists for no other reason than to show people suffering, the production itself is second rate. The story is rather implausible, with new plot holes and characters doing ever more unlikely things at every turn. The whole set-up for the torture just doesn't make sense. The victims have plenty of opportunities to escape, and don't. There's no real tension; the movie just isn't scary. The villain is a joke: he's a little pansy who couldn't intimidate a three-year old. The non-twist ending is completely dumb. Seventy-eight minutes later, your own torture will be over.
One of the victims is played by Gerald Emerick; he summons his inner Dennis Hopper to nearly save a few scenes (until he gets impaled with a broom stick in the movie's most notorious scene). Cinematography is by Giuseppe Asaro who did a nice job, considering that this was his first film as a photographer (he also directed a documentary about the great Pakistani singer Nusrat Fateh Ali Khan 1999).

Video


Having been shot on standard-def video (4:3, by the way), there is some pixilation visible at times. The dark and grim color palette that Asaro has to work with makes most of this, so artefacting is relatively unobtrusive most of the time.

Audio


The Dolby Digital 2.0 (no surround option) soundtrack is clean with appropriately creepy effects, and clear dialogue. The musical score by Dennis Dreith is given some space to shine as well. English is the only language option.
Subtitle options are English and Spanish.

Extras


Think Film has provided a few extras that include an audio commentary, deleted scenes, an alternate ending, a featurette, a music video, a photo gallery and the film's theatrical trailer. Below is a closer look at these supplements.

Director Scott W. McKinlay along with actor/producer Vince Marinelli provide an audio commentary track on the DVD that is so passionate and so genuine that it is hard to slam the effort they made in creating "Gag". The men have an enthusiasm for their craft, and tell plenty of stories from the making of their film. They even good-naturedly point out things like continuity errors and bits of tech equipment accidentally left visible in shots. McKinlay and Marinelli are endlessly talkative, providing an entertaining scene-specific conversation. Their comments give a fair amount of insight into the logistics of making an ultra-low budget indie film. I will even go as far as to say that the commentary has substantially more value than the film itself, and I enjoyed listening to it. This doesn't save the movie, nor does it make the DVD worth owning.

Two deleted scenes total two minutes even are included. In one, the killer takes a cell phone call from his father (0:50), and in the other he gloats about killing a victim's girlfriend instead of his sister (1:10).

An alternate ending lasts 50 seconds, and is just a surreal montage of images.

Next is a "Behind-the-Scenes of Gag" a standard 'making-of' featurette that lasts a brief 6:29. Most of it is an interview with the director, in which he discusses how he assembled his cast and crew.

Next up is a music video by Harley Krishna that lasts 4:30. The photo gallery is 3:35 in length and is accompanied by a bit of the movie's score. A trailer for the film clocks in at 1:27. All of the features are in 4:3.

Excluding the commentary, the extras total barely 19 minutes. Not exactly comprehensive, but perhaps the commentary makes up for that a little bit.

Overall


On paper, there is a nice collection of extras on the DVD, but most of the listed features are really short and not very substantial.
| | | | | |
| --- | --- | --- | --- | --- |
| The Film: D | Video: B | Audio: B | Extras: B- | Overall: C- |