The Show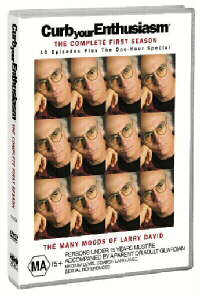 As far as comedians go, Larry David has led an interesting life, well at least to most fans that know him through his work on Seinfeld, as most of the strange and wild scenarios played out on that show at one time had happened to David himself. The success of the show pretty much made life a lot easier for David, for years prior to co-creating one of the 90's most watched sitcom he was a struggling stand-up with a minor following. That is until he met someone named Jerry and the rest, as you say, history.
Since the shows end David has been working on a few projects which included a one hour HBO special that was a sort of mockumentary following his footsteps as he went back to the stand-up circuit and prepared for a big show that would become the HBO comedy special, that special entitled "Larry David: Curb Your Enthusiasm" premiered on the channel to rave reviews, especially one from the daily Variety that called it "a work of genius." It was that hour-long special that inspired David and HBO to work on a series, which of course became "Curb Your Enthusiasm."
Each season would consists of ten episodes and instead of a script written for each week the cast would get a detailed scenario and the whole episode was taped with the actors adlibbing the whole way through. What results is an off-the-cuff, fresh and often very funny show. Even the way it's shot on DV cameras compliments this. Because the show's comedy comes from the scenarios and the strength of the actor's ability to adlib, you will inevitably get some inconsistencies throughout the season where some episodes are just funnier than others.
The basis of the show is centred around Larry a neurotic producer who always says the wrong things and his everyday life, it's kind of like Seinfeld in the sense that it's also a show about nothing. You can probably make a few comparisons to Seinfeld, which is quite inevitable, but the show does have its stand out moments and a number of things going for it that Seinfeld didn't or rather wasn't allowed to do by the network. Curb Your Enthusiasm is slightly edgier in the sense that nothing is held sacred, just about every controversial social taboo is examined here and made fun of, Curb also features some rather colourful language that doesn't really offend but actually works in with the comedy situations created by David, although the star of the show the supporting players also add wonderfully quirky and believable performances, these characters include David's wife Cheryl played to perfection by the talented comedienne Cheryl Hines, David's manager Jeff played by Jeff Garlin and also features guest appearances by Richard Lewis, Julia Louis-Dreyfus, Ted Danson, Mary Steenburgen and Nia Vardalos.
Not every episode is a gem, but there are a few great ones. If you're a fan of Seinfeld then this is a show for you. Otherwise give this show a shot if you already haven't.

This DVD set contains all the 10 episodes from the first season that aired, which includes the pilot episode. The following is a breakdown of each episode per disc:

DISC ONE
Episode 1: "The Pants Tent"
Larry has an issue with his pants bunching up inappropriately, which only becomes a problem when he sits with Nancy, a friend of his wife Cheryl at the movies. A meeting with Richard Lewis's girlfriend doesn't go as planned.

Episode 2: "Ted and Mary"
On a bowling date with Ted Danson and Mary Steenburgen. Larry loses his shoes. Things look up when Ted and Mary invite Larry and Cheryl to a Paul Simon concert. But Larry's admiration for Mary leads to disgruntled partners on both sides and a run-in with a shoe salesman at Barney's.

Episode 3: "Porno Gil"
When Jeff, Larry's manager ends up in the hospital awaiting a bypass operation, he has a special request for Larry, regarding a private collection. Larry and Cheryl attend a party hosted by a retired porn star that turns out to be quite an adventure and offers an innovative use for tobasco.

Episode 4: "The Bracelet"
What do you do to end an argument with your wife? How about buy her an expensive bracelet? That was Larry's aim, but fate as usual, had other things in store. Larry finds himself in the company of Richard Lewis, making enemies at a restaurant and befriending a blind man in need.

DISC TWO
Episode 5: "Interior Decorator"
What do a lawyer, a doctor, a parking lot attendant, an interior decorator and Diane Keaton have in common? Everything, Larry discovers that politeness doesn't pay off, but he ends up paying out, big time. As he attempts to win the little battles in life, Larry ends up losing more than one personal war.

Episode 6: "The Wire"
There is something hanging over Larry David's head and it's a wire in his back yard. To bury it he'll have to get six neighbours to sign an agreement, which means being nice to the neighbours at any cost. The last of the six, a slipper lawyer, makes an introduction to Julia Louis-Dreyfus the deal-breaker, but can Larry deliver the goods?

Episode 7: "Aamco"
Larry is test-driving Jeff's 1957 Chevy when it's rear-ended by an angry motorist. Problem solved when Larry befriends an over-exuberant garage mechanic (who just so happens to specialise in antique car repair) at a dinner party that he and Cheryl are hosting, and it only takes one misplaced comment to supper the perfect deal.

Episode 8: "Beloved Aunt"
A memorial service for Cheryl's aunt is a family affair that Larry could live without. But he tries his best, offering well-meant advice to Cheryl's sister's boyfriend that comes back to haunt him, and agreeing to write an obituary for the beloved aunt that suffers from an unfortunate typo.

DISC THREE:
Episode 9: "Affirmative Action"
Larry doesn't need to die onstage, he can do it for an audience of two, when an off-colour joke falls flat, it sparks a series of public humiliations, not helped by Cheryl's rampant dermatitis and Larry's attempt at bringing his way to a restaurant table.

Episode 10: "The Group"
Cheryl is invited to perform a stage reading of "The Vagina Monologues", while Larry has run into a old girlfriend who begs him to accompany her to an incest survivor's group. It's an invitation for which Larry's uncle is going to pay the price.

Video


Presented in the show's original airing format of 1.33:1 (full screen). Warner Brothers have had a tradition of putting out fantastic transfers for many of their newer releases, especially with their TV series DVDs, just take a look at the wonderful transfer given to Six Feet Under so one would expect the same treatment for Curb Your Enthusiasm, however for some reason what we have here is an at best average video quality. Don't get me wrong the image is often clear and sharp, for a series shot on DV you'd expect that, but some problems are evident, many scenes feature annoying pixalization, especially if the camera is in motion, I spotted a few instances of compression artefacts and occasional edge enhancement but that was not too bothersome. Apart from these flaws the image is generally ok.

Audio


This DVD set comes with two Dolby Digital 2.0 Stereo tracks one in English and the other in French. For the purposes of this review I chose to view each episode with the English soundtrack. This show is mainly dialogue driven so there is no need for a full 5.1 mix, this two-channel stereo mix is more than adequate. Dialogue is always clear and distortion-free. Each episode also features subtitles in English, English for the hearing impaired, French, Greek, Norwegian, Portuguese, Swedish, Dutch, Arabic and Danish.

Extras


DISC ONE
The first episode "The Pants Tent" includes an audio commentary by director of the episode Robert B. Weide and the actors Larry David, Cheryl Hines and Jeff Garlin. Running for just over 20 minutes in length the commentary manages to run throughout the episode. The team talk about the creation of the series and a few factoids. Although intricate detail is not gone into, the information that we do receive is just enough to give us an understanding about the show. Overall this was a rather enjoyable commentary.

The disc also includes a season episode index, which provides a summary of the episodes.

DISC TWO
Season Episode Index as seen on Disc One.

DISC THREE
On this disc we have the original hour long HBO special entitled "Larry David: Curb Your Enthusiasm" below is a summary of that special:
This is the innovative hour-long special that inspired the award-winning comedy series of the same name. Larry David arrives at the offices of HBO in Los Angeles to pitch an idea for a documentary movie that will follow in his footsteps as he prepares for a comedy special.
Presented in 1.33:1 the transfer for this special is similar to the rest of the episodes, slightly flawed but clear. It also features sound in English Dolby Digital 2.0 Surround and also like the other episodes the sound is adequate, with audible distortion-free dialogue and includes subtitles in English, French and Dutch.
The special is one incredibly funny piece of work and is the crown jewel in this DVD collection, it features the same wonderful spontaneity as the show itself. You can also see from this special where early ideas got developed as the series moved along.

Also included is an in-depth 29-minute interview with Larry David conducted by Bob Costas. In here David goes into his background, his work on Seinfeld, and Curb Your Enthusiasm as well as discuss highlights from the first season. This is a very informative interview with some rather funny moments that the two share. This extra is also in English Dolby Digital 2.0 and is subtitled in English, French and Dutch.

Finally you also get the same Season Episode Index as seen on the first and second disc.

Overall


Curb Your Enthusiasm is a clever show with some very funny scenarios acted out during a day in the life of Larry David. It's great that we get all the episodes and the original special, which is truly a masterpiece in comedy. Although the transfer was a little disappointing it was never distracting or unwatchable the image was usually clear. The sound is just right for this release, there would have been no point in a 5.1 mix so a 2.0 Stereo was a good choice. The extras are also a nice addition, it would, however have been nice to include a commentary on every episode, especially since the season only lasts ten episodes this would not have been a huge task. Additionally I saw no sense in repeating the episode index on each disc, but for some reason this is a trend with Warner Brothers TV releases. Otherwise this is a decent DVD set.
| | | | | |
| --- | --- | --- | --- | --- |
| The Show: A | Video: C | Audio: A- | Extras: B- | Overall: B- |