The Film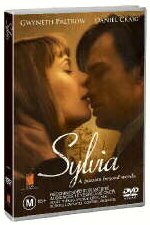 New Zealand filmmaker Christine Jeffs became known after her critically acclaimed indie film Rain, the dark moody film established Jeffs as an up and coming director, and after the success garnered from the international festival circuit she began work on her second feature. This time around with a little more money and the interest of one of Hollywood's most high profile performers Gwyneth Paltrow. The film is Sylvia, then titled Ted and Sylvia it is the story of young poets and lovers Ted Hughes and Sylvia Plath and chronicled their torrid marriage and affair with poetry.
Jeffs developed the screenplay with producer/director John Brownlow, who subsequently wrote the entire script. Initially focusing on both Ted and Sylvia the focus eventually waned towards Sylvia herself. They secured a great cast including actor Daniel Craig as Ted and even Gwyneth's real life mother Blythe Danner to play a cameo role as Sylvia's mother Aurelia, and also the brilliant character actor Michael Gambon as her neighbour Professor Thomas. Shot in both the historic parts of the United Kingdom and in Dunedin, New Zealand to double as a period 1950s UK and America respectively, the film starts with the meeting of both Ted and Sylvia and follows them through married life. Sylvia's life journeys are her sounding board for the dark and brooding poems that she has written, but shadowed by her poet and scholar husband Ted, whose womanising and cheating gets the better of him, being the jealous, controlling, semi-depressed woman that she is Sylvia takes the ultimate guilt trip path and commits suicide. So what we have here is not an entirely happy story, in fact the film itself is very slow moving and precise in the direction Jeffs chose to take it to.
Although the film is rather dark, there are some shining moments, Gwyneth's performance is just amazing, and it's here where as an actor she truly shines. The choice of doing this film for her was a sort of therapy in dealing with the death of her father writer/producer/director Bruce Paltrow (who directed his daughter in the film Duets in 2000), channelling those emotions of the loss of her very anchor and the man she truly looked up to into her performance as Sylvia was extremely evident. Echoing her performance was Daniel Craig, and equally impressive actor and also delivering a very fine well-crafted turn as Ted. Just by watching the two on screen you can tell almost immediately that Jeffs spent time with these actors crafting the scenes together to a dramatic perfection, however I wish that care and precision could have also been focused on the script itself, I felt there was a lack of narrative structure, once you're well into the second act it was hard to pin point exactly where Jeffs or rather screenwriter John Brownlow was going to take you, usually this is a good thing if it was predictable then I would have lost interest, but in Sylvia's case it's more a sense of the story itself being loosely structured than anything else. Jeffs jumps across the timeline of her life often leaving the viewer trying to pick up the pieces and stay in touch with what is happening on screen, which at times is rather annoying.
Sylvia is definatly a film for those with an acquired taste in serious drama, this is not light entertainment by any means. Overall the performances were what really paid off in the end.

Video


Presented in the film's original theatrical ratio of 2.35:1, this anamorphic transfer is excellent, the image itself is bright and crisp showing no flaws what so ever. The colours are well rendered including the rich yellows, oranges, greens and browns that are primarily used throughout this film, equally blacks are well defined and shadow detail is immaculate.

Audio


This DVD includes two soundtracks to choose from, an English Dolby Digital 5.1 surround track and an English Dolby Digital 2.0 Stereo track. For the purposes of this review I chose to view the film with its 5.1 track. This is a predominantly dialogue driven film, so don't expect too much surround activity. Dialogue and background noises came out clear and always easy to hear, the music I felt was mixed a little loud, but was separated rather impressively that it put you right into the movie. Overall nothing was overly dynamic about this sound mix.
Additional this DVD feature no subtitles at all, leaving the hard of hearing in the dark.

Extras


The DVD only comes with two minor extras. The first is a Behind-the-Scenes featurette, which includes some small interviews with the cast and crew, edited in with clips from the film and some behind-the-scenes footage of the crew setting up or shooting a scene. Nothing overly impressive here, running in at just over six minutes this is a rather light overview of the film and its character.

Additionally you also get the film's original trailer, and that's it.

Overall


Sylvia is a dark dramatic piece with great performances but a rather weak narrative, I don't think this is a film for everyone, but lovers of serious drama should check this release out if you already haven't.
The DVD features a rather impressive transfer and a suitable sound mix, I was a little let down by the lack of good extras, this release could have benefited with a documentary on the real Sylvia Plath and perhaps even a director's commentary as it would have been very interesting to hear what Christine Jeffs had to say about her sophomore directorial effort.
| | | | | |
| --- | --- | --- | --- | --- |
| The Film: B- | Video: A+ | Audio: B | Extras: D | Overall: C+ |