Darwin Awards (The)
R4 - Australia - Warner Home Video
Review written by and copyright: Noor Razzak and Chrisana Love (24th October 2007).
The Film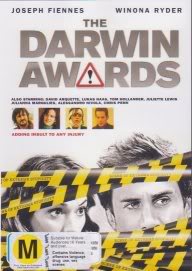 "A Chronicle of Enterprising Demises honouring those who improve the species...by accidentally removing themselves from it!"

I'm surprised that I missed such a phenomenon...I was unaware of said awards until the arrival of this film on my desk. For those of you as oblivious as I was: the awards honour those who die by the most stupid of circumstances. The shtick is that these deaths are all self inflicted, the 'Darwin' in the title referring to the concept that if the deceased were so dumb to die from such idiotic acts, they must be improving the gene pool by removing themselves from it. See: darwinawards.com if you (like me) enjoy a bit of the ol' schadenfreude.
So yeah...great concept. Upon this discovery I was very excited at the prospect of watching a fictional film based around the gory re-enactments of the best of death-by-stupidity. Unfortunately the film is bogged down by the weak and badly executed narrative which has its moments, but is ultimately clunky and tedious.
So here it is: Michael Burrows (Joseph Fiennes) is a forensic detective (with shades of O.C.D.) who is particularly gifted at personality profiling. Obsessed with the Darwin Awards, he approaches an insurance company with the pitch that he can save them millions a year by profiling those with the potential to die from self inflicted deaths. And here is where it all goes horribly wrong: he is paired up with Siri Taylor (Wynona Ryder) a jaded insurance claims investigator and together the travel the backwater parts of the U.S. (of course, most posthumous recipients of the awards would be American) trying to formulate a personality profile for potential Darwin Award types.
Fiennes does a reasonable job here, Ryder is as annoying as ever (I think I preferred her prescription medication and kleptomania phase). Although there are some nice moments between them (Siri being bitter from years of denying deserving people their insurance claims, and Burrows' cautiousness backfiring, leading him into Darwin territory himself) is a nicely thought out pairing, which provides a few smirks. But shown as half film, half mock-documentary (a film student follows Burrows around, which just isn't needed) the structure is all over the place and the death scenes are really what make this film. For a teaser: a pompous English couple decide to "rough it" in America by touring in an RV. She (believing cruise control is another way to say auto pilot) has another drink and starts giving her partner head...Another fool (played by David Arquette) straps an actual rocket to the back of his car...
But the best would have to be the scene set outside a Metallica concert where the voiceover informs us that the likelihood of dying in an easily avoidable accident increases tenfold when under the influence of alcohol and marijuana...hmmm, you don't say...

Video


Presented in 1.78:1 anamorphic widescreen this transfer is about average quality, while the image was clean and featured no noticeable flaws I felt that the overall image was flat and colors not as vivid as they could have been. Sharpness is maintained and blacks are bold with some minor noise amid them, shadow detail remains consistently good throughout the print. I spotted some minor edge-enhancement as well which drops this transfer down a few notices.

Audio


Two audio tracks are included in English Dolby Digital 5.1 as well as English Dolby Digital 2.0 Stereo. For the purposes of this review I chose to view the film with its 5.1 soundtrack. I found that the dialogue was strongly presented as was the film's musical cues but felt that the surround channels were wasted and the majority of the mix was front heavy with only a few occasions when the rear speakers where used (the Metallica concert is one such occasion). It's not the most immersive 5.1 mix but then again this isn't the most immersive type of film.
This film does not feature any optional subtitles.

Extras


Warner Brothers has released this film with only a selection of start-up bonus trailers that include:
- "Miss Potter" which runs for 2 minutes 30 seconds.
- "The Hitcher" which runs for 2 minutes 2 seconds.
- "Scoop" which runs for 2 minutes 9 seconds.
- "Venus" which runs for 2 minutes 26 seconds.
- "Alpha Dog" which runs for 2 minutes 28 seconds.
- "It's A Boy Girl Thing" which runs for 2 minutes 4 seconds.
- "Black Sheep" which runs for 1 minute 58 seconds.

Overall



| | | | | |
| --- | --- | --- | --- | --- |
| The Film: C+ | Video: B+ | Audio: B | Extras: F | Overall: D+ |

---
DVD Compare is a participant in the Amazon Services LLC Associates Program and the Amazon Europe S.a.r.l. Associates Programme, an affiliate advertising program designed to provide a means for sites to earn advertising fees by advertising and linking to amazon.co.uk, amazon.com, amazon.ca, amazon.fr, and amazon.de.