The Film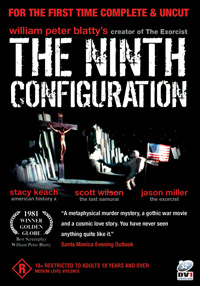 Writer/Director William Peter Blatty has said that he considers The Ninth Configuration to be the true sequel to his classic horror The Exorcist, although in many ways this statement does not do justice to this wonderful story. As with his earlier novel Blatty wrestles with the themes of spirituality and psychology, however The Ninth Configuration approaches these topics with a greater depth and maturity that translate brilliantly in the film adaptation. This does have the somewhat trivial drawback, however, of making this film quite difficult to categorize. At its core it is a psychological drama, while at times it seems to be a thriller verging on horror whose mood is always broken by moments of unbridled hilarity.
Colonel Vincent Kane (Stacey Keach) is a psychiatrist who is assigned to a remote castle which is being used as a mental hospital for insane Vietnam War veterans. The Gothic Estate also houses a special case, Captain Billy Cutshaw (Scott Wilson), an astronaut who lost his mind just before takeoff. As Kane attempts to diagnose and treat the men, his personal demons begin to show themselves and he struggles to maintain his grip on sanity. This is made ever more difficult by a supporting cast who could have been lifted straight from the ward in One Flew Over the Cuckoo's Nest (If they had all done a short stint in Apocalypse Now).
The Ninth Configuration is an excellent film. Both Keach and Wilson give outstanding performances. Keach's exquisite portrayal of inner anguish stands in quiet counterpoint to Wilson's classic raving lunatic. This opposing dynamic is echoed throughout the film. From the opening sequence where the rain enshrouded castle, which wouldn't look out of place in a vampire flick, is shown to us against the musical backdrop of a late seventies pop ballad. Even the brooding interior shots of the shadowy mansion seem constantly underpinned by patients who believe that Shakespeare could be adapted for dogs, or that a black Superman could save Julius Caesar.
At times, however, the spiritual theme does seem to become a little forced. There are many lingering close-ups on demonic gargoyles and crucifixes that really attempt to ram the point home. The antics of some of the mental patients also come close to undercutting the tension between Kane and Cutshaw. That said, this film is a brilliant look into the human mind and the nature of torment, both natural and supernatural. This is Blatty at his best, both as a writer and a director. I strongly urge you to watch this with your friends, and then stay up discussing it to well into the morning.

Video


Presented in the film's original 2.35:1 widescreen ratio, this non-anamorphic transfer for the most part is generally quite good, considering the film is 25 years old. Colours are vivid and show no signs of bleeding, the image for the most part is quite sharp but this is not as consistent as I'd like to see. There is prominent film grain throughout but is never distracting and I did notice occasional scratches, specks, sparkle, and many noticeable marks throughout the film especially at the beginning during the opening credit sequence. While nowhere near to flawless (anamorphic would have been preferable) this is still a very good transfer for the film's age and possibility the best it's looked on any home video format.

Audio


The film features only an English Dolby Digital 2.0 Stereo soundtrack, while a proper 5.1 mix would have done this film a world of good or even a 2.0 Surround mix I found this stereo track quite adequate. For the most part dialogue is clear and distortion free, music is mixed well as to be prominent but never overbearing, and for the most part sound is isolated to the front speakers. The track has limited depth and isn't as effective as it could have been, with a film like this you really want to immerse yourself into it and that's where a 5.1 would have benefited this film greatly. Otherwise what we have here is suitable at the very least.

Extras


There are a series of four biographies for director William Peter Blatty, and cast members Stacy Keach, Scott Wilson and Jason Miller. The bios are quite brief they each get a single page of text that are stylised like military ID cards, which is a nice touch.

Finally we also have the DVD credits, consists of a single text page with contact information.

Not a whole lot of extras on this disc, considering the US Region 1 release includes a commentary track, featurette, deleted scenes that include two alternate endings as well as bios, I was a little disappointed to not see these excellent extras ported over to the Region 4 release.

Overall


The Ninth Configuration is an excellent film that takes you into the deeper realms of the human mind and the nature of torment, stunning performances all around make for an enjoyable film that is quite disturbing and funny at times.
DV1's disc includes a fairly decent transfer, although non-anamorphic it's still better than previous VHS releases and an adequate soundtrack. I was quite disappointed in the lack of substantial extras available on this release, perhaps Region 4 will get a Special Edition sometime in the future.
| | | | | |
| --- | --- | --- | --- | --- |
| The Film: B+ | Video: B+ | Audio: B+ | Extras: E | Overall: C+ |