Neverwas
R1 - America - Buena Vista Home Entertainment
Review written by and copyright: Noor Razzak (24th July 2007).
The Film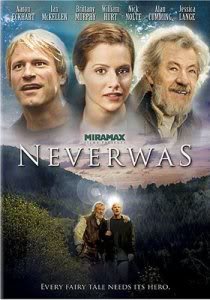 Every year thousands upon thousands of films are released, so it's possible that many will simply fall through the cracks and never be heard from again. If your small independent film has a marketing budget smaller than the yearly wage of a Wal-Mart clerk, chances are only a handful of people will end up actually seeing your film at one of the two theaters in the country playing it. "Neverwas" falls into that category of films that simply got lost among the shuffle; in fact it never even got a limited theatrical release. Two years after it was made it makes its debut straight-to-DVD, a graveyard normally reserved for such garbage as "Scorpius Gigantus" (2006) or "Asphalt Wars" (2004). On the outside I was generally flabbergasted, this film has Ian McKellen, Aaron Eckhart, Brittany Murphy, William Hurt, Nick Nolte, Alan Cumming and Jessica Lange, with talent like this the DVD cover should be proclaiming Oscar-caliber glory all over it instead it looks like a 7-year-old with basic Photoshop skills could have done a better job (I've seen pirated DVDs with better looking cover designs than this). Miramax may have dropped the ball on this title, unfairly released onto disc before it was even given a chance to fend for itself on the theater screen. It's out and available now, so that a handful of more people can see it, that is if they're not put off by this shabby cover art (Although one should not judge a book, or in this case a DVD by its cover...but many of us still do and attractive packaging does go a long way).
In "Neverwas" psychiatrist Zach Riley (Aaron Eckhart) leaves his prestigious career and returns home to take a position in local mental hospital. The same institution that treated his famous novelist father, T.L. Pierson (Nick Nolte) who wrote the best-selling children's fantasy novel "Neverwas" while a patient there. While back home Zach encounters a childhood friend, Ally (Brittany Murphy) who opens the world of his father story, which he's never read and also with the help of schizophrenic patient Gabriel (Ian McKellen, unlocks the secrets of "Neverwas".
For the most part this film is a rather engaging fantasy-like story which bares some similarities to "The Fisher King" (1991) except in this film the 'crazy' character is actually crazy and institutionalized rather than homeless. Crossed with a grown-up version of "Bridge to Terabithia" (2007), the film is a unique mix of drama and fantasy and to a small extent may be as schizophrenic as the character Gabrielle. "Neverwas" may not know what it wants to be, but it does exhibit some competence. Performances are generally solid, McKellen delivers a fine turn as the mentally unstable Gabrielle but does veer into 'over-acting' territory and does play the scene-stealing game much too often from Eckhart. The rest of the supporting cast have little to do in the meantime, with the only impacting moments coming from Nolte, mainly because his story is told in flashback and he doesn't have to contend with any of the other cast members.
I liked the concept of 'Neverwas" and was engage by the story of a man getting to grips with the world his father created in a much-loved book and the links Gabrielle shares with that world. I wish it stayed on that course but the filmmaker's seemed it fit to write in a contrived love-interest sub-plot between the characters Zach and Ally, however cute their courtship is it adds little to the overall story and seems placed only in convenience of getting Zach from one point to another (she re-introduces him to his father's book and then the journey of discovery begins). Furthermore I felt a lot of the scenes were a bit too schmaltzy and ham handedly sentimental to a manipulative degree.
"Neverwas" isn't a great film but it's a decent drama with a little twist of fantasy storytelling thrown in, some flaws are evident but it's worth checking out.

Video


Presented in the film's original ratio of 2.35:1, this anamorphic transfer is very good bar a few slight problems. For the most part the image is sharp; some softness is exhibited in sun-drenched interior shots though. Colors are rendered well but I felt that skin tones were too much on the orange side, it's as if the entire cast spent a day getting fake tans before showing up on set. Black levels are appropriately deep and bold. Some slight grain can be seen but nothing major and takes a keen eye to spot so average-Joe-DVD won't notice. No major compression issues were spotted; otherwise it's a decent transfer that could use some slight improvement.

Audio


A single English Dolby Digital 5.1 surround mix is included for this film. This is a dialogue based film that also relies heavily on its musical score to drive many of the scenes and as a result this mix is very simple in its execution. Don't expect any complex sound design so the rear channels aren't always utilized and the bass channel is nearly non-existent. Instead we have ambient sound as our primary tool for creating depth and it works for the most part. The music envelopes the viewer and highlights each scenes emotional core (some may say a little too much highlighting). Aside from that it does the job and doesn't really disappoint.
Optional subtitles are included in English for the hearing impaired, French and Spanish.

Extras


Buena Vista has released this film only with a section of bonus trailers for:
- "Underdog" which runs for 1 minute 12 seconds.
- "Wild Hogs" which runs for 2 minutes 32 seconds.
- "The Invisible" which runs for 2 minutes 30 seconds.

Overall



| | | | | |
| --- | --- | --- | --- | --- |
| The Film: B- | Video: B- | Audio: B | Extras: F | Overall: C- |

---
DVD Compare is a participant in the Amazon Services LLC Associates Program and the Amazon Europe S.a.r.l. Associates Programme, an affiliate advertising program designed to provide a means for sites to earn advertising fees by advertising and linking to amazon.co.uk, amazon.com, amazon.ca, amazon.fr, and amazon.de.