The Film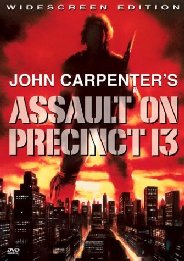 This is a really effective little movie. It's well made for their budget. It's like a "Night of the Living Dead"-type plot, with a bunch of people stuck in a house (or in this case a police station) with another bunch of people trying to kill those people. In his commentary, John Carpenter says that "Rio Bravo" had a tremendous influence on this movie, and that can be clearly seen. In fact, some the western influences are very clear at times.
Okay, the acting is fairly bad. The best actor in the whole movie was the little blond girl, I thought. The rest range from okay to just below okay. That's not really important, though. Some back story is there, and some humourous moments are put in to say that these people are people and that's it. The characters are there, you know who the good guys are and you really don't want them to die. That's all that's needed to create the suspense.
If you had any doubts that John Carpenter was the master of suspense before, then watch this movie and remove all those doubts. With a minimal amount of shots, Mr. Carpenter turns up the heat like you can't believe. That whole sequence involving the ice cream truck had me on the edge of my seat, and that happened at the beginning of the movie! Just imagine the ending. Mr. Carpenter spends the first half of his commentary saying that he would speed up the pace if he did the movie today, but the pace is what makes the movie so suspenseful. It isn't rushed, so you're able to think of all the possibilities of what might happen, then wait for the real thing. It's very intense and you can't help but watching. You also can't help but wonder who'll be alive at the end.
Like most movies, John Carpenter also did the score. It's well made and nice sounding but it's completely - and I do mean completely - synthesized. Like most of his scores, also, there's that driving little beat behind it. You hear it right from the beginning of the movie, and you know what you're in for, score-wise. It's well done. I just thought I'd mention that to pad out the review.

Video


2.35:1 anamorphic widescreen. The was made back in the mid-70s and it shows its age. There are specks throughout the movie and there is grain whenever you see an establishing shot, but otherwise the picture is still good. The colours are bright and separate enough, and the black level is good. The picture isn't as crisp as it should be, but that didn't bother me at all. A perfect print from a movie made in the 1970s just wouldn't look right.

Audio


The audio is in mono and it delivers what it has to. The dialogue is clear, the score is clear and the gunshots and breaking glass an things are also clear. The movie is either talking, or shooting - there's not much else - and you can hear both well, so I was happy.

Extras


Audio commentary by writer/director/composer/editor John Carpenter, Mr. Carpenter is a very laid back man. (His voice is a kind of soporific, by the way.) He spends his time talking about the locations, the editing, the pace (or lack of one), some of the actors, the Panavision camera and some of the pitfalls of low-budget moviemaking. He says that the movie was made in less than 20 days (he can't quite remember) for a budget of around $100,000. He spends a lot of time explaining what's happening on screen, though. When he's not doing that, he's interesting. He mentions the set they built and how some of the shots were done (dolly shots are difficult with a low-budget, apparently). He also mentions all the little Howard Hawks references (Mr. Hawks is Mr. Carpenter's favourite director). It's a nice listen for a nice little movie. It has some dead time, and the reiterations of what's on screen aren't too interesting, but the rest is very good.

John Carpenter's Isolated Score, you can choose to listen to the score if you wish. It's very cheesy at times, but creates the perfect mood for the movie. Say what you will about his choice of instruments, Mr. Carpenter knows how to set the atmosphere he wants. If you're not into electronic music, then I suggest you avoid this. There are many, many very fake sounds in here, and the rest of the score doesn't even try to sound real. I found it nice to hear, though.

Theatrical Trailer, this is about 2 minutes long and has all the action bits stuck together. The movie plays more like a traditional American western than an action flick, so I'm sure there were a few disappointed people.

Radio Spots, you have two radio spots, about 30 seconds each. They're very funny. They basically say the same thing and mention "Assault on Precinct 13" about 103 times each.

Interview with John Carpenter and actor Austin Stoker, This is about 23 minutes and was recorded at the Egyptian Theatre during, I suppose, a John Carpenter retrospective. Mr. Carpenter answers questions about the cast, the mood, the music and some other of his films. He answers a few questions from the crowd, and makes a few very funny jokes along the way (one of which I couldn't understand because of the bad sound quality). People talked about "Dark Star" a bit, which I haven't seen yet but will be looking for now. One of the jokes involves the MPAA and the ice cream truck scene. Better sound would have been nice, but it's overall a nice and informative Q & A session.

Production Gallery, this is a montage of some pre-production stuff, production photos, stills, posters and foreign stuff. It lasts just under 17 minutes. You have a bunch of pictures of everybody and everything you might care to see. Very, very nice set of pictures. The first few pages from an early draft are in the pre-production stuff, as well as the storyboards for the ice cream truck sequence. The posters and lobby cards are nice. I found this a great gallery. Better than most.

Overall


I was amused very much watching this movie. It may have a low-budget feel to it, but it's a low-budget movie. What else could you expect? If you need a comparison to his other movies, I found it better than "The Fog" and "Ghosts of Mars" but not as good as "Halloween" and "The Thing". If you're a fan of Mr. Carpenter's movies, you shouldn't be disappointed. Like I said, it's an effective movie, promising you suspense and delivering very well on that promise.
| | | | | |
| --- | --- | --- | --- | --- |
| The Film: A | Video: B | Audio: B | Extras: A | Overall: A- |