The Film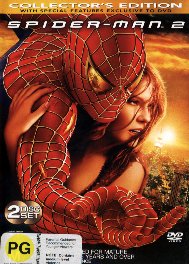 Following the mega success of Spider-Man it was a no brainier that a sequel would be in production sooner rather than later, with all the behind-the-scenes crew back for another spin director Sam Raimi was set and ready to go when an unexpected hitch slowed the production down just a smidge. Their star Tobey Maguire had reportedly been having back problems after the intensely gruelling and physically demanding role of Red Pollard in Seabiscuit, at one stage they had lined up Jake Gyllenhaal to replace Maguire if need be. But all was eventually right and Maguire showed up for work as usual, although the filmís release was pushed back from May to June a whole month later for fans to wait for what was gearing up to be the most anticipated movie event of the summer.
Things were rolling smoothly with all preliminary cast back in place Kirsten Dunst, James Franco, Rosemary Harris and J.K. Simmons all returning as Mary Jane Watson, Harry Osborn, Aunt May and J. Jonah Jameson respectively. The cast got a few new additions along the way most notably the new villain Doc Ock played by talented actor Alfred Molina. Filming began in New York in April of 2003 and completed the rigorous filming schedule that also included shooting action set pieces on intricate sets and soundstages, as well as blue and green screen effects work, miniatures and stunt work all working hard over a period of over a year to make the June 30th start date. Spider-Man 2 open to not only rave critical and fan reviews but was also met with the same admiration at the box office taking in a record breaking $40.5 million in itís open weekend and grossing over $370 million in the US alone making it one of the biggest films of all time and also surpassing the original film both at the box office.
Spider-Man 2 takes place roughly a year from where the first film left off, Peter Parker is consumed with his alter ego and his personal life is slipping away including his relationship with Mary Jane. Who is seeing success in her acting career for the first time with an ad campaign and starring in a high profile stage production, meanwhile friend Harry Osborn now CEO of his fatherís company OsCorp is in the process of rebuilding it to its former glory, this time with his investment in fusion scientist Otto Octavius and his creation of a new energy source, during a demonstration of the machine a terrible accident occurs killing Ottoís wife and transforming the genius scientist into the devastating Doc Ock, with mechanical tentacles now fused to his body and taking control of his mind Doc Ock is on a mission to complete his fusion machine but he is in need of single resource that only Harry possess the two strike a deal that will ultimately lead to Spider-Man's demise.
Spider-Man 2 is in every way more exhilarating, fun and action packed an adventure than the first. Raimi has chosen not to follow in the same vein as other big budget superhero films of the past with overexposed action and little or no central heart or theme such as the later two Batman films, but instead create an adventure that's grounded in reality in terms of the human characters, which is where this filmís roots are the strongest. The idea that Peter Parker is an just like anyone else with real problems and issues is clearly outlined in this story, making him not only a realistic character but one that the audience can also relate to. This is something deeply rooted in the source material that fans have grown to love over the years. This is truly one of those cases where the filmmaker is aware of what his subject matter is about and demonstrates a genuine care for as well. Being a fan of the series from youth Raimi was the best choice for bringing webhead to the screen. Taking time to develop this flawed individual and his exploits as Spider-Man is at its core the essence of what makes these films so successful, and itís nice to see that no matter how overblown the budget has become the art of telling a story is still taken very seriously, while at the same time youíll still see some terrific special effects that will blow you away including Doc Ock and his articulate tentacles, wonderfully brought to life by experienced and talented stage and screen character actor Molina.
While the action is like taking a ride on the worldís fastest and coolest roller coaster the relationships that are presented on screen between the principal cast is the real icing on the cake, of course what would a superhero film be without your occasional helping of cheesy dialogue? While this film does include its fair share the overall sense of cheesiness is outweighed by the emotional impact shared between MJ and Peter. Stylistically the film has gone leaps and bounds over the original; the swinging Spidey is ever so flawless melding in perfectly with the actual stunt work and both the real and created backgrounds that make up New York. Artistically and technically Spider-Man 2 swings way ahead of the first and I honestly canít wait to see what Raimi and company have in store for us in the third and supposedly last instalment of this already awesome film franchise.

Video


Presented in the filmís original 2.40:1 widescreen ratio, this anamorphic transfer is just pure excellence and can certainly be categorised as reference quality. It just goes to show you that Columbia means business when it comes to flawless transfers. The colours are bold and radiant, blacks are well defined and shadow detail is about as perfect as it can get with absolutely no low-level noise what-so-ever, to top it all off the image is sharp, clear and distortion free meaning there are no traces film grain, sparkle, artefacts or pixalization. I challenge you to find anything wrong with this transfer, it rates very highly in my books.

Audio


This film features four separate audio tracks in two different languages English and Italian. We have a Dolby Digital 5.1 surround mix and Dolby Digital 2.0 Surround mix for each of the two languages. For the purposes of this review I viewed the film with its original English language 5.1 mix. And just like the visual side of things this audio mix is one hell of an aggressive track. Dialogue is always clear and in sync, music is ever present and mixed well employing perfect surround separation, additionally environmental surrounds are well balanced and present. Where this track shines is during the action sequences, each speaker virtually explodes with sound and the woofer comes in tearing off the roof. This is one of the most immersive surround tracks Iíve ever heard. Simply put the audio on this disc is stunning. If the Dolby track is this good I canít begin to imagine how the Superbit DTS track rates?
The film also features optional subtitles in English, English for the hearing impaired and Italian.

Extras


DISC ONE:
The first disc includes a set of two commentaries the first is a production commentary by director Sam Raimi, actor Tobey Maguire, producer Avi Arad and co-producer Grant Curtis. This screen-specific track provides detailed information on the making of the film as well as production stories and anecdotes. The producers also touch on the various challenges met with doing a sequel in such a short amount of time as well as their goals in making it better than the first. The track is generally very informative and never boring, the four participants have a lot to say about the production and it is clear that they all had a great time making this film. Overall this is an excellent commentary that deserves a listen.

The second commentary on this disc is the technical track dedicated to all the visual and special effects created for the film, in this commentary you will hear from visual effects designer John Dykstra, animation supervisor Anthony LaMolinara, visual effects supervisors Scott Stokdyk and Lydia Botteyoni as well as Edge FXís Steve Johnson and puppeteer and model builder Eric Hayden. The crew discuss the various CGI components created for each action sequence as well as creating animatics to plam the many action sequences that are use that to created the finished product that often combines a number of different effects such as puppeteered tentacles for Doc Ock as well as CGI ones, models used for various New York buildings and set pieces including Doc Ockís waterfront lair, additionally the crew also discuss aspects of the production regarding seamlessly melding the stunt work and CGI action such as Spider-Manís new and improved swinging graphics and matching them with the real life actor touching down to ground after swinging through the city. The commentary touches on just about every visual and technical wizardry employed to sell each shot throughout the film, If you ever found yourself at any point during the film saying wow I wonder how they did that you certainly find out in this track. A worthy listen if you want to learn something new or just curious as to what it takes to create complicated shots, this is a splendid commentary

Up next we have the Spidey Sense 2 a pop-up subtitle track that reveals factoids and behind-the-scenes information while you watch the film. Some of the information is covered in the commentaries but in this extra youíll also get some background information on the characters, their comic book history as well as other bits of information related to the film itself. This is a very cool feature that was also utilised on the DVD for the first film, itís a nice touch to see this extra make it onto this disc.

Following the pop-up track we have a series of four Wed-I-Sodes these short featurettes were created for the website to promote the film during its theatrical run. The four featurettes cover:

- Costume Design (1 minute 24 seconds): In this piece we take a look at the different changes that were done to the Spider-Man costume to improve on the design of the first. These changes although very subtle are revealed here.

- Comic-Con 2003 (2 minutes 27 seconds): This short segment is a Q&A at the San Diego Comic Book Convention that is edited with some fan testimonials of the preview footage they saw. The Q&A shows highlights with actor Alfred Molina, producer Avi Arad and visual effects designer John Dykstra.

- J Jonah Jameson (1 minute 49 seconds): in this short featurette Spider-Man creator Stan Lee talks about the significance of the character and confesses how he wanted to play Jameson in the movie.

- Peter Parker & M.J. Watson (2 minutes 37 seconds): This featurette focuses on the romantic plot-line that runs through each film and the emphasis of what occurs between these two characters in this film.

Up next we have two music videos Ordinary by Train (3 minutes 52 seconds) and I Am by Killing Heidi (3 minutes 30 seconds), which is an exclusive to this Region 4 DVD. Both presented in non-anamorphic letterbox formats.

Youíll find the Blooper Reel next (7 minutes 30 seconds) which are a nice collection of silly moments and mistakes made during filming, a nice extra to include with some light-hearted moments.

Rounding out the extras on the first disc is the filmís theatrical trailer plus a selection of bonus trailers that include: Anacondas: The Hunt For the Blood Orchid, Christmas with the Kranks, Hellboy, Little Black Book, Seinfeld the DVD Collection and Steamboy

DISC TWO:
The first extra we come across on the second disc is the in-depth documentary Making The Amazing running at just over two hours in length (2 hours 6 minutes) this comprehensive piece covers just about everything you wanted to know about how they made Spider-Man 2, You can view this documentary as a whole or in twelve different chapters that include interviews with key cast and crew personnel as well as behind-the-scenes footage, this extra covers the chapters: Greater power, Greater Responsibility, Story and Characters, Visual Design, Costume Design, Direction, The Spyder-Cam, Stunts, Practical Effects, Editing, Visual Effects, Sound & Music and finally Lessons Learned. This twelve part documentary is informative, entertaining and doesnít leave anything out, a real gem among the extras and something that every good DVD should include.

Following the impressive documentary are four featurettes:

- Hero In Crisis (14 minutes 50 seconds): Here we have various cast members discussing the character journeys and the problems faced by Peter Parker in this chapter of the Spider-man series.

- Ock-Umentary: Eight Arms To Hold You (22 minutes 11 seconds): This featurette takes a closer look at the challenge of bringing one of the most loved Spider-Man villains to the screen, from casting Alfred Molina to the technicalities of creating the mechanical tentacles using both traditional techniques and modern CGI.

- Interwoven: The Women Of Spider-Man (15 minutes 27 seconds): This piece spotlights the female characters in Peter Parkerís life that include Aunt May and Mary Jane Watson.

- Enter The Web: Multiple Angles Featurette while not really a featurette this behind-the-scenes feature gives the viewer a first hand look at filming the final showdown sequence at Doc Ockís waterfront lair. Here you have four different angles to choose from using your remote segment. The first three are different camera positions while the fourth angle to choose is the composite animatic.

Up next is Gallery of images, here we have all the paintings created by illustrator Alex Ross as seen in the beginning credits of the film, these images are created to give the viewer a quick reminder of what occurred in the previous film.

The final touch to this disc is the Interactive section, which grants us access to the following:

- A trailer for Activision's Spider-Man 2 video game
- Spinning The Game (3 minutes 33 seconds): this short featurette shows us how the game was made.
- DVD ROM contents for your PC that includes reviews, mobile phone ring tones and screen tattoos, an online game, and a countdown clock to Spider-Man 3.

Overall


Much better than the first, "Spider-Man 2" is a ride worth taking, stunning visuals compliment a wonderful story and characterisations, added to that we have a excellent disc that shines in every possible way, flawless image and sound transfer and extras that will keep you busy for quite some time, there is no reason why you shouldn't go out and buy this right now.
| | | | | |
| --- | --- | --- | --- | --- |
| The Film: A | Video: A+ | Audio: A+ | Extras: A+ | Overall: A+ |