Dukes Of Hazzard (The): The Beginning
R1 - America - Warner Home Video
Review written by and copyright: Noor Razzak and Cameron Murray (18th April 2007).
The Film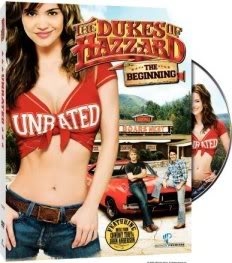 While it could be argued that "The Dukes of Hazzard" (2005) the movie didn't need a prequel as you would think that the TV series would have done a good enough job of it, "The Dukes of Hazard: The Beginning" (Original title, huh?) is under no illusion that this is anymore than a straight-to-DVD release. It is also well aware of the demographic that will be watching this film, and as such shamelessly scatters scantily clad young women throughout the picture. That's right this movie has more bare breasts than a "National Geographic Special" on deepest Africa. Sometimes it does feel as if the director (Robert Berlinger) thought that he would distract the audience from the lack of a decent plot by saying 'what's that over there?' and then scuttling away in a crab like fashion (it probably didn't happen, but it's how it works in my head).
The plot is quite simple; Bo (Jonathan Bennett) and Luke (Randy Wayne) get sent to Hazzard County to work on Uncle Jesse's (Willie Nelson) farm after getting into trouble in their relevant hometowns. Boss Hogg (Christopher McDonald) is starting his fledgling political and tyrannical career, and is trying to run all the moonshiners out of Hazzard County. Hogg has also purchased the mortgage on Uncle Jesse's farm and the Dukes have thirty days to come up with the money or be kicked off the family farm. Bo and Luke take it upon themselves to start delivering the shine to try and save the farm and start getting under Boss Hogg's skin. Uncle Jesse decides that the best way to earn the money is to have a Shinefest (think Woodstock but less music and more moonshine stalls), when Boss gets wind of this he sets a sting operation into action which arrests all the moonshiners in one hit, all bar Bo and Luke that is... The questions left on your lips are; will the Dukes prevail? Will they stop Boss Hogg and uncover his true motives? Will they manage to keep the farm? And where does Daisy (April Scott) fit into all of this? The answer is 42.
The acting is generally passable and even decent in patches. Jonathan Bennett and Randy Wayne seem to have genuine chemistry, although it is hard to believe that they are sixteen. April Scott is attractive, which pretty much fulfils her role; but it is far easier to believe that she could mastermind a good plan than Jessica Simpson in the same role. The one actor who shined in this film I would say is the actor who played Cooter (Joel Moore), he has by far the best comic timing out of the cast and is a joy to watch.
I would give this film a passing mark, but little more than that. It's the sort of movie that if it was on TV you could put your brain in neutral and be entertained, but if you had paid money for it I think you may feel a little ripped off. I would say that potentially it could be fun to watch with a group of friends, but definitely not a date movie though.

Video


Presented in a ratio of 1.78:1 this widescreen anamorphic transfer is a decent effort although there are a few flaws. Overall the image is clear and colors are vivid and strong, however a few dimly lit scenes appear a little soft with very minor grain. I also noticed some edge enhancement in a few scenes that was distracting at times. However despite this it is a passable print with adequate depth, good contrast with deep blacks.

Audio


A single English Dolby Digital 5.1 surround track is included, as far as 5.1 tracks go this one isn't as aggressive or immersive as I'm used to. This film is a combination comedy and action film, the dialogue is clear and distortion free but the ambient surrounds and action surrounds aren't that impressive. The chase scenes lack depth and punch and when the General Lee goes through those hair-raising jumps you expect the track to pack a wallop but instead it just barely gets the points across. Music and score fares better making use of the sound space, but overall I'm a little disappointed.
Optional subtitles are included in English and French.

Extras


First up are 7 "Hazzardous County" featurettes, these can be viewed individually or with a 'play all' function, they include:
- "The New Dukes" which runs for 7 minutes 5 seconds and takes a look at the hot new cast playing Bo, Luke and Daisy and the antics they get up to in the film as well as the hot ladies that seem to populate Hazzard County.
- "Daisy Dukes" runs for 3 minutes 30 seconds and takes a look at how the character makes the transformation from conservative country girl to short-short wearing sex bomb. This includes a look at her barely there costumes.
- "Birth Of The General Lee" runs for 7 minutes 19 seconds and looks at magnetism of the classic car and also the various stunts performed for the film.
- "A Moment With Uncle Jesse" runs for 2 minutes 15 seconds and country legend Willie Nelson talks about appearing in this film and portraying an iconic character and the cast comment on working with Willie.
- "Sheriff Rosco P. Coltrane" runs for 4 minutes 36 seconds and takes a look at Harlan Williams portrayal of the Sheriff and how he's such a funny guy.
- "Dainty Hogg" runs for 2 minutes 50 seconds and takes a look at how the filmmaker's used an animatronic pig to achieve certain shots and creating a believable performance from a rubber pig.
- "Dukes In Drag" runs for 4 minutes 11 seconds and takes a look at the transformation of Bo and Luke into ladies.

Overall these featurettes adds very little information on the making of the film, but rather provides a behind-the-scenes look at the various cast and crew on set as they provide very basic information about what they are actually doing. They are fluff pieces at best with a lot of back patting and little substance.

The "The Music of Hazzard County" is next and includes the music video "Swingin'" which is performed by Cowboy Troy featuring John Anderson's Duke Boys and runs for 2 minutes 49 seconds. And for what it's worth it's best to skip this, as the song is terrible.

Also included is the film's theatrical trailer which runs for 1 minute 42 seconds.

Rounding out the extras are some bonus trailers for:
- "Dukes Of Hazzard: Seasons 1-7" which runs for 1 minute 1 seconds.
- "Tenacious D In The Pick Of destiny" which runs for 1 minute 47 seconds.
- "Undisputed II: Last Man Standing" which runs for 38 seconds.

Packaging


This DVD is packaged in an amaray case that is housed in a cardboard slip-case.

Overall



| | | | | |
| --- | --- | --- | --- | --- |
| The Film: C+ | Video: B+ | Audio: B- | Extras: C+ | Overall: C+ |

---
DVD Compare is a participant in the Amazon Services LLC Associates Program and the Amazon Europe S.a.r.l. Associates Programme, an affiliate advertising program designed to provide a means for sites to earn advertising fees by advertising and linking to amazon.co.uk, amazon.com, amazon.ca, amazon.fr, and amazon.de.