Keane
R0 - Australia - Accent
Review written by and copyright: Noor Razzak and Damian Kissick (9th April 2007).
The Film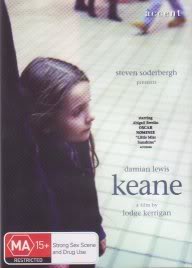 There is no doubt that dealing with the loss of a child is an agonizing ordeal. William Keane is still extremely tormented six months on from the abduction of his six year old daughter Sophie. "Keane" begins with William (Damian Lewis) at the Port Authority bus terminal, the scene of the abduction, frantically approaching busy commuters and pleading with them to help him find his daughter and when he is not spending his days wandering the station or places the kidnapper could have gone, he abuses himself with drugs and heavy drinking in the evenings. He soon meets Lynn (Amy Ryan) and her 7 year old daughter Kira (Abigail Breslin) and the two make a heart-warming connection because of Kira missing her father and Keane longing for his daughter.
It all sounds like a wonderful recipe for a 'happily-ever-after' story but in reality it is a harrowing tale focusing on loss and how we cope with such tragedies, and although we are not directly told, Keane's erratic behavior infers a mental illness that makes this even more challenging. His outbursts at people who he believes are staring at him provide strong clues to this, along with his cashing of the sickness benefit. It is also never proven that there exists a Sophie or the purported abduction of his daughter even happened : could this merely be something he has created intentionally or even subconsciously for himself? Then after posing such a potentially significant question, you would have to ask yourself : does that change anything?
In terms of direction and cinematography, we as the viewers are following Keane from his point of view using camera close-ups. The effect from this method is that we understand his state of mind - when the camera is zoomed up alongside him we experience the same unsettled feelings along with unsteady tracking to reflect his inner turmoil. This contrasts well when he is in a more stable state of mind and the camera is zoomed out to show him in his surrounding environment, even accepting it.
The most important thing to be prepared for in "Keane" is that you are alongside him throughout moments that will at times leave you apprehensive but at the same time you feel a genuine sympathy towards him. Visceral feelings of fear from what could develop from his hysteria and sympathy for the sadness of a daughter snatched away from him and well after the film ends, there are ambiguities that open themselves to interpretation. What does he see in Kira? His daughter Sophie, or a young girl in need of a fatherly figure?
There is no sense in me denying that I was lured to watch "Keane" initially based on the fact that it starred British thespian Damian Lewis. Ever since his turn in "Band of Brothers" (2001) I have been compelled to keep an eye out for the actor and his portrayal of Keane, a father racked by grief and guilt, is brilliant and feels truthful and natural for this character. Lewis is well supported by the acting of young Abigail Breslin whom he befriends and her mother Lynn. But while their performances are excellent, it is the disturbed Keane himself who sets the scene.
While it may have not been an aim of the film, I found parts of "Keane" almost unbearable to watch due to the building apprehension over what comes next (as mentioned earlier). Of course, your mileage may vary but in those moments I felt like leaving to grab a drink. However, there is always hope for Keane to overcome his grief and personal conflict and it is this alone that makes the story compelling. Lodge Kerrigan, director and writer of "Keane", is no stranger to the darker reality themes as one of his previous films, "Clean, Shaven" (1994) focuses on a young Schizophrenic man trying to get his daughter back and as a result many parallels can be drawn between these two films. When I sat down to write this review (and accidental dissection) of "Keane" I was prepared to give it at least a "B+" but after realizing the profound effect it has had on me to provoke discussion, I am struck with an "A" class film.

Video


Presented in the film's original theatrical ratio of 1.78:1, this anamorphic transfer is generally sharp and clean, although I did spot some minor compression noise throughout the print and seemed more prominent in night scenes and interiors that features dim lighting. Black levels were a little on the murky side as a result. Skin tones appear natural and the print is free of dirt or other flaws of that nature. For a low budget feature it is a decent enough transfer.

Audio


Only one audio track is include, an English Dolby Digital 2.0 surround track. The Region 1 release includes a 5.1 track which I'm disappointed was not ported over for this release. Despite this the dialogue is clear and is presented without any distortion, environmental surrounds were a little limited as one would expect with a 2.0 surround track, depth isn't something achieved with this track but it does hold up considering this film is a drama with little active surround work.
This release features no optional subtitles at all.

Extras


A series of 5 cast and crew bios, they cover parts of their careers as well as list some films they did/appeared in. The bios are included for:
- Executive producer Steven Soderbergh which includes 3 text pages.
- Writer/director Lodge Kerrigan which includes 2 text pages.
- Damian Lewis which includes 1 text page.
- Abigail Breslin which includes 1 text page.
- Amy Ryan which includes 1 text page.

Rounding out the extras are a series of bonus trailers for:
- "Pusher" which runs for 1 minute 40 seconds.
- "Dumplings" which runs for 1 minute 38 seconds.
- "Invisible Waves" which runs for 2 minutes 25 seconds.
- "Funny Ha Ha" which runs for 2 minutes 33 seconds.
- "Flight From Death: The Quest For Immortality" which runs for 3 minutes 4 seconds.

Overall



| | | | | |
| --- | --- | --- | --- | --- |
| The Film: A | Video: B | Audio: B- | Extras: D+ | Overall: C |

---
DVD Compare is a participant in the Amazon Services LLC Associates Program and the Amazon Europe S.a.r.l. Associates Programme, an affiliate advertising program designed to provide a means for sites to earn advertising fees by advertising and linking to amazon.co.uk, amazon.com, amazon.ca, amazon.fr, and amazon.de.