Requiem
R1 - America - Genius Products
Review written by and copyright: Noor Razzak and Roger Nicholl (12th March 2007).
The Film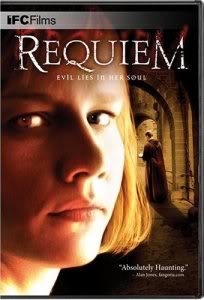 Sandra Hüller won the Best Actress award at the Berlin Film Festival for her moving performance as Michaela Klingler, a religious young woman who may or not be possessed by demons. "Requiem" is based on the same case that inspired "The Exorcism of Emily Rose" (2005), but the two films are markedly different. "Emily Rose" focused primarily on a lawyer involved in a court case about the Priest who performed the exorcism; "Requiem" focuses on the woman and is a drama about what can lead someone to believe they are possessed.
Michaela has been suffering from episodes, the nature of which we are uncertain of at the start of the film. She has been accepted into University in another town, but her mother Marianne (Imogen Kogge) does not think it is a good idea for her to go in case she suffers more of them while away from their care. Michaela has missed several years of schooling already because she's been in hospital, and is desperate to get started on a pedagogy qualification. Her father Karl (Burghart Klaußner), who is much warmer towards her than her mother, arranges accommodation for her and gets the mother to relent.
At University, Michaela is just a gawky religious kid from a small town, but she slowly starts fitting in. She makes friends and gets a boyfriend. But the episodes come back. Her friend talks her into seeing a doctor and she is given medication for grand mal epilepsy. Yet she continues her erratic and needy behavior, and even her best friend and boyfriend don't seem to know quite how to read her.
Michaela's family is very religious, and her mother comes across as a cold, unloving and somewhat wary of her. Michaela has an obsession with Saint Katharina who suffered many physical hardships yet did great deeds before dying a martyr at a young age. All of which leads to lends weight to one conclusion; yet her experiences are chillingly real. She does not seem to be play acting. And the film, which is free of special effects, shows us all of this without telling us what to think.
The topic of exorcism may be fodder for horror films, but "Requiem" is not a horror film. Despite being about the demonic, it puts forward the social, familial, and medical possibilities without discounting the supernatural. A sense of dread is built up, but the film's primary intention is not to scare the audience. What is does do is make people in the real world who claim to be possessed a bit more understandable.

Video


Presented in the film's original theatrical ratio of 2.35:1 this anamorphic transfer was nothing like what I expected, for such a recent release Genius and the Weinstein Company dropped the ball with a flat PAL converted transfer. The result is unimpressive with dull colors and murky blacks, grain is prominent but that has more to do with the film being shot on 16mm and blown-up to 35mm for theatrical exhibition. The image has ghosting problems from the use of a PAL source. Overall this is a below average transfer that seems to have been made rather quickly without any quality control. Shame on you Genius and Weinstein's for delivering a sub-standard product.

Audio


A single German Dolby Digital 5.1 track is included, while not immersive it does the job presenting the dialogue cleanly and without distortion, I was disappointed in the lack of depth, this film would have benefited with a more robust audio track instead we get a mediocre surround effort that simply does its job.
Optional subtitles are included in English, English for the hearing impaired and Spanish.

Extras


Genius Products have included a series of start-up bonus trailers that can be skipped, they are for:
- "Princesas" which runs for 2 minutes 14 seconds.
- "The Aura" which runs for 1 minute 47 seconds.
- "Coastlines" which runs for 1 minute 50 seconds.
- "This Film Is Not Yet Rated" which runs for 2 minutes 6 seconds.

Overall



| | | | | |
| --- | --- | --- | --- | --- |
| The Film: A | Video: C+ | Audio: B | Extras: F | Overall: D+ |

---
DVD Compare is a participant in the Amazon Services LLC Associates Program and the Amazon Europe S.a.r.l. Associates Programme, an affiliate advertising program designed to provide a means for sites to earn advertising fees by advertising and linking to amazon.co.uk, amazon.com, amazon.ca, amazon.fr, and amazon.de.