Babel
R1 - America - Paramount Home Entertainment
Review written by and copyright: Noor Razzak (27th February 2007).
The Film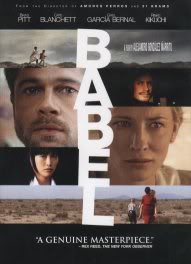 Filmmaker Alejandro González Iñárritu started his career in Mexican television and moving onto films with screenwriter Guillermo Arriaga, the two devised a series of 11 short films that would present the contradictory nature of Mexico City. The project developed 36 different story threads of which 3 were ultimately selected. The result was not a series of short films but instead their first feature film "Amores Perros" (2000). The film garnered critical acclaim and Iñárritu became the hottest filmmaking commodity from Mexico. His follow-up would not disappoint in the emotionally complex "21 Grams" (2003), shot in the similar fractured narrative as "Amores Perros" the film focuses on three stories that interweave with each other. "Babel" is his third in a similar style of film which has come to be known as his "Death Trilogy", expanding on the interwoven structure Iñárritu and screenwriter Arriaga span borders in his equally complex tale of social and political barriers around us determine how we communicate to one another.
The film centers on several groups of people in 4 countries that are all connected by one bullet. Each of these segments features the characters outside of their usual surroundings:
An American couple, Richard (Brad Pitt) and Susan (Cate Blanchett) find themselves stranded in Morocco, their Nanny, Amelia (Adriana Barraza) and children Debbie (Elle Fanning) and Mike (Nathan Gamble) find themselves lost in the Mexican/Texas desert somewhere near the border and a deaf Japanese girl, Chieko (Rinko Kikuchi) is isolated by silence amidst the noise of Tokyo.
The film's script is a delicate balancing act between the three main storylines; Arriaga does a fine job in getting across the communication barriers faced by these characters and further emphasizing the reasons behind such barriers. These themes include the perception of Americans from outside the United States, class structure and immigration issues. The narrative structure allows each storyline to unfold culminating in an understanding of how they are all connected, a favorite device of both Iñárritu and Arriaga. Its purpose helps focus your attention as the viewer is constantly immersed into the multi-story line epic.
The film's performances and direction are brilliantly conceived, resulting in career best and breakout performances. Brad Pitt pulled out of appearing in "The Departed" (2006) in order to play Richard, the result is the most mature performance of this career. Pitt brings a vulnerability to Richard combined with a hardened resolve makes for a touching and emotionally charged turn. Equally deserving of praise are the ladies, primarily Adriana Barraza and Rinko Kikuchi who both received Oscar nominations for their efforts. Kikuchi spent a year auditioning for this film, I initially thought this young woman was actually deaf but as it turns out she is not and that is a testament to how believable her performance truly is, I don't think you can provide a better compliment than that.
Heightening the mood of the picture is Gustavo Santaolalla's captivating yet minimalist score. He manages to compliment the scenes rather than manipulate a response from it and each character is presented with their own musical voice. Santaolalla's score was recently awarded the Oscar (he has won this award consecutively with "Brokeback Mountain") for his efforts here.
"Babel" is certainly Iñárritu's most ambitious film to date; the themes and characters present an important message about our world presently and will likely be regarded as one of the most important films of our time in the years to come. This film is highly recommended.

Video


Presented in a widescreen ratio of 1.78:1 this transfer is immaculate. The image is sharp and presents detail beautifully; the color palate of each country is presented here accurately and vibrantly. From the earthy tones of the Moroccan desert to the cold concrete of Japan's capital, furthermore skin tones are accurately presented and appear natural, blacks are bold and deep, shadow detail remains consistent throughout the film. I cold not spot any compression problems or edge-enhancement or any kind. While some film grain is present this is purely an aesthetic choice rather than a technical issue. As far as I can tell this is a superb transfer from top to bottom.

Audio


Three audio tracks are included in English Dolby Digital 5.1 as well as 2.0 Surround as well as a French Dolby Digital 5.1 track. For the purposes of this film I chose to view the film with its English soundtrack, although the track is listed as English other languages are spoken in this film that include Arabic, Berber, French, Japanese and Spanish for these scenes subtitles are included. The sound mix is a beautifully mixed ambient track that presents the dialogue clearly but most importantly captures the mood and feeling of each location brilliantly with the subtle use of its surround channels. The score additionally floats through the 5.1 space adding a haunting and captivating sense to this non-aggressive yet immersive soundtrack.
Optional subtitles are also included in English and Spanish.

Extras


The only extras that Paramount has seen fit to include are the film's original theatrical trailer which runs for 2 minutes 33 seconds and well as a series of bonus trailers that are for:

- "Black Snake Moan" which runs for 2 minutes 29 seconds.
- "Things we Lost in the Fire" which runs for 2 minutes 33 seconds.
- "Perfume: The Story of a Murderer" which runs for 2 minutes 32 seconds.
- "Flags of our Fathers" which runs for 2 minutes 27 seconds.
- "An Inconvenient Truth" which runs for 2 minutes 33 seconds.

Overall


Much like the DVD release for "Flags of our Fathers" this DVD has all the markings of a rushed release to capitalize on the awards season. I hope that Paramount gets started on a decent Special Edition but for the time being this one's worth a rental if you haven't yet seen it and wait for a decent edition before purchasing a copy.
| | | | | |
| --- | --- | --- | --- | --- |
| The Film: A+ | Video: A+ | Audio: A | Extras: F | Overall: C+ |

---
DVD Compare is a participant in the Amazon Services LLC Associates Program and the Amazon Europe S.a.r.l. Associates Programme, an affiliate advertising program designed to provide a means for sites to earn advertising fees by advertising and linking to amazon.co.uk, amazon.com, amazon.ca, amazon.fr, and amazon.de.