Gathering (The)
R1 - America - Genius Products
Review written by and copyright: Noor Razzak (25th February 2007).
The Film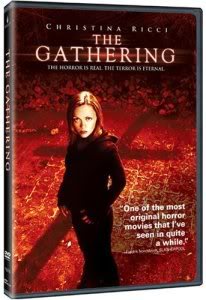 On her way to the small English village of Ashby Wake near Glastonbury Cassi Grant (Christina Ricci) a young American tourist is hit by a car driven by Marion Kirkman (Kerry Fox) and loses her memory. Taken in by Marion while she recovers Cassi meets Marion's husband Simon (Stephen Dillane) who is studying a newly unearthed church that has been buried since the First Century and which contains a fresco of a crowd watching the crucifixion of Christ. While trying to regain her memory Cassi begins to have hallucinations or possibly premonitions involving some of the local townspeople. Are these visions connected to the church?
I'll start off by saying that this film is not nearly as predictable as it first appears. I thought I had guessed the twist within the first 15 minutes, especially after other reviews have compared it to "Jacob's Ladder" (1990), "The Sixth Sense" (1999) and "The Others" (2001). Happily I was wrong, although that's not to say that you won't guess the ending. But, just not until about two-thirds of the way through.
The central idea behind the origin of the uncovered church using Christian mythology similar to that which has been made popular recently by Dan Brown's novels "The Da Vinci Code" and "Angels and Demons" is original and very interesting but the dragging pace of the first 70 odd minutes and a few annoyingly avoidable or explainable plot holes undo a lot of the potential. For example, Cassi being American makes no sense when you've seen the ending. Why would Dan (Ioan Gruffudd) wait until near the end to tell Cassi things he could have told her the first time they met, and if the fresco is going to contain two major plot revelations that are not going to be revealed at the same time, then don't put them side by side so one couldn't be discovered without the other.
So, it is quite illogical at times but has a reasonably suspenseful ending and Christina Ricci is very good, as usual, even if a European actress would have suited the story better. Brian Gilbert's direction is probably the biggest weak point. With only films like the Sally Field drama "Not Without My Daughter" (1991) and "Wilde" (1997) the story of playwright/author Oscar Wilde starring Stephen Fry on his resume he's a very odd choice for a horror film.
All in all, "The Gathering" is definitely worth watching but a lot of people will be frustrated at it not fulfilling its potential.

Video


Presented in the film's original theatrical ratio of 2.35:1 this anamorphic transfer is a solid effort, the image is sharp and clean, colors are well represented and appear natural especially skin tones which are spot on. Blacks are bold and I found no problems with compression noise, shadow detail is consistently good although I did spot some edge-enhancement. Otherwise it's a very good image.

Audio


A single English Dolby Digital 5.1 surround track is included and presents the film suitably well with clear and distortion free dialogue, subtle surrounds make decent use of the rear channels and the score adds some depth to the overall mix. There's nothing special here but at the same time it's far from disappointing, overall a fine effort that does the job.
Optional subtitles are included in English for the hearing impaired and Spanish.

Extras


Genius Products have included only a selection of start-up bonus trailers which can be skipped, they include:

- "Killshot" which runs for 2 minutes 1 second.
- "Pulse" which runs for 2 minutes 32 seconds.
- "Clerks II" which runs for 1 minute 32 seconds.
- "Lucky Number Slevin" which runs for 2 minutes 9 seconds.
- "Scary Movie 4" which runs for 2 minutes 25 seconds.

Overall



| | | | | |
| --- | --- | --- | --- | --- |
| The Film: B- | Video: B+ | Audio: B+ | Extras: F | Overall: C- |

---
DVD Compare is a participant in the Amazon Services LLC Associates Program and the Amazon Europe S.a.r.l. Associates Programme, an affiliate advertising program designed to provide a means for sites to earn advertising fees by advertising and linking to amazon.co.uk, amazon.com, amazon.ca, amazon.fr, and amazon.de.