Night Listener (The)
R1 - America - Buena Vista Home Entertainment
Review written by and copyright: Noor Razzak (10th February 2007).
The Film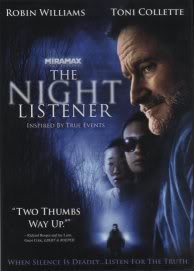 The Night Listener is director Patrick Stettner sophomore effort after 2001's mediocre The Business of Strangers and in this turn he delivers a very moody thriller in the tradition of Hitchcock. Based on the book of the same name, The Night Listener is based on true events that occurred to the book's author, Armistead Maupin who engaged in a series of telephone conversations with a young boy who has lived a terrible life of abuse until he was taken in by a kind woman. His partner later made the discovery that the mother of the child and the boy himself had very similar voices, what ensued was confusion as to whether the boy actually existed or was the creation of the woman.
The film takes the foundations laid by the book and adapts them using thriller elements to create a competent entry into the genre, unfortunately it offers nothing new and the film's twist can be seen coming miles away.
Gabriel Noone (Robin Williams) is a late night radio talk show host how has recently broken up with his gay partner Jess (Bobby Cannavale), after making their personal lives content for his shows causes their relationship to fall apart. When one day he starts a phone conversation with one of his biggest fans, a young boy named Pete Logand (Rory Culkin) who has been the victim of sexual abuse and is currently dying. Gabriel and Pete form a bond over the phone when suddenly things begin to get unclear about the boy's existence. Gabriel begins to suspect that the boy and his adoptive mother, Donna (Toni Collette) are one in the same, and starts to investigate the matter further and discovers that no one has ever seen the boy in the flesh yet he seems to exist among the community. What follows is a psychological game between Donna and Gabriel as he struggles to prove the truth.
The Night Listener has many good things going for it one of which is the excellent cast, Williams delivers another in a line of impressive dramatic performances and continually proves that he's a more than capable performer. Some may see reflections of Sean Maguire, his character from Good Will Hunting (1997) in this film but it's not a complete re-creation, he expands on that creating a character that is an extension to the book's author. Collette is another firecracker actress that delivers in spades; she plays the creepy blind Donna and delivers an eerie performance that warrants attention. Her character strives for attention, she's practically obsessed with it that she's do anything to garner it. Although this film is a mystery story it delves into the importance of human connection and what some people would do for it. And it's with these themes that the filmmakers have crafted a thriller where atmosphere and pace are used hand-in-hand to create a mood piece that will keep you intrigued.
Culkin as the young boy literally phones in his performance in a turn that could have been delivered by just about any male child actor his age and the cameo appearance by Sandra Oh doesn't add anything to that character either and seems like a passing thing that she probably did over a weekend.
The Night Listener may not be for everyone; in fact the film's unspectacular box office is a testament to that (although it made profit). The film is slow and even at just over 81 minutes does tend to drag on. The twist is also predictable and doesn't really shock or surprise anyone it just sort of happens and then it passed by until the credits roll. Overall there's nothing special about this film it's yet another entry into the already crowded genre, but if you're after some fine acting and engaging storytelling (despite the pace and predictability) then The Night Listener might be for you. I strongly recommend a rental before purchasing this one though.

Video


Presented in a widescreen ratio of 1.78:1, this anamorphic transfer is good but not excellent. The majority of the image was sharp and clean, the print did not have any issues with dirt or compression problems. However the image was entirely too dark, considering the film takes place primarily at night I felt that black levels were too black making many scenes hard to make out. Shadow detail appeared limited as a result. Other than that I didn't have any other issue with this transfer.

Audio


A single English Dolby Digital 5.1 surround track is included, which was almost entirely front heavy with little use of the surround channels. I felt this was a missed opportunity to create a deeper immersive atmosphere with the use of subtle ambient sounds. Despite this missed opportunity the dialogue is clear and presented without distortion, directional sounds spear natural and nothing seems out of place. And the films score is given ample breathing room throughout the sound space.
Optional subtitles are included in English for the hearing impaired, French and Spanish.

Extras


Buena Vista has released this film with only a few minor extras that includes a featurette, a deleted scene plus a handful of bonus trailers. Below is a closer look at these supplements.

First up we have "The Night Listener Revealed" a featurette which runs for 11 minutes 40 seconds. This is a typical EPK clip that advertises the film and its plot. The clip covers some brief background as well as interviews the key cast and crew. It's worth watching once if you have nothing else to do otherwise you can happily leave it without missing anything.

A single deleted scene is included with video introduction by director Patrick Stettner and runs for 3 minutes 47 seconds, in this scene Donna breaks into Gabriel's home to confront him.

Rounding out the extras are a series of bonus trailers for:

- "The Invisible" which runs for 2 minutes 31 seconds.
- "The Guardian" which runs for 2 minutes 29 seconds.
- "The Prestige" which runs for 2 minutes 32 seconds.
- "Renaissance" which runs for 1 minute 18 seconds.
- "The Heart Of The Game" which runs for 2 minutes 13 seconds.
- "The Queen" which runs for 2 minutes 20 seconds.
- "Roger Corman Collection" which runs for 1 minute 11 seconds.
- "Disney Blu-ray" spot which runs for 52 seconds.
- "Anti-piracy" spot which runs for 48 seconds.

Overall



| | | | | |
| --- | --- | --- | --- | --- |
| The Film: B- | Video: B- | Audio: B | Extras: C+ | Overall: B- |

---
DVD Compare is a participant in the Amazon Services LLC Associates Program and the Amazon Europe S.a.r.l. Associates Programme, an affiliate advertising program designed to provide a means for sites to earn advertising fees by advertising and linking to amazon.co.uk, amazon.com, amazon.ca, amazon.fr, and amazon.de.