The Film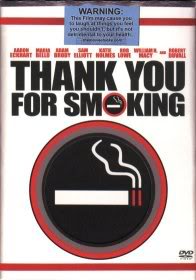 I originally saw this film theatrically and as I exited the theater after the screening I heard a woman proclaim in a rather loud voice to her company: "I can't believe they supported smoking" and went further in saying that the "filmmakers should be ashamed of themselves". Somehow I don't think she quite grasped the satirical nature of the film. I found it hard to believe that someone could have missed this, and also began to wonder what she would have thought of Kubrick's classic farce "Dr. Strangelove" (1964). To avoid any confusion, "Thank You for Smoking" is a satirical look at big tobacco lobbyists. And it is a rather humorous one at that. Jason Reitman (son of Ivan Reitman) has done a splendid job in adapting Christopher Buckley's novel, capturing a wit and tone akin to the crack of a whip.
"Thank You for Smoking" spins the tale of Nick Naylor (Aaron Eckhart), an advocate for big tobacco. For a spin doctor he's extremely good at his job. He's intelligent, fast talking and more importantly, his morals are flexible. While speaking on behalf of big tobacco and peddling death he's still trying to be a good role model for his 12 year-old son, Joey (played by Cameron Bright, that creepy kid from "Birth" (2004)). While his job is despicable at best, it's funny seeing Nick explain it to his son while arming him with the concept of choice and the freedom to choose.
While some of the film's brilliant comedic moments stem from Nick's relationship with his son, I was floored with the film's ability to expose the follies of its subject. The opening scene introduces us to this perfectly as Nick tries to persuade an angry talk show audience that it's in tobacco's best interest to keep a "cancer boy" alive and well and continuing to smoke. His relationship with colleagues from other lobby groups additionally lends itself to laugh-out-loud scenarios. These 'M.O.Ds' or 'Merchants of Death' as they are called, Polly (Maria Bello) who represents alcohol and Bobby Jay (David Koechner) who represents firearms, enter into a discussion of one-up-man ship as to whose group actually kills the most people per day. Clearly ridiculous, I found myself thinking whether I should actually be laughing at something so terribly tragic, the answer is ultimately yes because at the end of the day, I managed to identify this material as being that of a satirical nature.
Reitman not only directed the film but also wrote the screenplay. Of all the film's strengths which includes great casting (with the exception of Katie Holmes, more on that later) and its fast-paced spin-like momentum, it's ultimately the script that is its greatest strength. It's no wonder why all the first choices for actors that Reitman wanted said 'yes' to it. Each character is fleshed out and given enough time to uncover their quirks. Given considerable depth to their chosen professions it's not hard to suspend ones disbelief in the stunts they pull. Each character has a unique voice and is interpreted well through the casting choices.
Eckhart is particularly smug and confident in his role, epitomizing the stereotypical public relations official, however despite his brilliance I couldn't help but think that his scenes were continually stolen by J.K. Simmons, who plays his boss doing the same old shtick he did best in the "Spider-man" (2002-2007) films, William H. Macy as well who delivers what is the funniest line in the entire film : "the great state of Vermont will not apologize for its cheese" and finally Rob Lowe, yes that Rob Lowe from "The West Wing" (1999-2006) who plays the Japanese obsessed Hollywood super-agent allying with Nick to develop a film largely funded by big tobacco money in an effort to make smoking 'cool' again, manages to deliver one of the most memorable performances of the film, and seems like the polar-opposite to Jeremy Piven's Ari Gold character in the HBO series "Entourage" (2004-Present). Katie Holmes on the other hand was the weakest link of this otherwise excellent ensemble. Her character is supposed to be an investigative reporter who on the outside is a cute and lovable person, while on the inside is a hard as nails reporter that has no qualms about using her charm to stun her victims into divulging information for a scoop that includes sleeping with them. The problem with Holmes is that she mainly exudes the cute girl next door persona, with emphasis on the word 'girl'.
I was also a little disappointed with the film's somewhat sentimental moment near the end, where Nick's family shows their support by attending his congressional hearing about warning labels on cigarette packets. This family show of support, complete with father acknowledging his son's attendance is usually relegated to...well...sentimental family movies or inspirational true stories. In this case it felt a little out of place, but Reitman chose not to focus too much emphasis on the cheesy sentimental moments and allowed the film to reach a rather satisfying conclusion.
"Thank You for Smoking" is a smart tongue-in-cheek stab at big tobacco that will leave a smile on your face; it's one of the best films of 2005 and now that it's on DVD there's no excuse to miss it.

Video


Presented in the film's original theatrical ratio of 2.40:1 this anamorphic transfer is a solid effort. The image is sharp although some scenes are softer than others (this is mainly a stylistic choice such as the digital camera footage as part of the father and son montage scene). I noticed some minor moire effect against some line patterns. Colors were well balanced including skin tones which appear natural, blacks are deep and shadow detail is consistent throughout the print. I did managed to spot some minor edge enhancement and some compression issues such as a jagged lines around some backgrounds but otherwise these issues were extremely minor and the transfer is generally quite good.

Audio


A single English Dolby Digital 5.1 surround track is included and is rather good, with clear and distortion free dialogue, the surround channels were put to use during certain sequences that required flashy graphics and quick cuts to pop up on screen. Ambient noise was well balanced but not as prominently placed throughout the sound space as I'd have liked. While some of the soundtrack is front heavy there are moments that utilize the surround channels quite effectively. This track is not aggressive nor is it totally immersive but it is a very good track that presents the film competently.
Optional subtitles are included in Cantonese, English, Mandarin, Korean and Thai.

Extras


First up is a feature-length audio commentary by writer/director Jason Reitman and actors Aaron Eckhart and David Koechner. This track is generally screen-specific and this track takes the form of as praise-a-thon as these guys spend their time in-between providing actual information by praising each other for a job well done. Boring, I wish they spent as much time going into further detail about the film rather than patting each other's backs. While they do reveal trivia based on certain scenes ranging from main components of the film to insignificant details such as the actor's eating cold food during the 'M.O.D.' lunches...Overall this was a little disappointing but worth perusing over with your finger on the fast-forward button.

A series of 13 deleted scenes follows and includes optional commentary by writer/director Jason Reitman. The director provides some background for the scenes and comments on why they were removed from the final version of the film. These scenes can be viewed individually or with a 'play all' option. The scenes included are:

- "Opening Titles Rough Draft" which runs for 54 seconds, this is an early mock-up of the credit sequence that features the cigarette package designs.
- "Some Syrup For The Missus" which runs for 48 seconds, Senator Finistirre offers Ron some syrup to take back to his wife after their meeting.
- "Cigarette Slap" runs for 1 minute 17 seconds, this is an extended wrap up sequence after the congressional hearing.
- "Smoking Is Right" runs for 1 minute 34 seconds, B.R. and Nick are presented with the new ad campaign against teen smoking.
- "Death Threats On Message Slips" runs for 32 seconds, Nick's assistant gives him the death threat messages.
- "Feet On The Bulkhead" runs for 38 seconds, Joey is asked to not out his feet on the bulkhead on the plane but puts his father's lesson to work and argues why he can keep his feet on it.
- "In-Flight Safety Video" runs for 48 seconds, Nick has a nightmare in the style of a safety video while on a flight.
- "Heather Slips The Script" runs for 1 minute 8 seconds, Heather delivers the script funded by big tobacco to the Senator.
- "Thank You For Being His Father" runs for 1 minute 1 seconds, Nick ex calls him to thank him for being a father to their son.
- Joan Lunden Original Cut" runs for 2 minutes 34 seconds, this is an extended clip of the talk show.
- "Disgruntled Postman" runs for 1 minute 44 seconds, Bobby Jay shares a story about a disgruntled postman who shot some people.
- "Nick Passes Out" runs for 1 minute, Nick passes out after lighting up a cigarette.
- "Father And Son Montage" runs for 1 minute 7 seconds, digital camera footage of the two traveling together.

"Unfiltered Comedy: The Making of Thank You For Smoking" is a featurette which runs for 8 minutes 55 seconds, this EPK clip sees the key cast and crew praising each other for doing a great job and telling us how great this film is. Brief production information is given to the audience but that's it really and not worth repeated viewing.

Following that is "America: Living in Spin" a featurette which runs for 4 minutes 55 seconds, this clip takes a look at spin in American media and relates it to this film. In a way the filmmakers are selling us this film much like our lobbyist characters in the film sell the messages for their respected clients.

Next are a series of 3 galleries that include:

- Poster art gallery which features 6 images of unused posters created for the film.
- Art department gallery features 42 images of logos and advertisements created for the film.
- Storyboard gallery features 70 images of storyboarded shots.

Rounding out the extras is the film's original theatrical trailer which runs for 2 minutes 25 seconds.

Packaging


This DVD is packaged in a digi-pack case that is housed in a cardboard slip-case.

Overall


Normally when extras are dropped from the Hong Kong release it's to make way for a DTS track, but this film does not include a DTS track and there is no reason why the second audio commentary and the interview seen on the Region 1 release has been dropped from this release. This is somewhat disappointing considering that this film is rather excellent.
| | | | | |
| --- | --- | --- | --- | --- |
| The Film: A | Video: B+ | Audio: B+ | Extras: B | Overall: B+ |