The Film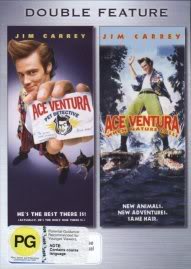 So I get a call from our reviews editor asking me if I want to review Lady in the Water (2006) or the Double Feature of the Ace Ventura movies. After a long deliberation I figured that I would go for quantity over quality, I later found out from my colleague who had to review Lady in the Water now hates me because he severely disliked the movie and loves Ace Ventura; that made me happy. I remember when the Ace Ventura movies first came out that I enjoyed them, but I was plagued by questions will I still enjoy the immature antics of Jim Carrey and all his overacting glory? The answer was; kind of. The beauty of these movies is that essentially I can review them at the same time as they pretty much have exactly the same plot, just in different settings. I'm not saying It's a bad thing, it's just watching the movies back to back is like watching a two hour instant replay. Another question was how would this movie stack up against others of a similar vain, by this I mean movies that had catch phrases that everyone started using and then overusing and then flogging to death to the point that it was rea-he-he-heally annoying (see what I did there). Movies like Austin Powers: International Man of Mystery (1997) ˜groovy baby' and The Mask (1994) ˜Smokin' as well as TV shows such as South Park (1997-Present) ˜Respect my authorita!', these are not all, just a few of the movies and TV that bain my life, not saying I didn't enjoy these movies, more that when these lines were said by the relevant actors they were funny, when your friends are trying to jam them into any situation no matter how tenuous the link = annoying.
In Ace Ventura: Pet Detective (1994), Ace must rescue the Miami Dolphins Mascot which has been dolphin-napped before the Super Bowl (which happens in only a few days time) otherwise the players, who are superstitious, won't play as well. In Ace Ventura: When Nature Calls (1995), Ace must rescue a Tribal Bat, an animal he hates (nice twist) before a wedding linking two tribes (which happens in only a few days time, noticing a pattern?), if the bat is not found then one tribe will slaughter the other (Ok, slightly higher stakes in the sequel I will grant you.). The stories take the same twists and turns, Ace thinks he's found the guy responsible and he turns out to be horribly wrong. Ace gets stumped but then through his amazing detective work or just blind luck he finds out who it is and saves the day, or does he? Yeah he does. Or does he? Watch the movie to find out. To be fair to the movies, I don't really think that they were ever really supposed to be deeply gripping, intense detective stories. They were in fact vehicles for Jim Carrey to further or get a career.
Jim Carrey in his breakthrough role as Ace Ventura has more one liners than a sleazy bar fly, ˜Rea-he-he-healy', ˜loo-who-who-who-who-zer' and ˜like a glove' to name a few. His facial expression are impressive as well as his voice changes but one of the things that impressed me the most out of both movies was his slow mo and then action reply of a football play while attempting to be committed. Courtenay Cox is in the first movie and plays well opposite Carrey it is refreshing when Cox is on screen as she gives you a more true to life performance than the fantastical Carrey. Ian McNeice replaces Cox in the sequel playing the bumbling sidekick rather than Cox's love interests angle, the movie seemed to lose a little something without the added distraction of a humanizing love interest.
Overall these movies are still enjoyable; I would suggest that perhaps not the thing to impress the in-laws, but maybe a way to pass the afternoon. You will most probably find yourself laughing despite not wanting to for seeming immature. But you know what being mature is for loo-who-who-who-who-zers!

Although these are Region 4 discs they are both NTSC and not PAL. The second disc is dual coded R1/2.

Video


The first film Ace Ventura: Pet Detective is presented in a full screen 1.33:1 ratio which is not the films original theatrical ratio and is a terrible decision on the part of Warner Brothers to release a film in such a way that does not represent the way it was intended to be seen. Furthermore the image is occasionally soft and some grain can be seen at various times during the film. Otherwise the colours are well represented and shadow detail is also consistent, however the fact that this film is not presented in 1.85:1 anamorphic widescreen is a total black mark against it.

The sequel Ace Ventura: When Nature Calls is a different story, this film is presented in its original theatrical ratio of 2.35:1 anamorphic widescreen but that's about all that we can be happy about because this transfer is quite grainy, sharpness is never consistent, shadow detail suffers as well, blacks aren't as deep and bold as they should be and skin tones do not look natural at all.

Audio


The first film Ace Ventura: Pet Detective includes only a single English Dolby Digital 2.0 surround track, the track presents dialogue clearly and without distortion however the track lacks depth, especially when the score and directional sounds could have been used to heighten the overall mix. This could have used a 5.1 track to its advantage but instead we get a weak 2.0 surround mix.
Optional subtitles are included in English, Portuguese and Spanish.

The sequel fares slightly better with three tracks, one in English Dolby Digital 5.0 and the others in French Dolby Digital 2.0 surround and also Spanish Dolby Digital 2.0 surround. For the purposes of this review I chose to view the film with its English track. Lacking a .1 sub woofer channel this 5.0 track is quite good but does leave room for a lot of improvement. The dialogue is clear and distortion free, ambient sound is used effectively but lacks dynamic range and the track is occasionally front focused.
Subtitles in Optional subtitles are included in English, French and Spanish.

Extras


Since these are re-releases of the previous single disc versions of these films the extras are all the same, the first film has nothing at all while the second film includes some biographies, production notes, the films original theatrical trailer plus a bonus trailer. Below is a closer look at these supplements.

DISC ONE: Ace Ventura: Pet Detective

There are no extras present on this disc.

DISC TWO : Ace Ventura: When Nature Calls

First up we have some cast and crew biographies, these include brief notes on the careers of these people including their filmographies and are for:

- Jim Carrey, which includes 5 text pages of notes.
- Ian McNeice, which includes 2 pages of notes.
- Simon Callow, which includes 3 pages of notes.
- Maynard Eziashi, which includes 1 page of notes.
- Bob Gunton, which includes 4 pages of notes.
- Producer James G. Robinson, which includes 4 pages of notes.
- Writer / director Steve Oedekerk, which includes 2 pages of notes.

Next are a series of production notes that provide background on the making of the film and include 5 topics that are:

- Making A Sequel which includes 2 pages of text notes about the genesis of this project.
- The Look Of The Film which includes 3 pages of notes about the art direction the filmmakers wanted for the film.
- Ace's 'Do which includes 2 pages of notes and covers the hairstyle our hero is seen sporting in this film.
- Animals, Animals, Animals which includes 2 pages of notes about the animals see in the film.
- On Location includes 2 pages of notes about shooting the film on various locations.

A few reel recommendations pages are included that list some other films you might be interested in checking out.

The films original theatrical trailer is also included and runs for 2 minutes 4 seconds as well as a bonus trailer for the first film Ace Ventura: Pet Detective which runs for 2 minutes 8 seconds.

Overall


I'm terribly disappointed with this release, Warner Brothers chose to repackage the older releases instead of giving us something new and improved like the US counterpart, the R1 double-pack includes a host of extras, widescreen transfers and DTS sound, while R4 gets screwed with a sub-par release yet again.
| | | | | |
| --- | --- | --- | --- | --- |
| The Film: B- | Video: D+ | Audio: B- | Extras: F | Overall: D+ |