Dialogue Volume 1.1 (The): An Interview With Screenwriter Paul Haggis
R0 - America - The Dialogue Series
Review written by and copyright: Noor Razzak (9th January 2007).
The Film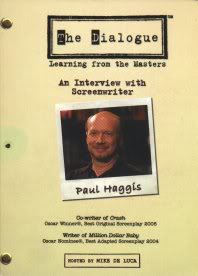 Canadian born Paul Haggis started his career as a writer for Television, he worked on a series of sitcoms and failed dramas until he decided to pack it in an write features. The risk paid off and Haggis became the first writer to produce two back-to-back winning Best Picture Oscars (for 2004's "Million Dollar Baby" and 2005's "Crash"). To this day "Crash" still has it's critics, some call it pretentious drivel with others call it an intriguing and thought-provoking character study, the fact that long after it won the Oscar debate still goes on whether it truly deserved it and whether Ang Lee's "Brokeback Mountain" should have won instead. No matter what you may think of "Crash" one thing is for certain and that's Haggis is indeed a talented writer and that partly what this "Dialogue Series" is about, the purpose is to interview masters of the screenwriting craft in an effort to learn their habits, their motivations and talk in-depth about the films and projects they worked on giving us an deeper perspective into the films they have made and also to better aspiring screenwriters.
I always find it difficult reviewing interview series' because unlike films themselves they have no narrative, the people aren't playing characters (As far as we know) and there are is no director's vision to comment on such as the style of the piece, the cinematography or music, so really the only thing I can comment on is whether this series achieves what it sets out to. To learn from the masters.
To begin with If you're watching this DVD then you're either an aspiring screenwriter with hopes of learning from industry professionals or you happen to be a huge fan of the subject interviewed. If you're neither of these things then you've purchased the wrong DVD.
In the 90 minutes this interview runs for Haggis does in fact comment on his career and the different Television projects he has worked on, citing memories and sharing anecdotes. We also discover his method to screenwriting and also how it is he develops the various elements that make up a script (characters, plot, etc.), which is all very interesting. But can it's content make you a better screenwriter? I doubt it, in fact if it's anything that I've learned from this it's that experience counts and that you should develop you're own method of working and you're own motivations. Overall it's an interesting series and Haggis makes for an intriguing study in this first of a series of interviews, host Mike De Luca (former president of New Line Cinema) does an adequate job here, although he's lacking an entertaining personality that most talk show hosts possess making this series rather dry.
There's another thing I'm compelled to comment on and it's not related to the content but rather an authoring issue, I found that at the change between chapters there is a brief pause, much like a layer change. This was an incredible annoyance and hopefully it's something that the DVD producers will have fixed for the other installments of this series.


Video


Presented in a letterbox ratio of 1.78:1 this non-anamorphic transfer is decidedly average. While the overall image is sharp, the colors vivid and skin tones natural I did find that there was a considerable amount of compression noise, especially in backgrounds and also in the blacks. The print was largely clean otherwise, as far as non-anamorphic transfer go this was just what I was expecting.


Audio


A single English Dolby Digital 2.0 Stereo track is included and considering this is an interview series this was all that was necessary. This series hardly requires a dynamic sound mix, and therefore the dialogue is presented here clean and distortion free which is all we could really hope for.
This DVD does not feature any optional subtitles.


Extras


This disc does not feature any additional extras other than 2 text pages advertising other titles in the series.


Packaging


This DVD is packaged in a digi-pack case.


Overall



| | | | | |
| --- | --- | --- | --- | --- |
| The Film: B- | Video: C+ | Audio: B | Extras: F | Overall: D+ |

---
DVD Compare is a participant in the Amazon Services LLC Associates Program and the Amazon Europe S.a.r.l. Associates Programme, an affiliate advertising program designed to provide a means for sites to earn advertising fees by advertising and linking to amazon.co.uk, amazon.com, amazon.ca, amazon.fr, and amazon.de.