Bush's Brain
R1 - America - Tartan Video
Review written by and copyright: TJ McDonald & Noor Razzak (4th January 2007).
The Film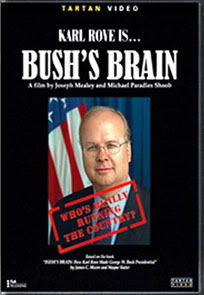 I am a dyed-in-the-wool Liberal. I have a fierce disagreement with the conservative viewpoint and a fierce dislike of the Bush administration. I welcome any media that brings to light the underhanded nature of politics in general and Republican politics in particular; so let it be known that it is from this viewpoint that I find "Bush's Brain" to be one of the worst political documentaries that I have watched in a long time. Joseph Mealey and Michael Shoob have continued the tradition of Michael Moore (and so many others) of one-eyed, partisan hackery and created a film that does no credit to either their subject or their cause.
"Bush's Brain" is the nickname of President Bush's political consultant and campaign manager, Karl Rove – a man who is considered by many to be not only in a position of tremendous influence over the President, but to be crucial to the Republican victories in both the 2000 and 2004 Presidential campaigns as well as the 2002 Midterm election campaigns. Many feel that he is perhaps one of the greatest political campaign directors ever with all of the dodgy, back-room-dealing history that such a title would inevitably carry. This documentary concerns itself with Rove's history in Republican politics; from his years in the Young Republicans, to his Texan Gubernatorial campaigns through to his battles for the Oval Office.
Mealey and Shoob derive most of the film's source material from the book of the same name, written by James C. Moore and Wayne Slater. Without wishing to delve to far from the documentary at hand; the book appears to be one of any number of second rate political 'expose' that rear their heads from the beltway from time to time bringing no new interesting information or conclusions and leaving no real lasting impression (but please bear in mind that my reading of the book was far from in depth).
The major problem, as I see it, is that "Bush's Brain" really doesn't provide any information that anyone even slightly educated on the subject of Karl Rove doesn't already know and anyone who is not shouldn't be getting their intel from such an obviously blinkered source. It is with ominous overtones that the filmmakers discuss the scandals surrounding Rove's early campaigns in Texas, and then unleash upon us a series of talking heads who are quick to back up each others' opinions (with the occasional lame attempt at opposition viewpoint or rebuttal). I'm sorry, but that fact that Rove may have placed a bug in his own office and then blamed his opponent is just not a huge deal. In one of John F. Kennedy's early campaigns, he actually hired a man with the same name as his opponent to run on the ballot, in order to split his opponent's votes! These kinds of actions are common place in American politics and cannot really be pinned against one side or the other.
Ultimately, "Bush's Brain" attempts to make mountains out of molehills. Yes, Karl Rove has a scandal-ridden past; show me someone in politics who doesn't! Making all the Karl Rove voice overs in your film sound like the death rattle of a Sith Lord isn't going to help your case or make me feel Rove is more corrupt than I already do (honestly, I half expected the voice over to say 'you, like your father, are now mine!') If you are already an experienced armchair political pundit, you probably won't watch this; if you're just getting in on the game forget about this documentary and go watch "The Daily Show" (1996-Current) – it's much more informative. Plus, it's hard to accept that Rove is some kind of ultimate political mastermind when he so convincingly got his ass handed to him in this year's midterm elections.


Video


The film is presented in its original theatrical ratio of 1.33:1, this full screen transfer is made up of various elements that include new interviews, archival footage and photos, the quality jumps from awful to tolerable. The archival footage is fuzzy and lacking in detail, while the new interview footage isn't the best either and found it soft at times, I also noticed some moire effects and compression artefacts which dropped the rating of this transfer down a few notches.

Audio


A single English Dolby Digital 2.0 Stereo track is included for this release and it's generally clean and distortion free, this film is primarily made up of interviews and archival footage. Some of the sound on the archival footage isn't the best but this has to do with the original source material and not the mixing of the track. As far as stereo tracks go this is adequate for this release and doesn't really do much else.
This film does not include any optional subtitles.

Extras


Tartan Video has included some bonus interview footage, a deleted scene plus the film's original theatrical trailer. Below is a closer look at these supplements.

First up is "The Republicans Speak" a series of bonus interview footage presented in a reel that runs for 6 minutes 53 seconds, in it they speak of Rove's past, his political victories and also comment on his political position, his tactics and share personal accounts on dealing with Rove among other things.

A single deleted scene is included entitled "Old Friends" which runs for 4 minutes and focuses on Rove's friendship with Professor of Journalism Bill Israel and how their relationship got frayed after his editorial he wrote after 9/11.

Rounding out the film's extras is it's original theatrical trailer which runs for 2 minutes 2 seconds.


Overall



| | | | | |
| --- | --- | --- | --- | --- |
| The Film: D- | Video: C | Audio: C | Extras: C | Overall: C- |

---
DVD Compare is a participant in the Amazon Services LLC Associates Program and the Amazon Europe S.a.r.l. Associates Programme, an affiliate advertising program designed to provide a means for sites to earn advertising fees by advertising and linking to amazon.co.uk, amazon.com, amazon.ca, amazon.fr, and amazon.de.