The Film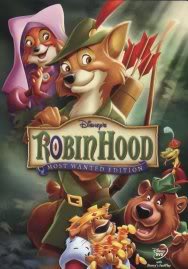 "Robin Hood" has the pleasure of being the 21st animated feature film from Disney and upon its release had a few challenges to overcome. The film was the first to be released since Disney's death and skeptics doubted the film would do well, combined with the mixed reviews and "Robin Hood" was already facing an uphill battle out of the gates. The film as it turns out did very well at the box office in 1973, the film was later re-released into theaters in 1982 adding to its coffers.
The film not only faced some battles upon release it also faced internal handicaps. The film was produced during a financial slump at Disney and as a result the film's budget was significantly lower than previous animated features. This resulted in some creative decisions that saw animators borrow sequences from other Disney films, primarily in the song and dance portions of the film, other borrowed elements also include sound effects and other tricks used to minimise the cost of the film.
"Robin Hood" follows the classic legend but makes it appropriate for Disney audiences as they added their own voice to the legend by making the character animals incorporating songs and toning down some of the more dramatic elements of the story. As many are aware with the "Robin Hood" legend I doubt there's any point in going into the synopsis of the film.
The resulting film is a light-hearted take on the tale, with some ingenious sequences mixed with fun and interesting characters, which is a fine Disney tradition carried on in this film. All the characters are unique and memorable, which makes this film so much fun to watch. Each voice performer brought a certain charm and sense of freedom to the characters, most especially that of Robin Hood (Brian Bedford) himself and his fellow side-kick Little John (Phil Harris). Additionally we have the wicked Peter Ustinvo as the voice of the dastardly Prince John in what is a near perfect fit and supporting him in greed fashion is veteran voice actor Pat Buttram as the Sheriff of Nottingham. The film's voice talent ranges from classically trained British performers to character actors that lent Southern American voices to certain characters, an unusual mix for a story set in medieval England but for some reason it works and is occasionally funny.
"Robin Hood" has some humorous action and adventure rolled up in this love story between our main character and Maid Marian (Monica Evans), while some kids may find the animation primitive, it's the story, sense of adventure and overall fun that should keep them glued to the screen, additionally for adults that grew up watching this film it loses none of it's appeal upon repeated viewing.


Video


Presented in the film's originally intended theatrical ratio of 1.75:1 widescreen this new anamorphic presentation is quite different from the film's previous DVD release. I don't own the older DVD version so I can't make a direct comparison but the previous release was presented as an open-matte 1.33:1 full screen transfer, while this version is presented in the film's intended ratio of 1.75:1, while this mean that picture information at the top and bottom of the frame that once existed in the open-matter version is now covered with black bars. Some novices may be unhappy to hear that there is loss of picture information with this new version, but keep in mind that this is the actual theatrical ratio and is the version that was intended to be seen.
This new digital transfer is quite good, although a few flaws keep it from achieving perfection, while the image is generally sharp there are a few instances where backgrounds are blurry or in close-ups lines aren't straight, I believe this has more to do with the animation style more than anything else so in this case it's forgivable, however there are flaws that aren't directly related to the animation, such as white speckles that occasionally pop up within the frame, I also noticed some grain. On the positive side the colors are nice and rich, the vibrancy is quite impressive for a film of its age, blacks are nice and bold as well and the image wasn't as flat as I had anticipated so overall it's a fairly decent effort.

Audio


Three audio tracks are included for this release, all of which are in Dolby Digital 5.1, they are in English, French and Spanish. For the purposes of this review I chose to view the film with its English soundtrack. Although this new 5.1 mix is quite good, I was a little disappointed that the film's original 2.0 mono audio was not included and I'm sure a few purists will also be unhappy. Despite this omission, I found the 5.1 track had displayed dialogue clearly and free of distortion. The musical segments were well mixed into the track as are the sound effects although I felt that the majority of the sound was directed at the front speakers, while the rear channels received little to no activity, so for a 5.1 track it's rather lacking in depth.
Optional subtitles are also included in English for the hearing impaired only.


Extras


Buena Vista Home Entertainment has released this film with a few extras that includes an alternate ending, a series of sing-a-long songs, plus a couple of interactive games, an art gallery, a vintage short film plus a collection of bonus trailers. Below is a closer look at these supplements.

The special features on this DVD are split up into 5 sections, "Deleted Scenes", "Music and More", "Games and Activities", "Backstage Disney" and "Bonus Short Film".

Deleted Scene

First up is an alternate ending which runs for 4 minutes 34 seconds. This ending was not animated so it's made up of production drawings that have been cut into a reel and includes voice performance. The scene features Robin getting injured after his castle top leap into the moat of Price John's castle, Little John saves him as they flee into the church with Prince John and his men in pursuit. Just as he has them in his clutches King Richard returns from his Crusade and relieves John of the crown. He knights Robin and Little John as he marries Marian in a happy ending.

Music and More (sing-a-longs)

In this section are a series of 3 sing-a-long songs, you can play them individually or with a 'play all' function. Each song can be viewed with or without on-screen lyrics and once you've selected the song it takes right to the scene in the film in which the song appears. The songs included are:

- "Oo-de-lally" which runs for 1 minute 9 seconds.
- "Love" which runs for 1 minute 49 seconds.
- "The Phoney King of England" which runs for 2 minutes 47 seconds.

Games and Activities

2 interactive games are featured in this section, they are:

- "Archery Trivia Challenge" in which you must answer a series of multiple choice questions, the faster you answer the more points you get which corresponds with a better hit at the target, when you reach 400 points you can join Robin's Merry Men.

- "Rescue Maid Marian" is a game in which you must find six items hidden around in order to help Robin save Maid Marian.

Both these games are rather easy and would keep kids entertained for a few minutes.

Backstage Disney

Includes a "Robin Hood" art gallery in which you have the option of viewing in two ways, the first is to cycle through the images with your remote, or which there are 48 images that consist of production artwork, character design work, photos and poster art. Or you can view these as part of a video gallery that runs for 8 minutes 50 seconds and features a narration explaining the process the filmmakers go through from design to completion of the film.

Bonus Short Film

Here we have a vintage black and white short film entitled "Ye Olden Days" fro m 1933 and runs for 8 minutes 13 seconds, in this film Mickey is a travelling minstrel that saves Mini, a Princess from having to marry a Prince she doesn't love.

Rounding out the extras are a series of bonus trailers for:

- "Peter Pan: 2-disc DVD" which runs for 1 minute 34 seconds.
- "Meet the Robinsons" which runs for 55 seconds.
- "The Fox and the Hound 2" which runs for 1 minute 20 seconds.
- "Air Buddies" which runs for 37 seconds.
- "Cinderella III: A Twist in Time" which runs for 1 minute 10 seconds.
- "My Friends Tigger and Pooh" which runs for 31 seconds.
- "Enchanted Tales: A Kingdom of Kindness" which runs for 1 minute 11 seconds.
- "Little Einsteins: The Legend of the Golden Pyramid" which runs for 1 minute 9 seconds.

The first four previews listed above are start-up trailers and can be skipped.


Packaging


This DVD is packaged in an amaray case that is housed in a cardboard slip-case.


Overall


While this release has a few extras that weren't on the previous DVD it's still a rather paltry effort, some of the games and songs are ideal for kids but it would have been nice to include some extras for adults that grew up with this film such as a commentary or even a decent "making-of"...but alas we don't get any of that, which begs the question: "Is this really a most wanted edition?"

| | | | | |
| --- | --- | --- | --- | --- |
| The Film: A | Video: B+ | Audio: B+ | Extras: C+ | Overall: B+ |