The Film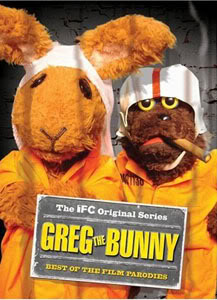 The "Greg the Bunny: Best of the Film Parodies" DVD is naturally of most interest to fans who have already encountered Greg and his group of puppet pals. This said, Greg is already improved by his freedom from the restraints of his television show, almost beyond recognition; his edgy, adult humour is unfettered by the FOX network's qualms. Greg is back to his best, and hopefully any fans of the TV show will see this as a good thing- a distilled version of what attracted them in the first place.
The DVD is entirely without any kind of overall narrative- instead it is a collection of film parodies and their creation on the fictional channel of Greg's world, covering well-known and not so well-known films, from "Easy Rider" (1969) to "Pulp Fiction" (1994) to "2001: A Space Odyssey" (1968). The strength of the collection, however, is not that it is funny parodies of popular movies- which many do, and few do well- but that these parodies are being performed by puppets who have their own, sophisticated lives and personalities. Whereas less talented or clever films might take their humour directly from the presence of puppets in well-known films, "Best of the Film Parodies" is amusing because the characters of the puppets are so amusing. Since the characters of the puppets are so important, they receive a lot of attention, granting the film considerable merit. The puppets provide their own commentary on the work they do, for example, which makes their efforts not only more legitimate but much, much funnier.
The primary characters of the collection are Greg, Warren the ape and Count Blah. Greg is an obvious leading man, prettier than he is smart and thus constantly being manipulated or fooled by those around him smarter than he is- which is to say almost everybody. Warren is simultaneously a necessary, amusing and incredibly simplistic creation. An egotistical, brash, nasty ape, Warren is less subtle than a brick to the face but far more enjoyable. The technique of having someone be incredibly unpleasant to someone else- particularly someone undeserving- is hardly novel, but it does work. Warren may be a little grinding as a concept at times, but there is no question that he should be in the show, providing many hysterical interactions.
Count Blah is uniquely lovable- a Bella Lugosi-like parody of the Count from "Sesame Street" (1969-Present), the simple fact that he is a puppet vampire all the time makes his role amusing, as is his enormous grudge with Jim Henson for not choosing him for the "Sesame Street" role all those years ago. Additional characters fill out the cast with varying success, one of the most interesting of which is the Wumpus. Another no-particular-species puppet monster like Gonzo or Grover or Snuffleupagus, the Wumpus is another stereotypical character with a twist of being somewhere between blind dumb and deeply nuts. "Greg the Bunny" is in some ways comparable to "South Park" (1997-Present): Hit-or-miss comedy with deeply immature "adult" humour attached to some pretty clever and well thought-out material means it has a serious chance of appealing only to the very smart or the very dumb, missing a whole bunch of people in the middle who might wonder what all the fuss is about. Giving it a shot is a smart move though, especially if you start with the more popular movies you may have actually seen.


Video


Presented in 1.33:1 full screen the show does feature some 1.78:1 letter boxed episodes, but mainly this is a 1.33:1 ratio show. Shot on DV these transfers are quite good, the image is sharp and colors are nice and bright. I found little wrong with these transfer aside from the occasional moire effect and very minor compression artefacts. Overall it's a decent effort, but would have been nice to present the widescreen episodes anamorphically.


Audio


A single English Dolby Digital 2.0 Stereo track is included and for a show such as this a Stereo track is all that's really needed, the dialogue is clear and distortion free, aside from that basic requirement there's nothing else to report about this track other than it's a fine Stereo track that suits the series well.
There are no optional subtitles available on these episodes.


Extras


Shout! Factory has released this series with episode commentary, two featurettes, deleted scenes, a gag reel some still galleries plus a collection of bonus trailers. Below is a closer look at these supplements.

DISC ONE:

First up we have audio commentary on every episode featured on this disc by the show's creators Sean Baker, Spencer Chinoy and Dan Milano along with the occasional guest that pop up in these tracks, the participants discuss the insipiration for the parodies as well as make fun certain moments or comment on things they wish they had done given the time. Theyt reveal some production trivia and occasionally thge voices of Greg and Warren comment on their performances, overall these tracks are quite funny and entertaining to listen to, fans of the show will get a kick out of these tracks.

Next up on this disc is "Ezekiel 25:17" a featurette which runs for 6 minutes 4 seconds and also includes optional commentary by show creators Sean Baker, Spencer Chinoy and Dan Milano as they comment on the basis of the footage we're seeing, the clip plays out some of the outtakes from the "Pulp Fiction" episode in the same behind-the-scenes manner.

"Affurmative Action" is a featurette which runs for 3 minutes 44 seconds and also includes optional commentary by show creators Sean Baker, Spencer Chinoy and Dan Milano, much the same comments here include some background on what we're watching. The clip includes interviews with Pal Friendlies and the Wumpus as we leanr about the Affurmative Action plan to get puppets and humans working together on film and TV.

A collection of deleted scenes is included in a reel which runs for 3 minutes 56 seconds and also features optional commentary by show creators Sean Baker, Spencer Chinoy and Dan Milano. The scenes include a road cruising scene from the "Sleazt Rider" episode, as well as a campfire scene with Greg and Warren getting high, finally we also get the original version of the scene with the rednecks.

A gag reel follows and runs for 20 minutes 11 seconds and includes the standard type stuff such as line flubs and mistakes plus inprov moments, behind-the-scenes mistakes, and a lot of in-character puppet rants and raves on camera. Some of it is quite funny but a lot of what's presented here is tiresome.

A still gallery includes 33 images of the cast and crew during production.

Rounding out the extras on this disc is a collection of start-up bonus trailers, which can be skipped. The previews are for:

- "Blackballed: The Bobby Dukes Story" which runs for 2 minutes 38 seconds.
- "Home Movies: Seasons 1-4" which runs for 32 seconds.
- "This Film Is Not Yet Rated" which runs for 2 minutes 5 seconds.

DISC TWO:

The audio commentary continues here on every episode featured on this disc by the show's creators Sean Baker, Spencer Chinoy and Dan Milano.

More deleted scenes are included in a reel that runs for 5 minutes 18 seconds and also includes optional commentary by show creators Sean Baker, Spencer Chinoy and Dan Milano. We get an alternate takes from the "Auto Focus" (2002) parody, an additional scene with Gilbert Gottfried, an outtake of Warren and Greg eating from the "Down By Law" (1986) parody episode, an outtake with Blah and some deleted improv with Seth Green plus an alternate takes with Seth interacting with Greg and Warren.

A second still gallery is featured on this disc with 25 images taken during the production of episodes featured on this disc.

Rounding out the extras are start-up bonus trailers which can be skipped for:

- "Freaks and Geeks: The Complete Series" which runs for 1 minute 31 seconds.
- "Undeclared: The Complete Series" which runs for 1 minute 8 seconds.


Overall


The DVD is well put together, with even the menus feeling high quality- and the commentary that accompanies every single aspect of the collection is welcomed by anyone who likes hearing a little more from their creative teams. This said, the fact you cannot simply play all the features is a little frustrating, especially when a one-sitting viewing is intended, but the vast array of choices and extras makes this problem fairly insignificant. Overall, while this collection is far from a must-have, it's a well made and very amusing set that gains much from its commitment to original vision, and its completeness.

| | | | | |
| --- | --- | --- | --- | --- |
| The Film: B+ | Video: B | Audio: B | Extras: A | Overall: B+ |