The Film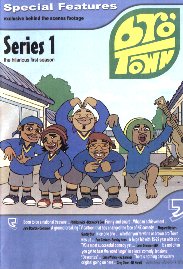 Long before the TV series "Bro' Town" made it to the airwaves the comedy troupe The Naked Samoans made up of Oscar Kightley, Shimpal Lelisi, Mario Gaoa and Dave Fane launched a highly successful tour in which, they played on their heritage and culture for comedic inspiration Naked Samoans Talk About Their Knives became part of the 1998 International Laugh Festival, the show proved so popular that three other tours followed in 2000, 2001 and 2002. Each earning acclaim in New Zealand and aboard at the Edinburgh Fringe Festival.
The next step was of course television, while each member had had mini careers in television, including David Fane who had a regular stint on the New Zealand produced The Strip for TV3 and Oscar Kightleyís foray into sports commentary, it was time for a Naked Samoans TV show. New Zealand comedy sketch shows have traditionally done poorly in the past, shows that include The Samisis (which nobody saw) and Skitzo (which for an unfunny show surprisingly ran for 3 years), so the time was right for something different. New Zealand would get its own prime time animated comedy. Our own Simpsonís if you will, but the pressure to make something that was truly funny and capture a specific time in our culture would prove a challenge.
Broí Town follows the exploits of five Pacific Island youths in the Auckland suburb of Morningside, a melting-pot community made up of the many cultures that make-up New Zealandís population. The series mainly pokes fun at the Pacific Island community and leaves nothing sacred, especially in areas of family welfare, school antics, benefit fraud, alcoholism, you name the stereotype affliction and itís here. Each show opens and closes with a sequence in Heaven with God portrayed as a large Samoan man that gives us snippets of guidance in the way of introductions to the theme of each episode and of course the wrap up at the end, this is a rather unique way of starting a series, which also plays on the religious devotion among the Pacific Islanders, but sadly these unique opening sequences were all that I found to be original, the show is fraught with low brow racial humour that is often lazy and unoriginal, I also found several instances in the show that were (with minor alteration) taken from other shows such as Beavis and Butthead (Perversion of words and misinterpretation jokes) and South Park (A scene in one episode shows the dad popping out a singing poo, Mr. Hanky anyone?). The show also packs itís twenty odd minutes with a multitude of guest stars and often leaves very little room for a tight story or in some cases actual comedy, the final and most insulting jab that I found was the blatant product placement that included an energy drink (G-Force), Starburst and M&Mís were all over the show in fact they went as far to include some of the cartoon characters from the G-Force ads in the show itself. Although the integration of these characters is used in the context of a running joke it comes off as if the series producers sold advertising space within the show to make an extra buck.
Perhaps Iím being a little to harsh on this show, it is in fact a highly successful series by New Zealand standards and does in fact have quite a few fans out and I do sometimes get the feeling that I may be missing something, but then again I watch an episode and those minor concerns are extinguished. I really think this series is certainly an acquired taste you either love it or hate it, either way itís up to you to decide.

Below is an episode guide to this first season:

Episode 1: The Weakest Link
After being run over by a bus, Valea suddenly becomes the brainiest boy in Morningside, and the boys stun the school by making it through to the national quiz show.

Episode 2: Sionerella
Sione finally gets his chance to impress the girl of his dreams at the school ball, but his mother Mrs. Tapili and his rival Rex Ruka do all they can to ruin his chances.

Episode 3: The Wong One
Wong from Hong Kong arrives in Morningside and Dad takes him in as a home stay visitor, but a case of mistaken identity sees Valea kidnapped in Wongís place by the legendary Grasshopper'Ķa hot Asian chick with incredible martial arts skills.

Episode 4: Get Rucked
Itís the annual rugby match against the St. Slyvesterís old boys, but when the school 1si XV comes down with food poisoning, the boys have to play against a crack multi-code team featuring Joe Rockocoko, Tana Umanga and Stacey Jones.

Episode 5: A Maori At My Table
The boys go on a trip to Jeffís Marae, which turns out to be a Tangi, and the mantle of leadership is thrust upon an unsuspecting Jeff.

Episode 6: Go Home Stay Home
When constable Bababiba discovers that Vale and Valea have been left home alone, he sends Vale to a bad boys home and Valea to a rich, white family in Parnell. But when Dad realises he is no longer eligible for his benefit, he launches a bid to bring his boys back home.

Video


Presented in the original broadcast ratio of 1.33:1, this transfer is fairly good, the image is generally sharp, colours are vivid and luscious and it certainly looks better than when broadcast on television. However the transfer is not perfect, the image suffers for MPEG artefacts as a result of the compression, additionally moire patterns occasionally appear causing a pixalisation of the animation lines that surround the characters, which at times can be very annoying.

Audio


The only track available on this release is an English Dolby Digital 2.0 Surround track and is most likely the shows original broadcast soundtrack. This 2.0 track is generally very good, dialogue is always clear and distortion free. As the show relies mostly on dialogue, there is not a lot of background surrounds employed so the track lacks any depth, but itís not really needed anyway a 5.1 track would have been an obvious waste.
This disc features no subtitles, so anyone whom is hard of hearing is out of luck.

Extras


Only two minor extras here, the first being a trailer and the second an extended promo reel.

The trailer entitled "Making-of Bro' Town" runs for 3 minutes 46 seconds and feels like a brief EPK featurette than a trailer, it incorporates some behind-the-scenes footage of the Naked Samoans and also some clips from the recording stage.

Next we have a featurette entitled "Extended Promo Featuring The Naked Samoans" running for 16 minutes 30 seconds this piece includes clips from the show with interview segments with each member of the Naked Samoans and other people involved in the show.

Overall


For New Zealandís first prime time animated comedy I was rather disappointed, I expected a lot more from the comedy group the Naked Samoans, of which their stage show is one of the funniest New Zealand comedy has to offer. The show is a spoof at Kiwi culture and particularly the Samoan community, but this show was not only uninteresting but also unoriginal, what we have here is a series of cultural stereotyping, fart and poo jokes and a ridiculous amount of product placement that distracts from the show quite a bit. The humour will most certainly be lost on anyone not from New Zealand.
The DVD includes a decent enough audio and visual transfer but the extras leave a lot to be desired, not only are they short but don't warrant repeat viewing at all, a commentary on each episode would have been a welcomed addition, but sadly we get none of that.
| | | | | |
| --- | --- | --- | --- | --- |
| The Film: C- | Video: B- | Audio: B | Extras: D- | Overall: C- |