State of the Union AKA The World and His Wife
R1 - America - Universal Pictures
Review written by and copyright: Cameron Murray & Noor Razzak (21st September 2006).
The Film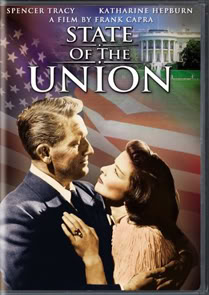 Having never really watched a lot of vintage films, in fact anything filmed more than a decade before my birth, as far as I was concerned, were terrible. Sure I came to this opinion from a position of ignorance having not seen any of the types of movies that I had this irrational dislike for, but I was happy in my ignorance. Then I get this film to review, "The State of the Union", a movie that was filmed 33 years before I was born and I'm thinking that I'm going to be bored out of my mind with archaic expressions, out dated comedy, gentlemanly conduct and a plot that lacked any hard hitting social commentary. In all respects bar the hard hitting social commentary (having not been alive, 33 years ago I can't really comment on how hard hitting it may have been at the time), I was surprised this movie has great verbal gags and the occasional bit of physical humour for those who are partial to that sort of thing.
The story based off the play by Russel Crouse, it is the story of a successful industrialist (Spencer Tracy) who gets convinced by his not quite mistress and media mogul (Angela Lansbury) to be the republican candidate to run for president. The industrialist's estranged wife (Katherine Hepburn), agrees to support him, even though their marriage is on the rocks. The media mogul and the republican party advisers start to get worried as the industrialist starts running his mouth and not towing the party line. They take means into their own hands and find a way to convince him to pull his head in and say what they wants him to say. All the while you have his wife trying to convince him to stay true to himself and his beliefs, while she and her husband are on the verge of divorce it is still clear that she is very much in love with him.
The acting in this film ranges from truly sublime to slapstick. I always found it enjoyable but sometimes the over the top way that some of the characters were played overshadowed the more subtle and understated performances of some of the main characters. Nobody really stands out, and you don't hold your breath till a particular character turns up. That being said the chemistry between the cast is such that it is a very enjoyable viewing experience.
The Style of this film is quite basic but for the most part effective. Apart from the occasional blatantly obvious continuity error, and physical impossibility (a plane pulling barrel rolls and Hepburn's hair not so much moving a little bit), the majority of the movies integrity has remained intact after all these years. Adapted from a play, this is abundantly obvious in the dialogue at times and the rather stationary shooting of the film. There are a couple of amazing shots which last an (in this day of fast cuts) inconceivably long shot with well timed gags and performances.
I think that this is a good movie do I think that it would win an award for directing if it was released in the last ten years? No, but then this film was made when they were still pioneering many techniques. If you want to revisit a time when chicks were dames and dudes were (I can't remember what the male equivalent would be) this is a good light hearted movie to do it with, also a good chance to relate to your grandparents or maybe even your parents. This is a great movie to seem cultural, retro and intelligent without having to go to the trouble of sitting through something you won't enjoy.

Video


Presented in the film's original theatrical ratio of 1.33:1, this full screen image is surprisingly good for a film transferred onto a single layered disc. Sharpness is consistent and the contrast between black and white is balanced. Film grain is evident throughout this print but is never a nuisance.


Audio


Only a single English Dolby Digital 2.0 Mono track is included, which is the film's original sound mix. Dialogue was clean and distortion free, I could not hear any noticeable flaws found on film's of its age such as hiss, pops or audio drop out. Overall it's a fine mono track that suits the film quite well.
Optional subtitles are also included in English for the hearing impaired only.


Extras


Universal have released this film completely bare or any extras.


Overall



| | | | | |
| --- | --- | --- | --- | --- |
| The Film: A | Video: A | Audio: B+ | Extras: F | Overall: C+ |

---
DVD Compare is a participant in the Amazon Services LLC Associates Program and the Amazon Europe S.a.r.l. Associates Programme, an affiliate advertising program designed to provide a means for sites to earn advertising fees by advertising and linking to amazon.co.uk, amazon.com, amazon.ca, amazon.fr, and amazon.de.