Seduced and Abandoned
R1 - America - Criterion Collection
Review written by and copyright: Noor Razzak (6th September 2006).
The Film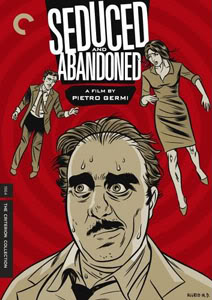 My prior experience with Italian films has been that off existential dramas, though-provoking historical epics and the occasional Giallo film. I had never seen an Italian comedy until Pietro Germi's 1961 classic "Divorce - Italian Style" Germi's sense of comic mayhem and keen satirical eye make for an enjoyable film experience. The film was appreciated everywhere, except in his own country. His 1964 follow-up "Seduced and Abandoned" would follow the same path, and the result was yet another hilarious satirical look at Sicilian life and customs relating to marriage, the rape of a minor and the credibility one's family name holds in society.
Agnese Ascalone (played by the unbelievably beautiful Stefania Sandrelli) is a 15-year-old Sicilian girl who is seduced by her sister's fiancÚ Peppino (Aldo Puglisi). It turns out that not only did her impregnate the young girl but her father Don Vincenzo (Saro Urzý) discovers everything and he goes mad to clean up this mess. He must marry young Agnese to Peppino, in order to keep their family honor. If Peppino does not marry her, he will face charges of raping a minor, according to Sicilian law all charges can be dropped if he marries the girl. However Peppino does not want to marry the girl because she is no longer pure, even though it was he who stole her virginity. Vincenzo takes matters into his own hands and what results is a calamity of a shotgun wedding, a kidnapping, attempted murder and emergency dental work all to maintain his family honor in which his daughter has tarnished.
Germi crafts a comic tale aided by colorful characters in this farce, as he comments on the ludicrousness that was the law regarding rape of a minor, but also the lengths that people will go to in order to maintain their family honor. Germi also comments on the power of gossip and how one's family can be devastated by it. The film carries deep seeded messages yet is presented in an off beat style that puts a smile on your face. The standouts of this film are it's cast, most especially Saro Urzý who delivers a performance that would make most comics green with envy.
The film's style is akin to a slap in the face, it's brisk and will take seconds to adjust to, Germi's story snowballs from one ridiculous scenario to the next until we reach the film ultimate climax an orchestrated kidnapping. Although the film sets up these series of follies only to have them tumble like a house of cards I was taken aback by the film's conclusion. It felt like the film was reaching a stage of unrecoverable silliness.
Despite this, "Seduced and Abandoned" is a brilliant take on Sicilian family life and the covering up of anything dishonorable that might blemish the family name.

Video


Presented in the film's original theatrical ratio of 1.85:1 this black and white transfer is as one can expect from Criterion, excellent. The contrast is well balanced, blacks are deep and bold, whites are pure and unblemished, with gray scales presented accurately. The print does have some minor dirt but overall the image is sharp and clean. Criterion has done a great job in restoring this classic film for the digital medium.

Audio


The Criterion Collection presents the film with its original Italian Dolby Digital 2.0 Mono soundtrack. This film works on two audio levels, the dialogue and the music and both are presented here clean and distortion free. Most problems associated with films of this age such as hiss, drop outs, pops and other audio interferences are nowhere to be found on this track.
Optional subtitles are included in English only. The subtitles are 16x9 friendly and are a nice size on-screen. The subtitles are easy to read and feature no grammatical or spelling errors and appear on-screen for long enough to read without having to stop and rewind.

Extras


First up is Commedia all'italiana, Germi Style a featurette with new interviews with screenwriters Furio Scarpelli and Luciano Vincenzoni and Italian film scholar Mario Sesti which runs for 25 minutes 38 seconds. They discuss the genesis of the story and Germi's influence on the genre and how he was able to critically observe Italian society with a comic spin on things. The participants comment on how they were impressed with Germi's ability to impose his point of view giving the film a sense of bitterness and skepticism. Germi continually tried to tackle problems of substance in his comedies and was a genius at finding the irony within those social problems. His sense for comic timing allowed for the genre's most outrageous scenes. They also talk about his political stance and how that reflected in his work, his shooting and editing style as well as the choice of Saro Urzý to play the father as well as the reception the film received that the Cannes Film Festival among other things. This is the stand out extra on this DVD and provides the viewer with added insight into the filmmaker's history and this film in particular.

Next is an interview with actress Stefania Sandrelli that runs for 6 minutes 26 seconds. In this clip recorded in 2002, the actress talks about working with the director and recalls her time on the set, she also comments on the film's message, her character and working with the other actors on the film. She reveals that there are many scenes were she can see herself on the brink of laughter and fondly remembers moments shared with the director while filming.

Also included is Stefania Sandrelli's original screen test which runs for 1 minute 51 seconds. This silent clip includes narration from the actress and comments on how she approached the character and the preparation Germi imposed on her by watching silent films in order to understand the expressiveness required for the role.

Next is an interview with actor Lando Buzzanca which runs for 6 minutes 43 seconds, Lando played the brother and comments on how Germi chose his cast, how the film was shot and talks about how he played the character based on Germi's direction. He provides insight into the type of character that Antonio was surrounded by all these women and recalls what Germi asked him after the premiere that showed his considerate side.

The film's original theatrical trailer is also featured on this disc and runs for 3 minutes 53 seconds.

Rounding out the extras is a booklet with essay by film scholar Irene Bignardi on the importance of the film.

Despite the fact this release does not include an audio commentary these brief extras do add insight into the film and are more than adequate for this release.

Overall



| | | | | |
| --- | --- | --- | --- | --- |
| The Film: A- | Video: A | Audio: B | Extras: B | Overall: A |

---
DVD Compare is a participant in the Amazon Services LLC Associates Program and the Amazon Europe S.a.r.l. Associates Programme, an affiliate advertising program designed to provide a means for sites to earn advertising fees by advertising and linking to amazon.co.uk, amazon.com, amazon.ca, amazon.fr, and amazon.de.